Most farmers put the finishing touches on planting and replanting in recent weeks, with the exception of double crop soybeans.
The National Agricultural Statistics Service (NASS) Illinois field office reports farmers planted 97% of soybeans in the state as of June 22, five points ahead of the average pace. Ninety-two percent of the crop emerged as of Sunday, six points ahead of the average pace.
"I think everyone's glad to have all their acres planted this year after (a record amount of prevented plantings) last year," said Matt Rhinehart, an Illinois Farm Bureau Young Leader from Carmi (White County) and crop consultant with Nutrien Ag.
Crop growth stages, however, are "all over the board" due to another drawn out planting season along with numerous portions of fields that were replanted, Rhinehart noted.
"It's crazy how far things are spread apart. Some farmers are post-spraying corn and beans (while other fields just emerged in recent weeks)," he said. "For the most part, everything here in White County is looking good."
The crops endured several rounds of stress, though, depending on when it was planted. Recent heat and dryness contributed to a deterioration of crop conditions ratings this week.
The portion of crops rated good to excellent slipped four points at the beginning of the week, and for the second week in a row, to 59% for corn and 60% for soybeans in Illinois.
"There were a lot of acres planted the first week of April. Those crops got stressed by cool, wet conditions the first three weeks of May," Rhinehart said. "Then, as of late, our root zone moisture has been lacking, so there was drought stress as well."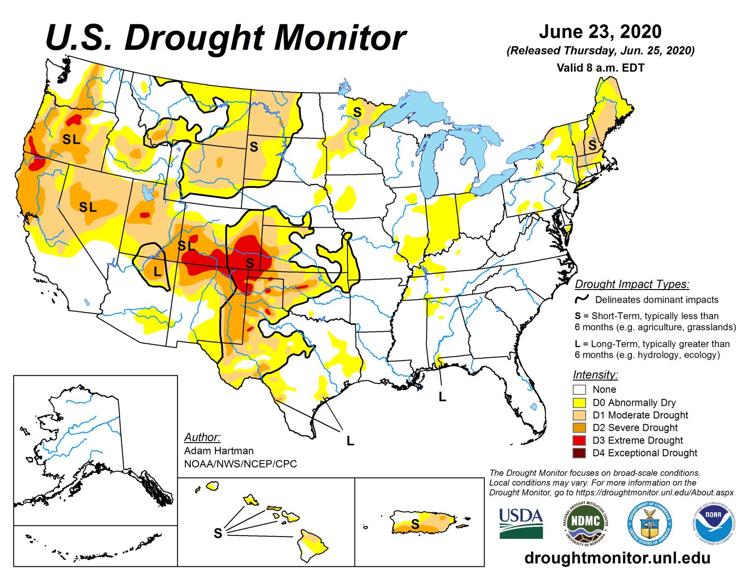 A large portion of the southern half of Illinois along with part of east central and northern areas of the state ranked abnormally dry as of June 23, according to the U.S. Drought Monitor.
Scattered rains provided spotty relief earlier in the week with 1.5 to 2 inches in parts of western and east central Illinois, a half to 1 inch in southern and northeast Illinois and just a half inch or less in southwest areas of the state.
"It's better than nothing," Rhinehart said of the scattered rain. "We're definitely going to need more, especially with temperatures back on the rise."
In northwest Illinois, Phillip Alberti, University of Illinois Extension commercial ag educator, reported up to 2-3 inches of rain in isolated pockets near Freeport.
"It was isolated and depended on where you're at," Alberti said of the rain totals. "Before that, we hadn't gotten any rain the last two weeks.
"It's been hard on some growers who had to do replants," he noted. "We have some good looking corn out there, though. It has to do with when you got it in."
In northwest Illinois, Alberti believes the early planted corn looks better due to enhanced root depth. In southeast Illinois, Rhinehart believes much of the corn planted after May 20 looks the best in his area as it missed early season frost stress.
Farmers also wrapped up the first cutting of alfalfa hay this week with 97% harvested as of June 22, compared to the average of 90% and just 66% last year.