A crop update from DeKalb County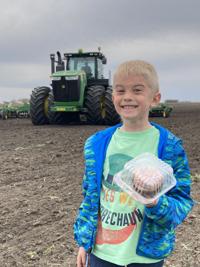 Mother Nature was generous to Ryan Frieders in DeKalb County. "Planters started rolling on the (April) 17 and actually didn't stop until Saturday when we finished planting all of our corn and soybeans," Frieders told Rita Frazer.
His family celebrated the occasion, as they do all big accomplishments on the farm, by having an orange Fanta drink together.
Pictured left: Everyone does their part at the Frieder Farm! Ryan Frieders' son, Luke, delivered a cupcake to his dad just as planting season started in a field near Waterman. (Photo provided by Ryan Frieders)