The growing season for corn seemed to end at the flip of a switch on many farms in recent weeks.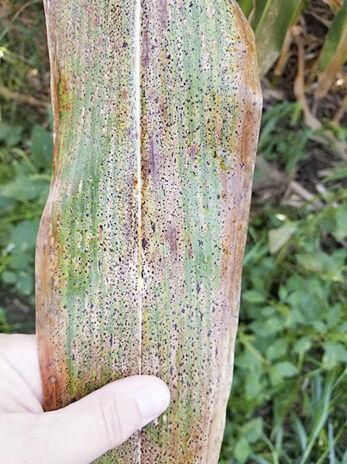 And, while unseasonably warm and dry conditions in September contributed to rapid deterioration of the crop, a rash of diseases also played a big role.
"The crops really turned pretty fast on us," said Nathan Kleczewski, GROWMARK technical agronomist. "One reason we might be seeing a faster than normal dry down is tar spot, and we shouldn't forget southern rust. We don't have good resistance, so those diseases continue to build up and basically suck the plant dry."
Kleczewski reported outbreaks of those diseases overlapped in central Illinois, with tar spot spreading across much of the state just six years after first being detected near DeKalb in 2015.
"Central Illinois in particular had kind of a situation where, as long as you had any rain, it didn't matter what the temperature you were encountering, something was going to continue to take off," he said. "Southern rust likes it hot and tar spot likes it cool."
This year's tar spot outbreak was more widespread geographically than 2018, according to Kleczewski. But it's impact on corn yields at some of the most heavily infected sites was more subdued this year due in part to widespread use of fungicides.
Yield responses to the use of fungicides in fields with disease issues ranged as high as 20 to 30-plus bushels. The tar spot outbreak stretched all the way into neighboring states including Indiana, Iowa and Wisconsin.
"It (tar spot) is on everybody's radar. It's definitely having an impact on yield," said Lance Tarochione, DEKALB/Asgrow technical agronomist. "The plant was set up to have issues from the spring we had."
Cloudy, rainy conditions last spring caused a number of other crop diseases to flare up. That, along with logistical issues, created challenges for fungicide applications.
"In fields where (fungicide) was applied really early, diseases may have continued to build," said Kleczewski, who noted fungicides generally lose curative capacity after about three weeks. "And, due to demand, there were people who had fungicides flown on days or even weeks later than scheduled. Obviously, that's plenty of time for diseases (to spread)."
Agronomists generally recommend spraying for tar spot around the VT to R2 growth stages. But, this year, the combination of a widespread outbreak and high corn prices justified multiple applications at some locations.
"You might think your application didn't have an effect (in some fields)," Kleczewski said. "But, really, if you wouldn't have put something on, you'd see (the yield impact) more clearly."
Neither agronomist believes widespread outbreaks of tar spot will be an annual occurrence in Illinois. But farmers in the future should consider varieties that are possibly less susceptible, manage residue in problem areas, scout and always weigh economic returns when considering fungicide treatments.
"We don't have any hybrids that are resistant to the disease," Kleczewski said of tar spot. "But, after this year, a lot of companies should have data on what varieties are less susceptible."
Tarochione said of this year's tar spot outbreak, "I do not expect this to be the new norm for us, but there will be a next time."