Many planters returned to the shed this week after a series of rainstorms saturated the state.
Precipitation totals across a large portion of the state, from Interstates 70 to the south up to 80 in the north, ranged from 3 to 6 inches. Some of the storms produced strong winds, hail and localized flash flooding.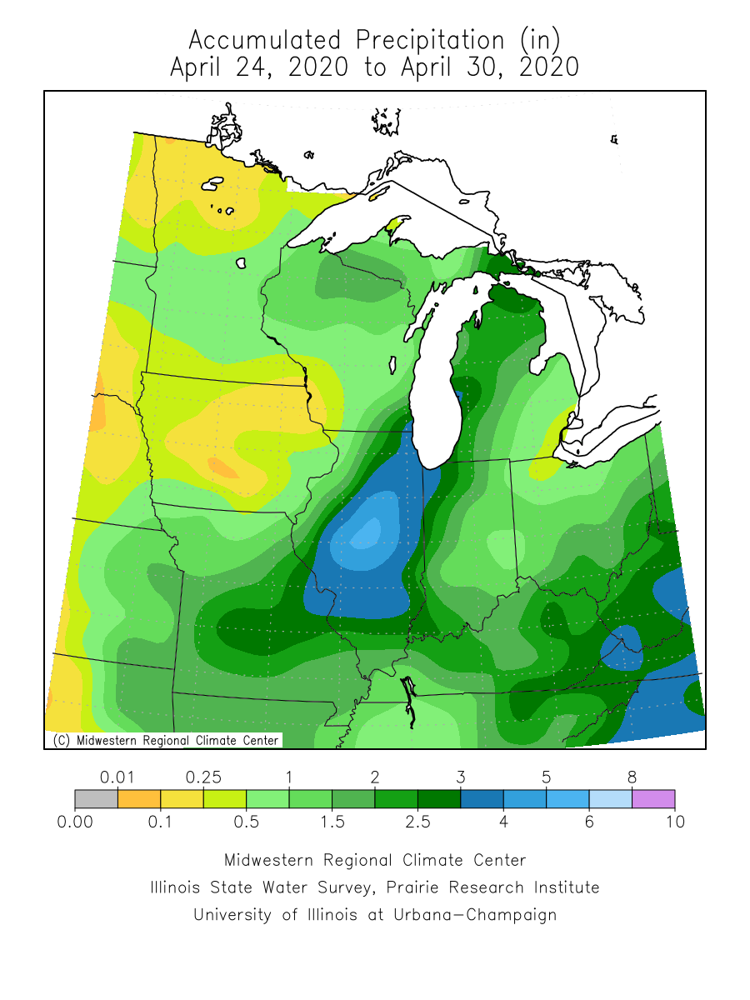 "The last seven days, we had a few weather systems that dumped widespread, moderate to heavy rainfall," said Chuck Schaffer, meteorologist with the National Weather Service in Lincoln. "The heaviest was certainly near the I-55 corridor from north of St. Louis, through Springfield and Bloomington to south of Chicago.
"Really, the only areas that missed (heavy rain) were in the far northwest and the far southern tip of Illinois," he said. "Those locations received around an inch or less."
The rain generally was beneficial for crops, except portions of fields that flooded. It also provided an early season break for farmers.
"The ground was able to soak up quite a bit, so we don't have many ponds standing in fields," said Lucas Roney, a Moultrie County farmer and FarmWeekNow.com CropWatcher 2.0.
Illinois farmers previously planted a whopping 29% of the corn crop and 16% of soybeans in just one week, from April 20-27. That pushed total plantings to 37% complete for corn (6 points ahead of average) and 18% complete for soybeans (14 points ahead of average) statewide as of April 27.
"Planting progress in this area is all over the place," said Danny Rubin of Fayette County. "We planted a lot of beans but not as much corn. We were holding back hoping the ground would get warmer."
After receiving about 5 inches of rainfall during the week, Rubin doubted he could get back into the field until next week at the earliest.
"We're pretty wet right now," he said. "We're probably a week out from when it stops raining."
The forecast calls for warmer weekend temperatures before cooling off again next week, with scattered rain chances.
"Temperature-wise, we'll be up and down," Schaffer said. "(Next) week looks to be on the drier side, at least compared to what we saw the past seven days (April 24-30)."