Sarah Hastings, Champaign County Farm Bureau member, handles most of the trucking on her family's farm near Sidney.
And those skills are fitting for Hastings, who shifts gears often both in the trucks and out as she also manages most daily operations of the farm, a family and helps her husband, Brandon, who runs Hastings CCI Equipment in St. Joseph.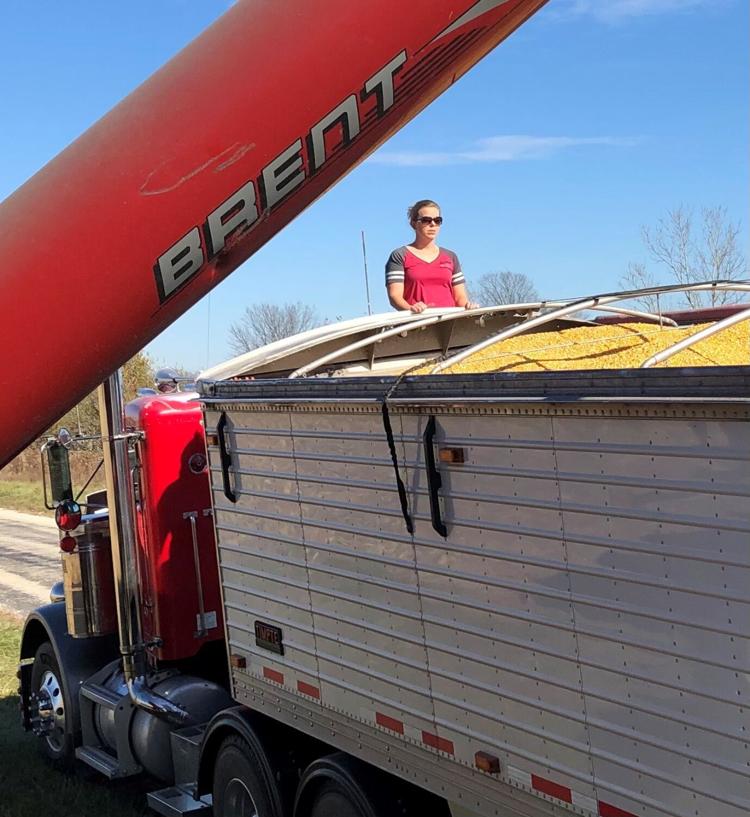 "We're kind of unique. We each have different roles," Hastings said of the couple's businesses. "Brandon is really good at marketing and that's something he really enjoys. I'm really good at digging into hybrid performance. I already penciled in most of our varieties for next year.
"I also love trucking," she noted while climbing into the cab of her Peterbilt. "I do most of the hauling. Sometimes we don't have another driver, so I jump from one truck to the next (to keep harvest operations rolling)."
The Hastings had about 1-2 days left of harvest for the season as of Wednesday. Yields were variable but generally good considering weather stress throughout the season ranging from hail, strong winds, and a wet spring to a run of abnormal dryness late in the summer.
"I had a soybean field I had to plant four times because there were so many drowned out places," said Sarah, who plants all the beans while Brandon plants the corn each season.
"We've been lucky (in recent harvests)," she said. "We had three fires in the combine (that still operates to this day). Luckily, we always smelled them, caught them early and were able to put them out. We had to call the fire department once."
The Hastings store all their crops on farm as their business specializes in grain bin construction and operations. In fact, they recently put up a new 50,000-bushel bin on their farm and started unloading corn into it the very next day.
"It's nice I have a job where I can pour concrete for a bin or haul crops, depending on the priorities of the day," Sarah said. "I enjoy it. I never have the same day twice."
Hastings grew up in McLean County where her first love of farming was handling livestock. She worked on her grandparents' cattle and sheep farm.
"I was a little more in love with the animal side (of farming) growing up, but then I married a grain farmer," she said. "I've been taking over more and more (of the farm management duties) as (Brandon) gets pulled in more and more different directions. It's really nice to grow something that can feed and world and change an economy."
Brandon's late father, Mike, farmed and worked for Illini FS as a structural manager in the 1970s. He started his own grain bin business in 1990 that Brandon continues to manage.
"I did grain bin construction all summer (growing up) and through college at the University of Illinois," Brandon said. "I always enjoyed that and stuck with it."
The couple currently farms with a retired neighbor, Tom Butzow, during the busy seasons and Sarah's father, Dave Connour, also a retiree, helps during harvest.
Sarah's top priority, though, revolves around the raising of their son, Ryan.
"First and foremost, I'm a mom. That's my No. 1 job," she said. "If I have a sick child or it's time to go trick-or-treating, the farming operation is shut down. We're a family farm, and family comes first."
Sarah, a former IFB Young Leader, currently serves on the Illinois Corn Growers Association board.