Tazewell County farmer David Diekhoff ended 2019 working on the harvested hemp from a single acre and appreciating his good fortune in finding a buyer through a chance meeting.
During a recent Illinois Department of Agriculture (IDOA) summit, Diekhoff noticed a participant's name badge indicated he was a processor and struck up a conversation.
"He was excited when he heard the variety I grew," the farmer said. "The (New York) buyer, who also is a grower, likes this variety. I was lucky. I'm just happy someone wants this product and knows this product."
The Tazewell County farmer was luckier than other growers in Illinois and elsewhere.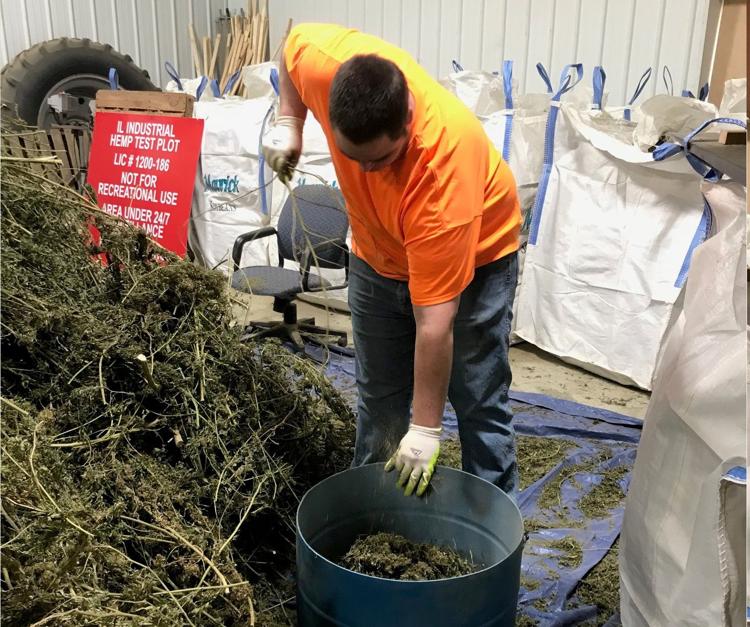 Diekhoff was able to plant a crop. IDOA is expected to report on the state hemp crop in January along with other states. However, a hemp market analyst estimated 46% of the nation's licensed hemp acres was planted.
Diekhoff was able to harvest, which took nearly the whole month of October. His hemp didn't exceed the 0.3% legal threshold for tetrahydrocannabinol(THC). Only 37% of U.S. farmers completed hemp harvest and had a processible crop, reported analyst Jonathan Rubin, CEO of Hemp Benchmarks.
And the Tazewell County farmer found a buyer. Rubin estimated 70% of growers had not sold their crop. Diekhoff speculated hemp prices may be depressed because the states haven't reported numbers, and markets may be overestimating the amount of available crop.
On the Diekhoff farm, harvest continued Monday (Dec. 30) with hand-stripping, known as bucking, buds and leaves from branches. His goal is 10% moisture for the harvested hemp, based on readings from a hay moisture meter.
Diekhoff needed two more buildings, which are unheated, for storage because his 900 plants produced more than anticipated. To prevent condensation and adding moisture, the plants are brought into a heated shop with aeration fans prior to hand harvest.
With two-thirds of harvest complete, the Diekhoff farm produced 7,000 pounds of biomass stored in nylon sacks with 750 to 1,000 pounds more awaiting bucking. Stripped branches are burned. People familiar with hemp "can't believe we were able to get a bumper crop," the farmer said.
Diekhoff explained his contract with an Illinois processor will depend on the cannabidiol(CBD) levels when the hemp is processed into oil. "They process it for 50%," the farmer said. The processor charges a fee for selling the CBD oil in 5-liter increments to a New York buyer.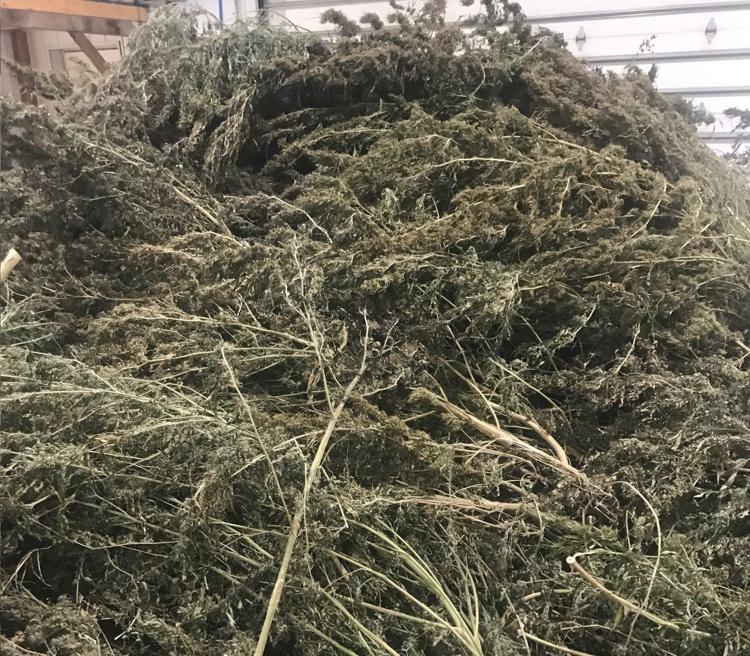 "The processor will call me when the buyer wants more," Diekhoff said, adding a price will be agreed upon then. Meanwhile, the processor is storing Diekhoff's CBD in containers.
Testing for THC, CBD and purity are factors Diekhoff learned. All his samples tested 0.1% or less THC with CBD levels of 13-16%, which Diekhoff described as "really good lab results." One processor asked to see a "full spectrum" of lab tests for chemicals and bacteria, he added.
"Most processors run a full spectrum to see if a farmer has used any chemicals or if there is bacteria or mycotoxins (in the sample)," Diekhoff said.
As for 2020, Diekhoff will make some changes. "We've learned a lot, if we can make things work out," he said, adding one family member remains skeptical about hemp's future.
Diekhoff is considering switching from less expensive, nonfeminized seed to planting clones, but sticking with the same variety. He had to destroy about half the plants from nonfeminized seed, but that was a blessing in disguise given the bumper crop produced from the remaining plants.
The farmer doesn't plan to add hemp acres, pointing to the amount of crop storage needed. "A lot of my machinery had to sit out. I'd have to put up more buildings," Diekhoff said. He urged farmers considering hemp to try a half or a single acre and warned labor will be their biggest expense.
While Illinois hemp rules remain in place for the 2020 growing season, Diekhoff expressed concerns about USDA interim hemp rules. A proposed change in THC testing and standards "would be so hard to meet," he said. Diekhoff speculated his processed crop "would have to stay in Illinois and couldn't cross state lines" to a New York buyer if the USDA rules were in effect.
Diekhoff needed about 30 days to harvest and maximize CBD levels. A proposed 15-day harvest rule would require growers to finish harvest within 15 days of a crop being sampled for THC levels. "We took a month to harvest selectively," he said. "Every ounce counts -– that's our saying around here."