Planting conditions varied wildly so far this growing season to the point comparisons to the 2012 drought last month quickly shifted to chilling reminders of 2019 flooding in recent weeks.
And, for an added twist, Mother Nature threw in a cold front that was expected to bring below-freezing temperatures to the northern portion of the state as late as May 8 for the first time in 15 years at some locations.
"April was weird," said Trent Ford, state climatologist with the Illinois State Water Survey. "We went from having possibly one of the top 10 driest months to wetter than average.
"It was good news, bad news (for farmers)," he noted. "There was tremendous progress made with planting and field preparation the first three weeks, but I haven't talked to many farmers that have been in the field much since (a string of storms moved across the state the past two weeks)."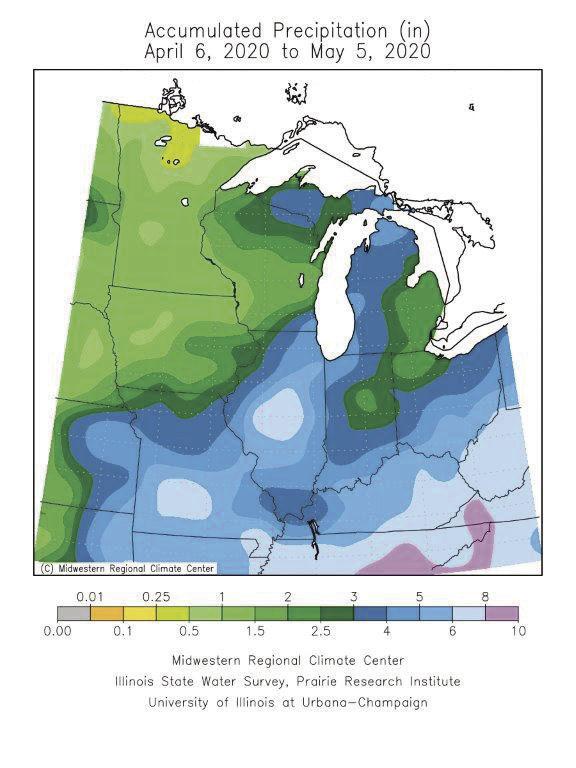 Farmers planted 56% of corn statewide as of May 4, slightly ahead of the average pace and well ahead of last year. Corn planting did not reach 50% complete last season until June 4.
Meanwhile, Illinois farmers planted 31% of soybeans as of May 4, well ahead of the average pace of 12%.
Preliminary numbers show the temperature averaged 49.2 degrees across Illinois last month, 3.5 degrees below the 30-year normal. If confirmed this week, that would make April the 27th coldest on record.
After most locations in the state received just 25% to 50% of normal precipitation the first three weeks of April, widespread heavy rains the last week of the month pushed the statewide monthly average to 4.36 inches, .6 of an inch above normal.
"It was definitely colder than normal and slightly wetter than normal," Ford said of April. "The last week most areas got 3-4 inches of rainfall and some areas (particularly along the Interstate 55 corridor) received closer to 5-7 inches."
The Bloomington station reported 4.99 inches of precipitation in 24 hours April 26, which was the highest in April at that station since 1949, while the Havana station went from a 2-inch precipitation deficit on April 22 to the wettest April on record (dating back to 1909) after nearly 8 inches of rain the last seven days of the month, Ford noted.
The combination of heavy precipitation that produced significant field ponding in some areas and near-freezing temperatures late last week now has many farmers concerned about damage to winter wheat and fruit crops along with a possible replant situation.
Just 9% of corn and 2% of soybeans emerged statewide as of May 4. Twenty percent of the wheat crop headed as of the same date, 8 points behind average.
"The freeze line Friday night (was) expected to be right along Interstate 70, bumping up against the line where most winter wheat is produced," Ford said. "There is concern for winter wheat heading at this point, specialty crops and flowering trees at risk for getting burned by the freeze, especially north of I-70."
The last time the temperature dipped below 32 degrees as late as May 8 was 2005 in Champaign and 2004 at Chicago O'Hare International Airport, Ford reported.
Looking ahead, the monthly outlook calls for elevated chances of colder-than-normal temperatures, and possibly wet conditions, persisting for much of the rest of May.