Crop conditions continue to evolve as rapidly as the weather just as corn hits a critical growth stage.
More than one-third of corn (36%) was silking as of July 13 compared to the average pace of 52%, the National Agricultural Statistics Service Illinois field office reported.
And nearly the same portion of soybeans (37%) were blooming as of the same date, slightly behind the average pace of 40% across the state.
"Corn is tasseling out and beans are in full bloom," said Bret Perreault, a Kankakee County farmer and Farm Bureau member. "Everything looks decent, but we could stand some rain, like about everybody else."
A nasty batch of pop-up thunderstorms wreaked havoc in portions of the state earlier this month, including wind and hail damage, followed by more storms in the forecast late last week. Some brief tornado touchdowns were reported near Pekin (Tazewell County) and Gridley (McLean County) July 15.
Daniel Herriott, a FarmWeek CropWatcher from Champaign County, unfortunately was on the receiving end of a hailstorm the second week of the month.
He estimates 20% of their acres were severely affected by hail, up to 2 inches in diameter, with about another 20% of their acres affected to a lesser extent.
"It hit when a lot of the corn was in mid-pollination," Herriott said. "If you don't have severe hail damage, the crops look pretty good, just variable. We have some cornfields in which corn is tasseling while some of the replant areas are waist-high."
Herriott's most severely damaged beanfield was left with just about 20% of foliage, between the R1 and R3 stages. He also reported roof damage on sheds and homes in the area from the hail.
"We're just going to wait and see what grows out of it," he said. "For us, the devastating part is that for how much hail we got, it would've been nice if we got more rain."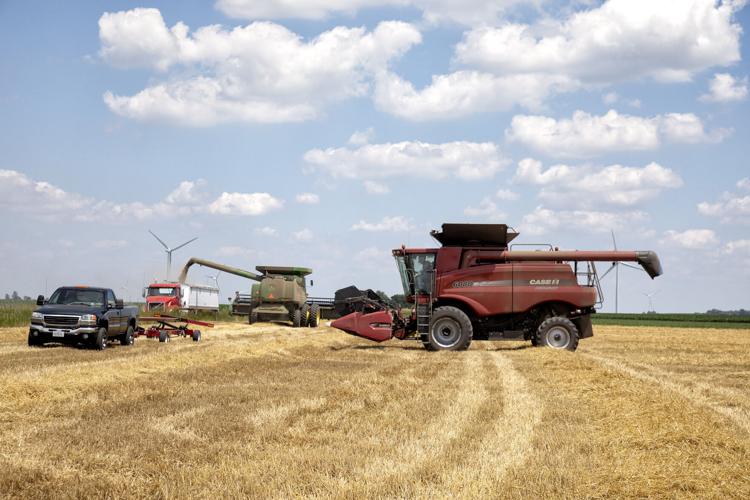 Statewide, topsoil moisture ranked 28% short or very short, 68% adequate and just 4% surplus as of July 13.
"We had high winds but fortunately we didn't have any damage," Perreault said of the first batch of storms the second week of July.
He recently harvested wheat that averaged in the mid-80s for yields.
"Wheat harvest was completed on the Fourth of July," he added. "The straw is all baled, and the double-crop beans are planted and up."
Wheat harvest was 89% complete statewide as of July 13, in line with the average pace of 91%. Farmers also completed 58% of the second cutting of alfalfa as of the same date compared to the average of 60%.