The recent run of cloudy conditions and excessively wet weather wasn't exactly what the doctor ordered for the state's wheat crop.
Wheat condition ratings declined for the second week in a row the week of May 18, from 65% to 63% good to excellent. This follows a 3-point dip the previous week when 68% of the crop ranked good to excellent.
Meanwhile, the portion of the crop rated poor to very poor crept to 12%, while the remainder of the crop, 25%, ranked in fair condition last week.
"The ideal conditions for wheat right now would be sunny and dry," said Dave DeVore, grain merchandiser at Siemer Milling in Teutopolis. "A lot of the crop headed out the last three to five days (as of May 19)."
Wet conditions and even field flooding at some locations in recent weeks threatened stands and increased the threat level of disease to attack the crop.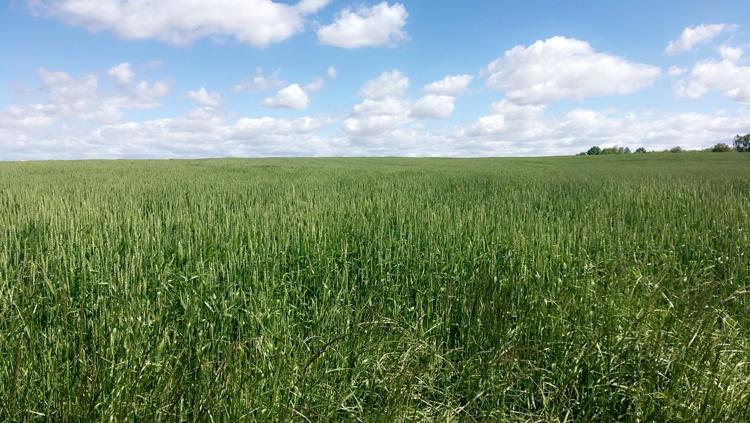 About two-thirds of the crop (67%) headed as of May 18, up from 56% last year at that time, but down from the five-year average of 72%, according to the National Agricultural Statistics Service Illinois field office.
"Rain at this time is not a benefit (to wheat)," DeVore said. "Hopefully, farmers got fungicide on to help prevent fusarium head blight from happening."
DeVore, along with other wheat industry professionals and growers, plan to scout the crop next week as part of a revised edition of the Illinois Wheat Association's (IWA) annual southern Illinois crop tour. Scouts plan to go out on their own due to social distancing measures and report their crop findings later to IWA.
"We'll count some tillers," DeVore said.
"I think we were cautiously optimistic with what's out there (prior to a recent freeze and heavy rains this month)," he noted. "I thought the USDA yield estimate (of a statewide average of 72 bushels per acre) was a little aggressive."
USDA this month also forecast harvested wheat acres could total 530,000 in Illinois, 40,000 fewer acres that what farmers seeded last fall.
Cool temperatures in late April and the first half of May could also delay the projected start of harvest until the last week of June in some parts of the state. Wheat generally ripens about six weeks after heading, DeVore noted.
"If I had to make a call now, I'd say we're looking at a normal to late start to harvest," he added. "But it's hard to say. Wheat has a tendency to catch up."