Southern Illinois University (SIU) scientists are researching ways to manage weeds and reduce herbicide-resistant weed populations with cover crops.
Karla Gage, SIU assistant professor of weed science, and Eric Miller, SIU weed scientist and field program manager, described their project to optimize herbicide use in soybeans after cereal rye. The researchers spoke July 9 at the SIU Field Day on University Farms, Carbondale.
"We're doing novel things with cover crops for weed control," Gage said. She listed 11 broadleaf weed species that have developed herbicide resistance; several are resistant to multiple modes of herbicide action.
"We want to create cropping systems to curtail most weeds," Gage said. She is part of GROW, a network of scientists working to Get Rid of Weeds and reduce development of herbicide resistance among weeds.
Some steps are easy. For example, farmers should work in clean fields first before moving into weedy fields to reduce spreading weed seeds among fields on their farms.
However, southern Illinois farmers face unique challenges. Because southern Illinois fields are along migratory bird flyways, migrating birds could inadvertently spread herbicide-resistant weed seed along their route, Gage noted.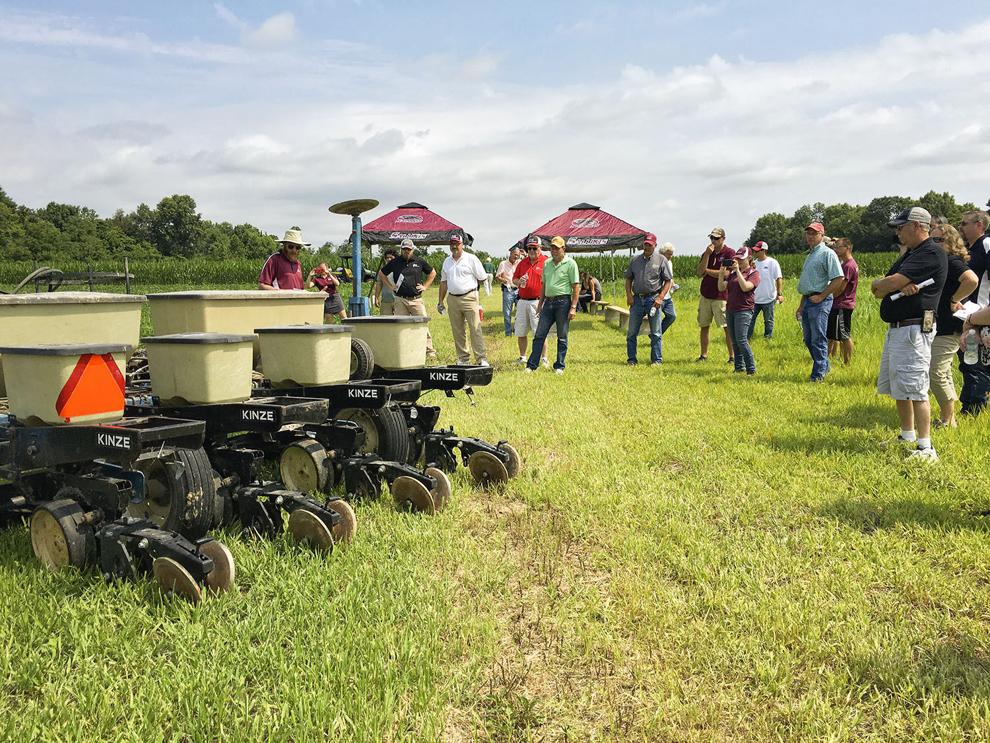 In his research, Miller seeded cereal rye at 90 pounds per acre to suppress weeds within soybean fields. He planted a mix of cereal rye and villosa clover Oct. 10. The clover, which can grow a couple of feet in height and has a hollow stem, climbs the rye and helps hold it down after the rye is crimped and rolled, Miller explained.
"If you crimp rye at the right time, you could maybe get rid of a burndown" to terminate the cover crop, he said. "My goal is to find the timing to eliminate an herbicide application at planting."
Using a roller-crimper planter, Miller planted soybeans in 30-inch rows on May 12. "I'm still working with the system to find out what works," he added.
Miller's study includes fields with and without cover crops and a broadcast application compared with an 11-inch band application.
"If you reduce herbicides by 30%, the less herbicide you apply and the more money in your pocket," he told farmers at the field day.
Not only do cover crops suppress weeds, but they also support weed seed depredation, according to Gage. "We have seed predators that eat weed seeds. Crickets eat weed seed. The more cover, the more we give seed predators a chance," she said. One study showed predators ate 85% of pigweed seed.