Thanks to special attention from growers, some southern Illinois fruit crops escaped damage from freezing temperatures on April Fools' Day and Good Friday. Strawberries and peaches were in full bloom, while most apple variety buds hadn't opened.
Overnight freezing temperatures hit the southern part of the state March 31 when clear skies early Good Friday helped the thermometer dip as low as 20 degrees in the coldest pockets.
In Union County, more than half of Flamm Orchards' 10 acres of strawberries were in bloom, leaving tender flowers at risk. While the apple buds were not open, the families' peach trees were, and flowers were abundant. "We have a huge (peach) bud set. The crop is extremely heavy," Austin Flamm told FarmWeek.
The Flamms used covers and ice to protect their berry crop near Cobden. First, protective covers were placed over the plants and then water sprinklers were turned on. Flamm explained the thin layer of ice on top of the cover provided extra insulation and trapped radiant heat rising from the soil. "Under the covers, the temperature never got below 34 degrees," he added.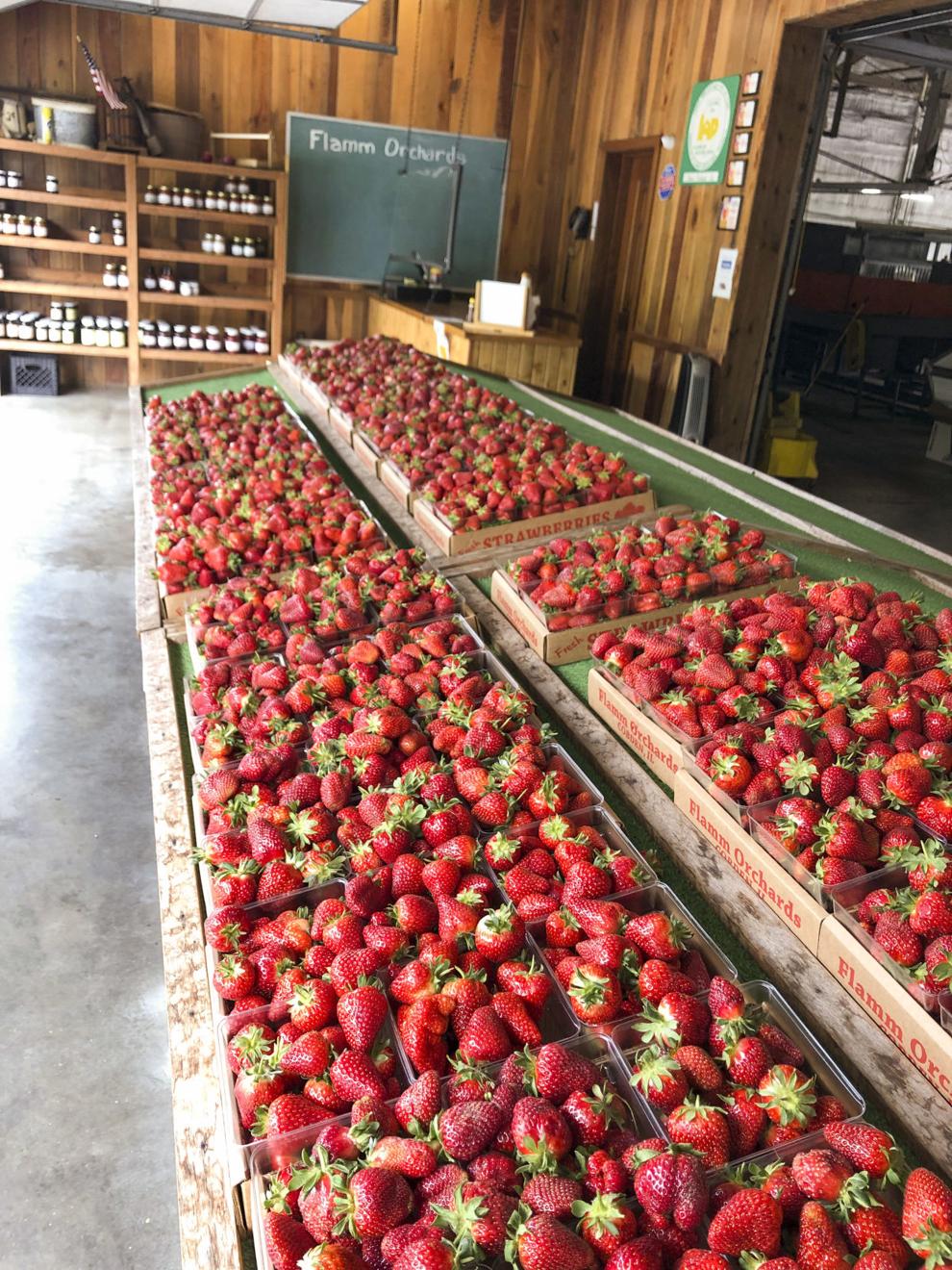 The strawberries did well, but some peaches were damaged and lost. However given the heavy peach bloom, Flamm didn't consider that a big loss. "We would have to thin 80% to 90% of blooms because we have so many on the trees," he said.
The grower was surprised about potentially significant damage to the apple crop. The full extent will not be known for another seven to 10 days when the buds open.
In Belleville, Chris Eckert worked to protect Eckert's Inc. strawberry crop by covering them with double tarps. Early berry varieties were in full bloom.
Peach trees also were in full bloom and temperatures ranged from 27 to 28 degrees to as low as 20 in some cold pockets, according to Eckert. Like his fellow growers, Eckert didn't consider the peach bloom losses detrimental.
"We have a huge (peach) flower count this year," he said. "It is overwhelming to think how many (peach blossoms) I have to thin."
Eckert noted some early apple varieties, including Red Delicious and Braeburn, were blooming, and he observed some bud damage. Apple trees do not have a heavy bloom this year, he added.
"I think all our farms did OK, even those in (Versailles) Kentucky where it got a little colder," Eckert said.
At the University of Illinois Dixon Springs Agricultural Center, tomatoes and strawberries growing in the unheated high tunnels needed floating row covers, said Bronwyn Aly, Extension local food systems/small farms educator. To gauge potential damage, a couple of tomato plants were not covered and were damaged, she reported.
Growers use high tunnels to extend the growing season. While plants growing in that system can handle temperatures from 28 to 30 degrees, the area's temperatures dropped into the low 20s, and the tunnel plastic didn't provide enough protection, Aly noted.