Allen Williams has grown sunflowers for nearly 20 years, mostly as a double crop with soybeans, on his farm near Cerro Gordo.
But the Piatt County Farm Bureau member planted sunflowers as the primary crop in multiple fields this year to take advantage of a unique opportunity.
"This year, Perdue Farms was interested in Omega 3 oil, and they wanted high oleic sunflowers," said Williams, who has specialty crop experience, including years of sunflower production and as a pumpkin grower for Libby's. "I found out about the contract and was interested. It worked really well into my organic rotation."
Williams grows conventional crops and produces organic corn, soybeans and wheat. He also utilizes cover crops since he started farming in 1972.
He increased his organic sunflower acres this year and planted the shorter-season crop around the second week of June. He plants sunflowers at a rate of about 24,000 seeds per acre.
Williams expects to harvest the sunflowers around the last week of September. He uses a soy row crop head/multi-crop head on his combine to glean the sunflowers.
He then aerates and stores them on his farm until the processor is ready to pick them up.
"Harvest is a little more sensitive (as the seeds can shatter) and sometimes you have to clean the combine two times a day because of all the dust and oil," he said. "You've also got to monitor the storage really well."
Why does Williams take the extra steps to grow sunflowers?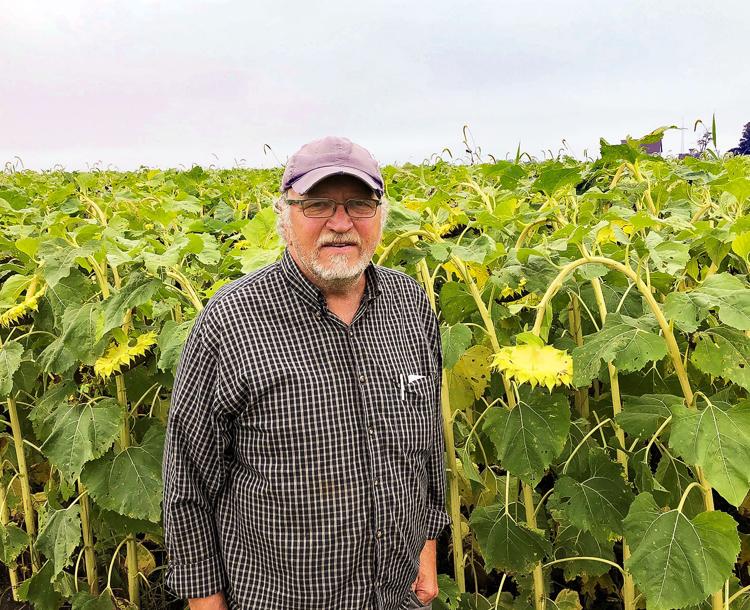 It diversifies his rotation and can pay off well with the right contract. When he first started growing sunflowers, they sold for $1 a pound and he grossed more than $2,000 an acre.
"Organic farming has gotten lean as well (during the economic strain in recent years across agriculture), but it's the only thing making money," he said. "Contracts like this are important to support net income."
Williams' primary crop of organic sunflowers goes for human consumption while production from double cropping often gets sold for bird feed in the pet store market.
His sunflower fields also produced an added benefit as a photo opportunity for those fortunate enough to drive by during blooming. Sunflowers bear one or more terminal capitula (flower heads) with the classic bright yellow ray florets on the outside and maroon or brown/red disc florets on the inside.
"They're a big draw during bloom. Parents tend to like to bring their children out to take images of them, especially this year when people have been restricted to their homes so much," he added.