Fieldwork delays are certainly challenging this time of year, particularly for livestock farmers who also have manure to apply as part of their crop fertilization program.
Al Lyman, Henry County Farm Bureau member from Cambridge, found himself in that exact situation for much of the first half of spring. But patience paid off as the longtime cattle and crop producer took advantage of much better soil conditions in recent weeks to catch up on both tasks.
"We got started at the end of April hauling manure, but then we had on-and-off rain and mechanical problems," Lyman said while taking a short break from planting for the installation of a new GPS receiver on his tractor.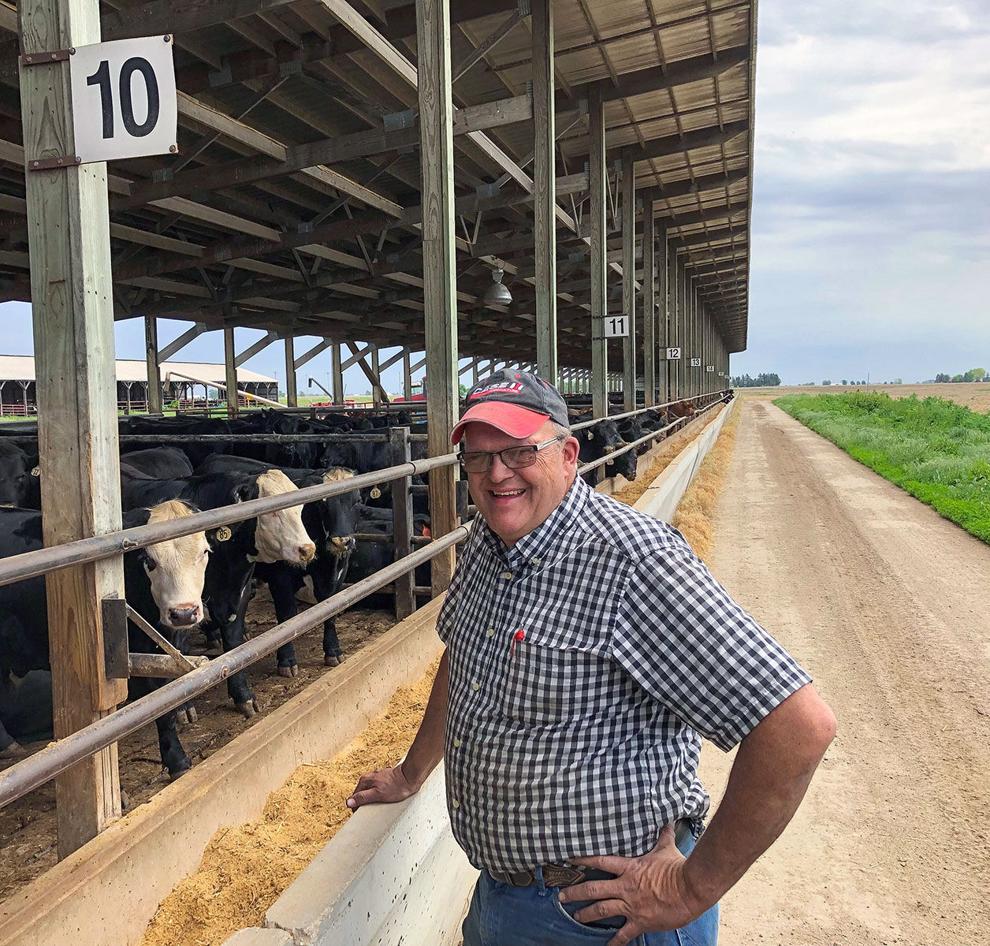 "A lot of times, I decide to get some seed in the ground (first), so it can be growing while I do something else," he noted. "On the other hand, the manure needs to be there before you plant into it. Agronomically, I'm glad I waited to haul manure. The ground conditions are much better now."
Lyman and his wife, Karen, operate Hadley Farms Inc. The original farm dates back in Karen's family to the late-1860s. The couple has been farming it for 25 years, since moving there from Iowa. The Lymans met while attending Iowa State University.
In 2014, the Lymans completed construction of a new monoslope cattle barn, which increased their operation to the point they can feed about 2,000 head of cattle annually. The addition improved cow comfort and provided more manure to fertilize their crop ground.
"We doubled our size. We do some more custom feeding than we did before," Lyman said. "In a year like this, the manure credit is pretty significant."
Estimates suggest a closed manure handling system was worth about $60 per head space for nutrient value to crops in 2019. This spring, that value jumped to around $160 as commercial fertilizer and crop prices skyrocketed.
"We have to add some additional nitrogen, but not as much if we didn't have the cattle around," Lyman said. "They provide about half the nitrogen and all the phosphorus, potassium and potash we need (to fertilize the crop ground)."
The Lymans test their manure to better manage their fertility program and also use variable rate planting to maximize crop returns.
They installed rubber mats over the slats of their new cattle barn in 2014 and added rubber flooring to their existing barn in 2011.
"We've seen better cattle comfort and ultimately better performance," Lyman said. "They feel better. It's the right thing to do."
The Lymans' son, Justin, a sixth-generation farmer, currently works on the farm along with three full-time employees.
When Al Lyman isn't busy on the farm, he spends a lot of time in leadership roles representing the industry. He spent 12 years on the Illinois Beef Association board during different stints, he fulfilled his term on the National Cattlemen's Beef Association Executive Committee as Region III vice president for the Federation of State Beef Councils for three years and he currently serves on the Beef Promotion Operating Committee, operated by the federation and Cattlemen's Beef Board.
His current role is particularly important this time of year as the industry celebrates and promotes May Beef Month.
"We decide the contracts for the beef checkoff," Lyman said. "We make the best decisions we can for the checkoff to get the best return on investment possible."
One of the most popular and famous promotions to come from the beef checkoff is the, "Beef. It's What's for Dinner" campaign.
"You meet some really great people you wouldn't otherwise," Lyman said of his years in ag leadership, which included a number of years on the Henry County Farm Bureau board. He also served on IFB's National Animal Advisory Committee and participated in the 2013 IFB Market Study Tour to Europe, which focused on livestock issues. "It's a balance of how much time you can volunteer and be away from your home operation."
Lyman is also very passionate about farmers building relationships with local, state and federal leaders and lawmakers, particularly as a growing number no longer have a personal connection to farms.
"I encourage people to engage with elected leaders so they call you when they have an issue," he said.
His wife works on the farm and also works part-time off the farm for an accountant, which makes for a particularly busy spring. She's nearing the end of her last term on the Henry County Farm Bureau board and is looking to spend more time on the revamped Women's Committee and the new Health and Safety Committee to stay involved at the local level.
The Lymans have two daughters, Andrea DeMent and Lauren Brown, who live off the farm, and four grandchildren.