Cool temperatures across the state and wet conditions at numerous locations put a damper on planting and general fieldwork activity last week.
But crop progress remains ahead of the average pace as of April 12, particularly in southern Illinois.
The National Agricultural Statistics Service Illinois field office reported 5% of corn was planted statewide as of that date, ahead of the average pace of 1%. And 3% of the winter wheat crop headed as of April 12, one point ahead of the average pace.
"There's been a little bit of corn and beans planted (in the northern half of Illinois). The conditions are probably good, but it's a temperature problem again," Nate Prater, Golden Harvest agronomist in southwest Illinois, said Wednesday, which featured patchy areas of frost in the morning.
"Now, you get down south of Route 64, and corn planting is probably 30% to 40% done and in some areas probably 15% of beans are planted," he noted. "You get the extra 5 to 10 degrees of (warmer) temperatures down there, and they missed out, in spots, on the rains."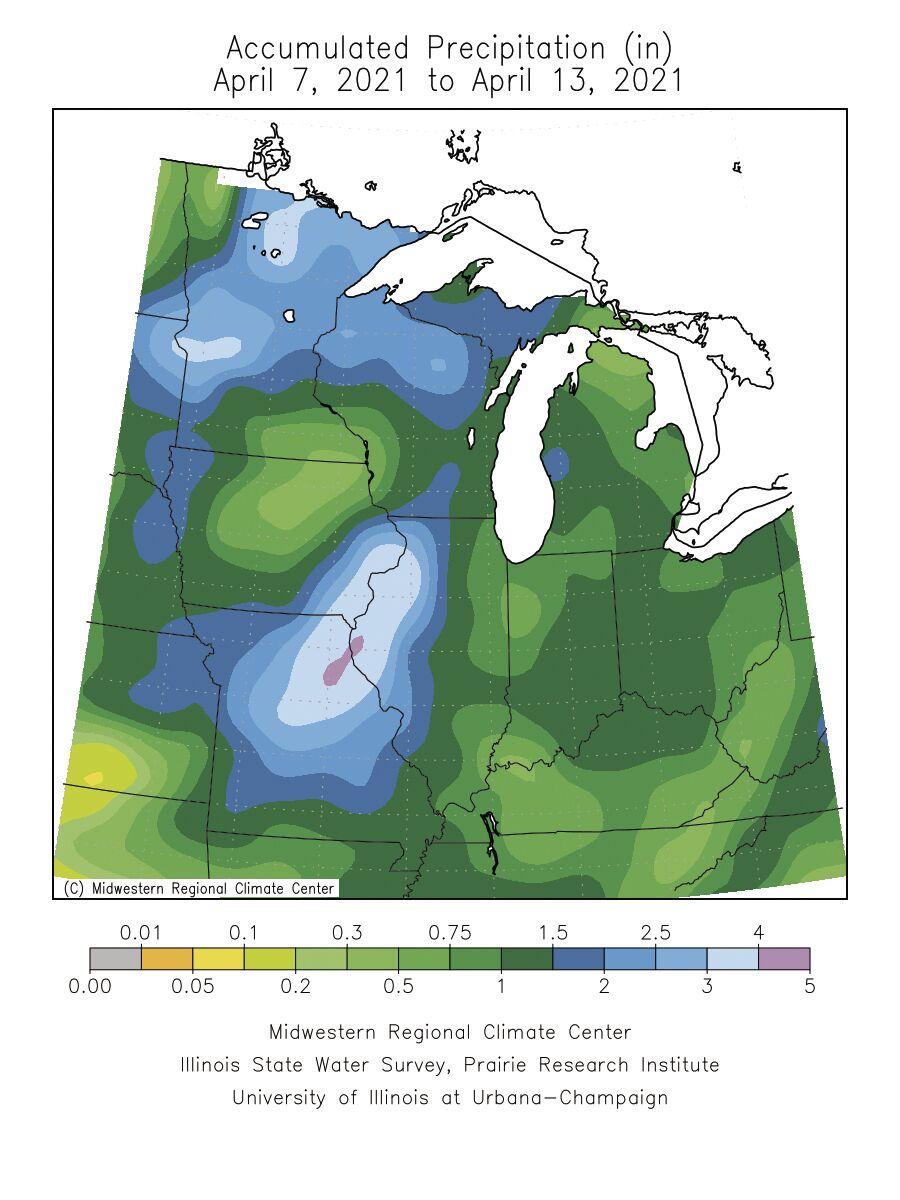 Rainfall from April 7-13 ranged from a soggy 3-5 inches in the western third of the state (north to south), about 1-2 inches down the central section of the state to lighter totals between a few tenths to an inch in the eastern portion and far southern tip of the state, according to the Midwestern Regional Climate Center.
Topsoil moisture in Illinois improved to 73% adequate, 21 surplus and just 6% short as of April 12, compared to 17% short to very short the previous week.
But with temperatures forecast to generally remain below average much of this week (with highs possibly struggling to reach 60 and lows in the 40s and 30s), what should farmers do about fieldwork?
"My suggestion is if you're itching to plant something, plant beans," Prater said. "I'm a huge proponent of planting beans first. They seem to handle the ups and down a little better. It's worked on my family farm (near Fillmore in Montgomery County) the last five years.
"The goal is to have them in full bloom by June 21 (the longest day of the year), when the plants need as much energy as possible."
As fieldwork activity ratchets back up, Prater urges farmers to tackle emerging weed issues.
"Growth-wise, winter annuals are ahead of the normal pace," the agronomist said. "Make sure you're doing burndown passes and make sure your bean trait matches what you're using."
Prater believes marestail presents one of the main weed concerns in the weeks ahead. He recommends a burndown before tillage and, as always, farmers should use multiple modes of action in the tank.
As for insects, Prater suggests farmers pay attention to signs of any corn rootworm issues, particularly in corn on corn and any areas in which the pest was present last year.
And on the disease front, Prater noted tar spot continues to move from north to south in recent seasons, while southern corn rust crept a little farther north the last few years. Both sometimes require field treatments, depending on timing and severity.