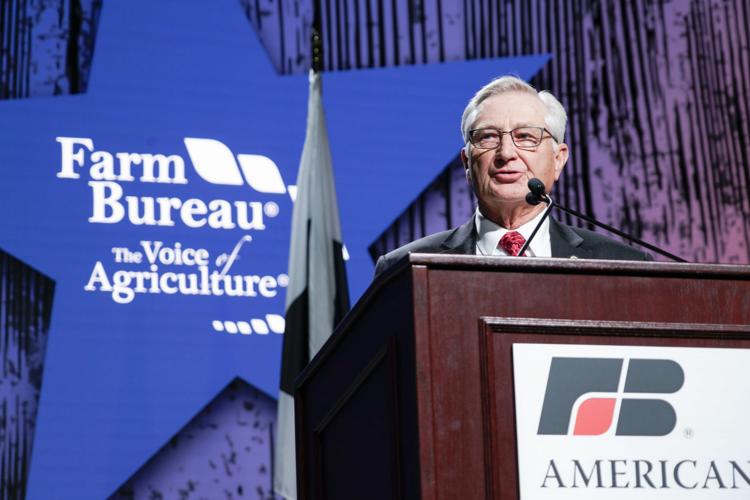 American Farm Bureau Federation's (AFBF) 101st Annual Convention in Austin, Texas, concluded with the adoption of Illinois policy submittals during delegate session.
Delegates adopted Illinois policy regarding climate change, high-octane/low-carbon fuels and wetland delineation, among others.
The climate change policy includes provisions for science-based research and incentivizing voluntary on-farm energy improvements. "In essence, what it does is ensure that agriculture is at the table ... and to make sure we receive credit for the things that agriculture is already doing ...," Mark Gebhards, Illinois Farm Bureau executive director of governmental affairs and commodities, told RFD Radio.
The amended fuels policy calls for legislative and regulatory approval of high-octane, low-carbon (HOLC) fuels. Dennis Green, IFB Board member, explained to the delegate body that HOLC fuels will reduce emissions and improve the environment.
A new sodbuster and swampbuster policy was adopted calling for USDA to provide education and training to farmers, landowners and the public. This will allow for better understanding of wetland delineations, determinations and appeals. "We feel that requiring the USDA to provide education and training will help everyone get on the same page on how this process works," said Jeff Kirwan, IFB Board member.
Other strongly debated policy included Country of Origin Labeling (COOL) and the Market Facilitation Program (MFP).
A policy amendment submitted by Texas was debated proposing mandatory COOL. "Mandatory Country of Origin Labeling would immediately put us in violation of the USMCA (U.S.-Mexico-Canada Agreement) ... and would allow Canada and Mexico to put tariffs on our meat products," stated Brian Duncan, IFB vice president. The proposal was voted down, and original policy supporting voluntary COOL was retained.
Policy regarding the continuation of MFP was heavily debated by delegates from across the nation. Questions surrounding what marks the end of the trade war or when the markets will come back were proposed. Ultimately, delegates voted to keep the continuation of MFP in AFBF policy.
"When we get down the road, there's nothing we'd like better than to have these agreements kick in and show us some expanded market opportunities, and hopefully, the markets will come with that," commented Scott VanderWal, AFBF vice president.
Additional policy changes included the adoption of new hemp policy, amended national dairy program policy, and amended farm labor and immigration policy.
Delegates also accepted a recommendation submitted by Illinois asking for the AFBF Board to prioritize a deep dive into National Agricultural Statistics Service reporting.
IFB President Richard Guebert Jr., reflected on the voting delegate session. "Our delegates were instrumental in promoting and debating several key policy resolutions to promote and protect the interests of Illinois Farm Bureau members," said Guebert.
During elections, Zippy Duvall and Scott VanderWal were re-relected to two-year terms as AFBF president and vice president, respectively.
More than 6,000 members across the nation attended the AFBF Annual Convention, including 346 voting delegates. Illinois was represented during the policy session by 20 delegates.