As the rain came pouring down, participants at the Nutrient Stewardship Field Day near Cuba got a good look at how innovative best management practices are effective in helping prevent nutrient runoff from farmland.
The June 28 event, which was hosted by the Fulton County Farm Bureau, showcased the county's partnership with the Metropolitan Water Reclamation District of Greater Chicago (MWRD) at the district's Fulton County research site. 
Other research partners include the University of Illinois, the Illinois Nutrient Research & Education Council (NREC), Cook County Farm Bureau and Illinois Farm Bureau.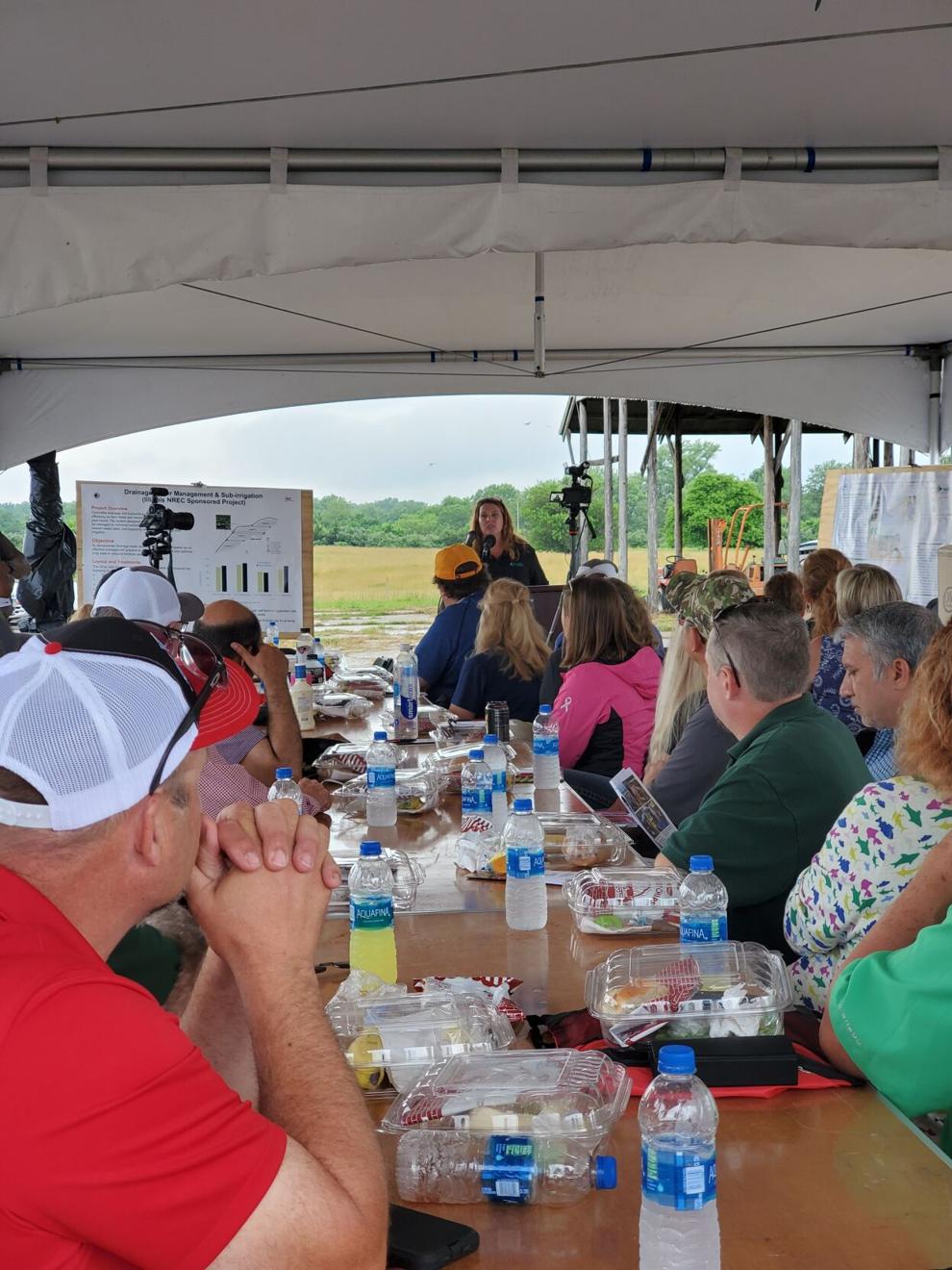 "This is the epitome of what collaboration with stakeholders looks like," said Albert Cox, MWRD environmental monitoring and research manager. "We want farmers to take these practices back to their own farms and move the needle on nutrient stewardship."
MWRD began its relationship with Fulton County in the 1960s, transporting sewage sludge from Chicago to previous strip mine acreage where it could be used as fertilizer. Holding basins were constructed to contain the sludge so it could be pumped to surrounding fields. Today, 4,000 of the 13,000 strip mine acres have been reclaimed and are farmed by area producers on lease.
"This project is unique because its focal point is showing how to turn treated waste into fertile soil. It has been an expanding, effective partnership. We hope the success here will spread into areas outside of Illinois," said Lauren Lurkins, IFB director of environmental policy.
Three ongoing research efforts were highlighted during the field day. Olawale Oladeji, MWRD senior environmental soil scientist, shared how they are evaluating cover crop inter-seeding by establishing the cover crop early in the season for more effective nutrient loss reduction in the off-season. Cover crop was inter-seeded into standing corn about three weeks after planting.
"We want to establish the crops early, so nutrients stay in the soil," said Oladeji. "So far, we have seen no competition issues with the corn and the cover crops seem to be doing well."
Wei Zheng, principal research scientist with the Illinois Sustainable Technology Center, shared promising details of a denitrifying bioreactor they have in place enhanced with a biochar module. Biochar is charcoal that is produced by pyrolysis of biomass in the absence of oxygen. The goal is to generate designer biochars to effectively capture phosphorus from subsurface tile drainage, recycle the phosphorus-captured biochars as slow-release fertilizer, and keep it in a closed loop.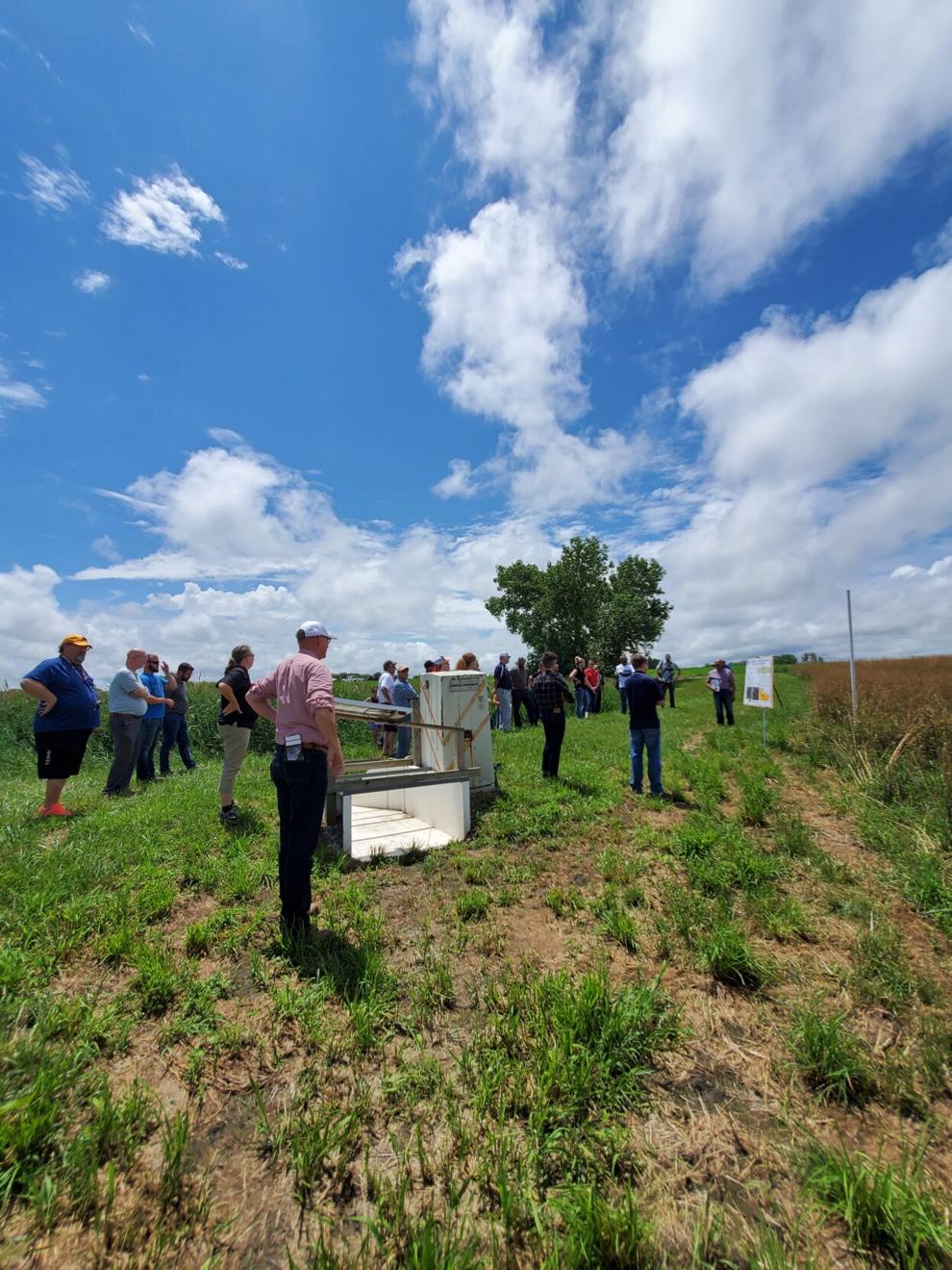 Grass buffer strips are another strategy for nutrient capture under study in Fulton County. Essam El Naggar, MWRD environmental soil scientist, is exploring edge-of-field buffer strips planted with miscanthus to intercept nutrients from field runoff and drainage. Preliminary results show strips reduce nitrate and soluble phosphorus in runoff by 44% and 35%, respectively.
"The grass around the field slows runoff and water can percolate into the soil," he said. "Grass roots suck up the nutrients. We are also testing using the miscanthus for biofuel production."
"If we are efficient with nutrients, then we are doing our job," added Julie Hewitt, executive director for the Illinois Nutrient Research and Education Council (NREC). NREC has invested some $30 million during the last nine years in such projects, including Fulton County's. "Collaboration is the story. We have to take field-scale projects and show they work on farms since at the end of the day, it has to make sense to succeed for the farmer."
To read more about IFB's nutrient stewardship field days, visit www.ilfb.org/fielddays.