Farmers and soil scientists know healthy soil when they see, feel and smell it. Measuring it? That's more difficult, according to Hans Kok, project director with the Conservation Technology Information Center (CTIC).
"How can you tell soil health? There are all kinds of tests, and you can spend a lot of money. Soil health is hard to measure," Kok said, during the Illinois Department of Agriculture's Conservation Cropping Seminar in Bloomington.
Kok, with the conservation group based in West Lafayette, Indiana, called soil biology "elusive" compared to soil physics and soil chemistry.
Long-term studies show the changes farming practices cause. Kok showed data from the University of Illinois' Morrow Plots that were established in 1876 on the Urbana campus. Under continuous farm production, soil organic matter decreased from 6% to 1%, an 80% decrease, Kok noted.
"Grandpa had much better soil than you do now," he told the audience of farmers.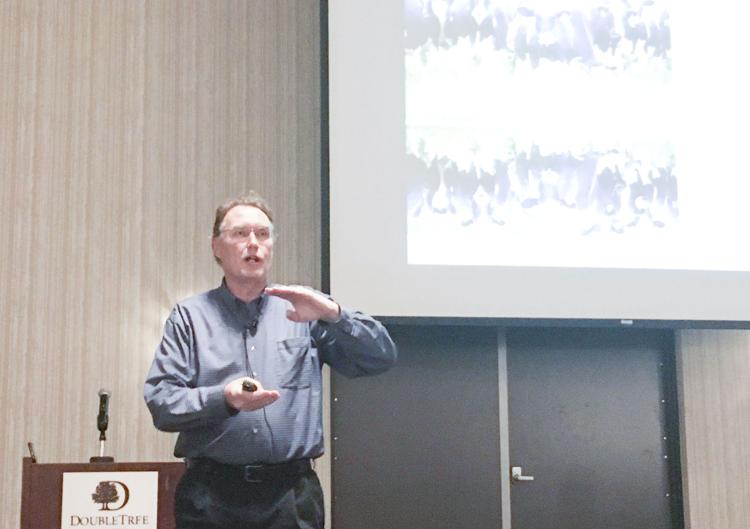 Kok promoted cover crops as a way to improve and diversify soil biology. "Cover crops are not like fertilizer or weed control. They're more like lime. You cannot expect change overnight," he said.
Soil fungi are one reason soil sticks to cover crop roots. "The fungi reacts to the plants' need for nutrients," Kok said.
Kok referred to data from Rulon Enterprises, a family farm in Arcadia, Indiana, to illustrate cover crops' economic value.
In 2014, Rulon spent $14 per acre for cover crop seed and $11.73 for seeding costs on 3,527 acres. The farm did tests on yields and fertilizer savings. However, they didn't take monetary credit for nitrogen saved, Kok said. Rulon estimated capturing $81 per acre for a $26 per acre investment, he said.
"Guys, it's an economic decision, not an environmental decision," Kok said. "We can actually make more money (with cover crops)."
Cover crops also can help suppress weeds. Cereal rye has been shown to suppress herbicide-resistant waterhemp through shading out weeds and allelopathic chemicals that work on small, shallow-seeded weeds, Kok said.
In addition to adding nutrients and suppressing weeds, cover crops also can help reduce compaction. Kok encouraged farmers to consider planting tillage radish to break up compaction. "The top growth is not the only investment; the machine is below (the ground level)," he added.