Promoted for environmental benefits, cover crops' economic gains remain altruistic, but a Western Illinois University (WIU) research team seeks to boost their financial worth.
"The real goal is value-added," said Mark Bernards, WIU associate professor of agronomy, crop science and weed control.

If Bernards and his fellow researchers succeed, Illinois farmers and possibly others in the Midwest, could integrate a harvestable, grazeable cover crop into a corn-soybean rotation that's not only good for the environment but also their bank accounts.
The multifaceted, five-year project involves a unique perennial small grain known as Kernza, a wheatgrass. Kernza is being studied as a dual-purpose grain and forage crop for grazing and use as a vegetative cover. The crop could be harvested about five consecutive years without needing to be reseeded, according to the agronomist.
"You would have a grain crop with tremendous amount of grass left to use as a forage crop and graze in the fall," Bernards explained.
Within a couple of days, the scientist hoped to harvest the Kernza plots that were planted last fall. The kernels are smaller, about one-fourth to one-fifth the size of a wheat kernel. Bernards said it has been used to make cereal and brew beer. Currently, a limited number of Kernza acres are grown in Illinois and there isn't an Illinois market, he said.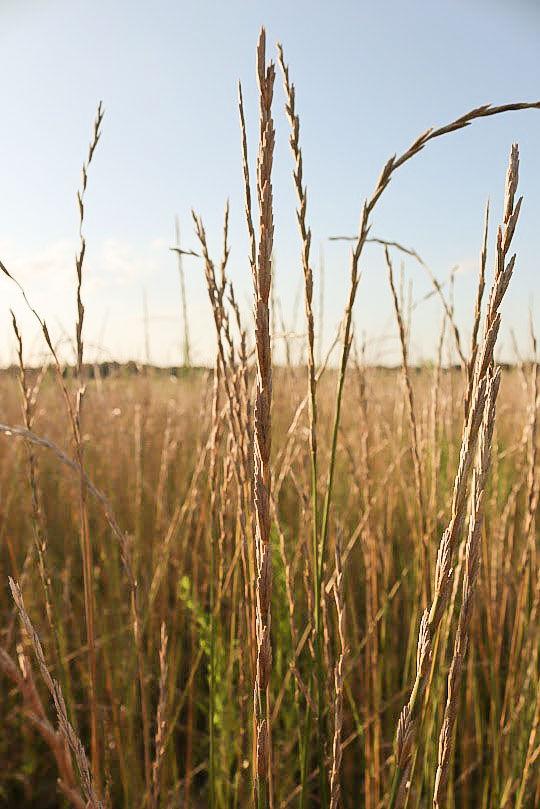 Funded by the Illinois Nutrient Research and Education Council, the WIU project includes the study of continuous vegetative cover with a system of corn, soybeans, a small grain and a cover crop mix that will be established between each cash crop and allow grazing in fall, winter and early spring. Bernards said cereal rye was seeded as the small grain and seed would be kept for cover crop use.
One of the team's goals is to reduce nitrate losses from tile-drain fields planted in a conventional corn-soybean rotation by establishing continuously growing roots, Bernards said.
The cover crop mix includes legumes, brassicas and grasses to be grazed in the fall and spring. "With the legumes, we hope they fix some of the nitrogen, so we don't have to apply as much nitrogen for the corn," the agronomist said.
The system's ability to reduce nutrient losses through tiles is being measured. The plots were installed on 16 acres at WIU's Kerr Farm, which has had tile laterals since 2017. A box at the end of each plot and lateral measures water flow. Every two weeks, water samples are taken and tested for nitrogen and phosphorus. Grazing duties will be handled by WIU beef cattle that are housed on the Kerr Farm.
Researchers "realized grazing (livestock) will be an important economic component. Perhaps one day, there will be payments for cover crops. But until then, we're going to have to run animals across that ground," Bernards said, adding, "Having animals across the landscape improves soil health."
Bernards acknowledged grazing cover crops limits the types of herbicides that can be used in a corn-soybean rotation. "I see that as a challenge for weed control options in a cover crop system," he said.
Wildlife depredation can be another challenge in some areas. The local deer population enjoyed grazing his cover crop plots over the winter, Bernards said, joking it became "a deer food plot."
In addition to agronomic challenges, researchers also are studying the impact on soils, livestock and the environment. The system's economic viability is being researched. Joining Bernards are Keela Trennepohl, animal scientist; Roger Viadero, aquatic environmental engineer; Graciela Andrango, agricultural economist; and Joel Gruver, soil scientist.
Bernards and his team tentatively plan to discuss their project at a Sept. 17 field day in the afternoon.
"This (strategy) could be a radical departure" compared to conventional systems, Bernards said. "I hope the economics work for livestock people and to improve the environment."