Wabash Valley College and the Wabash Valley Stewardship Alliance seeded a pollinator plot — and they came. High school seniors and their photographers seeking a picturesque setting. Families exploring and sharing Facebook photos. Bird watchers and other nature enthusiasts pursuing their hobbies.
The insects, birds and wildlife? They came, too.
"The community has gone bananas. There are people asking, 'What can we do on our ground?' It's been great publicity for the college," said Mike Wilson, specialty product manager with Wabash Valley Service Co.
Consider the public interest and goodwill - not to mention many environmental benefits - sprang from a 1-plus acre of college property that had been difficult to farm. Now it's the talk of Mount Carmel.
The pollinator plot was the work of the college, the service company and nine county Farm Bureaus representing Crawford, Edwards, Gallatin, Hamilton, Lawrence, Richland, Wabash, Wayne and White counties. The county Farm Bureaus and Wabash Valley Service Co. comprise the Wabash Valley Stewardship Alliance.
Located across the street from the college, the plot "is generating a lot of good buzz. We've gotten a lot of feedback," said Lawrence County Farm Bureau Manager Paige Langenhorst.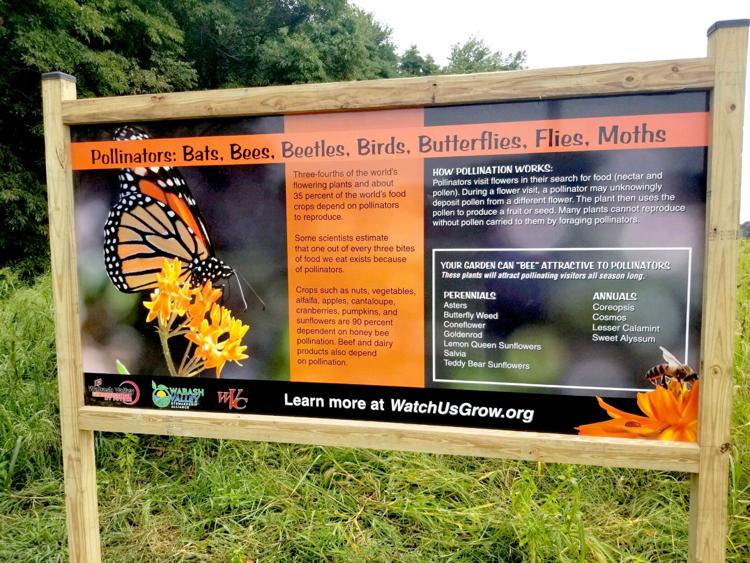 Steve Hnetkovsky, agriculture production instructor at Wabash Valley, envisioned using the plot to reinforce concepts about pollinators and their importance in his crops class, as well as soil and water quality benefits over time. Baseline soil samples were taken before the plot was seeded.
Recently installed, a series of 'Burma Shave' signs for the driving public and a large informational sign inform passersby and help generate interest. In addition, the partners created a walking path through the plot.
"I'm glad to see the publicity and the promotion of pollinators' importance," Hnetkovsky said. "I've seen a lot more bird species and increased wildlife, butterflies and pollinators."
Wilson added, "Goldfinches are hammering" the plot's sunflowers.
Not only has the plot captured the general public's interest, but it is also spurring pollinator plot interest among farmers. Wilson, Hnetkovsky and Langenhorst reported being contacted by farmers asking about pollinator plots. Plans are to continue the plot next year, according to Langenhorst.
Another benefit growing out of the pollinator plot is the possibility of other projects. "The college would like to do more things with us," Wilson said of the Wabash Valley Stewardship Alliance.
"I've found out more about pollinators," Hnetkovsky added. "Finding partners is important."