Farmers have long understood the value of a robust, symbiotic relationship with the soil. Stockton farmer Greg Thoren exemplifies this relationship on his farm by using cover crops, rain simulations and no-till practices to replicate university research and validate results in the real world.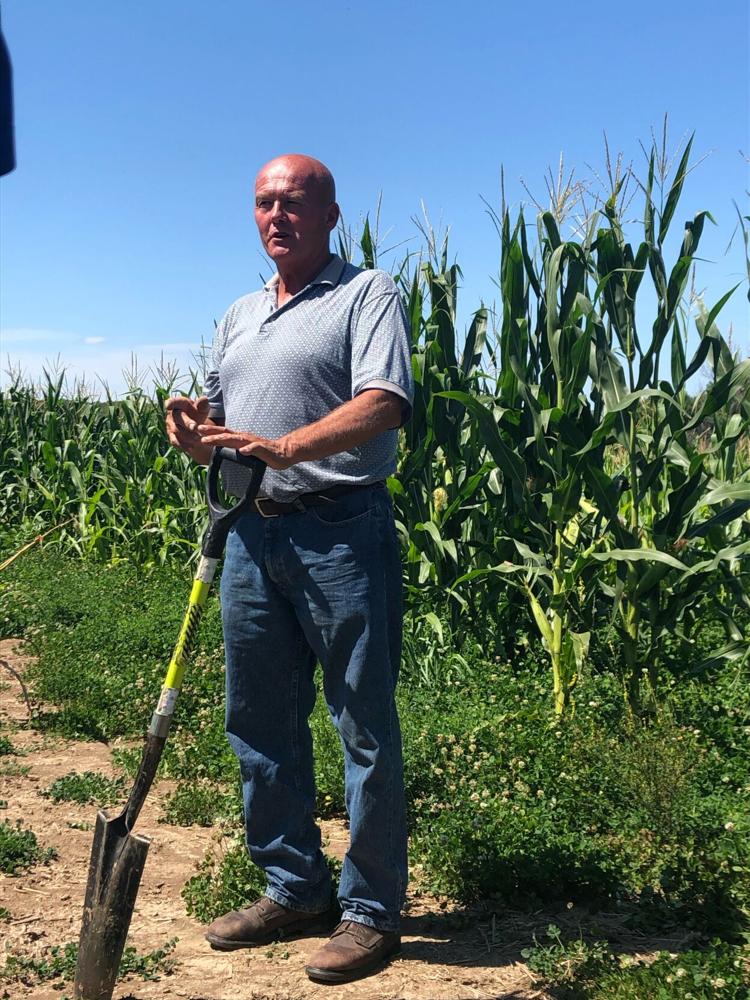 Since 2012, Thoren has partnered with public and private groups to implement innovative research trials on his farm. These efforts include installing a USDA-certified rainfall simulator and side-by-side cover crop strip trials to study potential improvements to soil health. The Jo Daviess County Farm Bureau board member recently discussed the research at the seventh virtual field day in a series offered through the Illinois Farm Bureau Nutrient Stewardship Grant Program.
Thoren's no-till, non-GMO corn and soybean farm features a multitude of "teachable moments," with more than 13 different cover crop plots and 39 soil testing sites in various locations. Plots on the farm are studied in conjunction with the University of Wisconsin (UW)-Platteville Soil and Crop Science Department.
UW-Platteville students built the rainfall simulator on one of Thoren's fields to better understand the impact of water on crop management. Andrew Cartmill, an assistant professor with Soil and Crop Science departments at UW-Platteville, said his team of students and researchers are enthusiastic about seeing how data collected at this site scales to other farms across the state.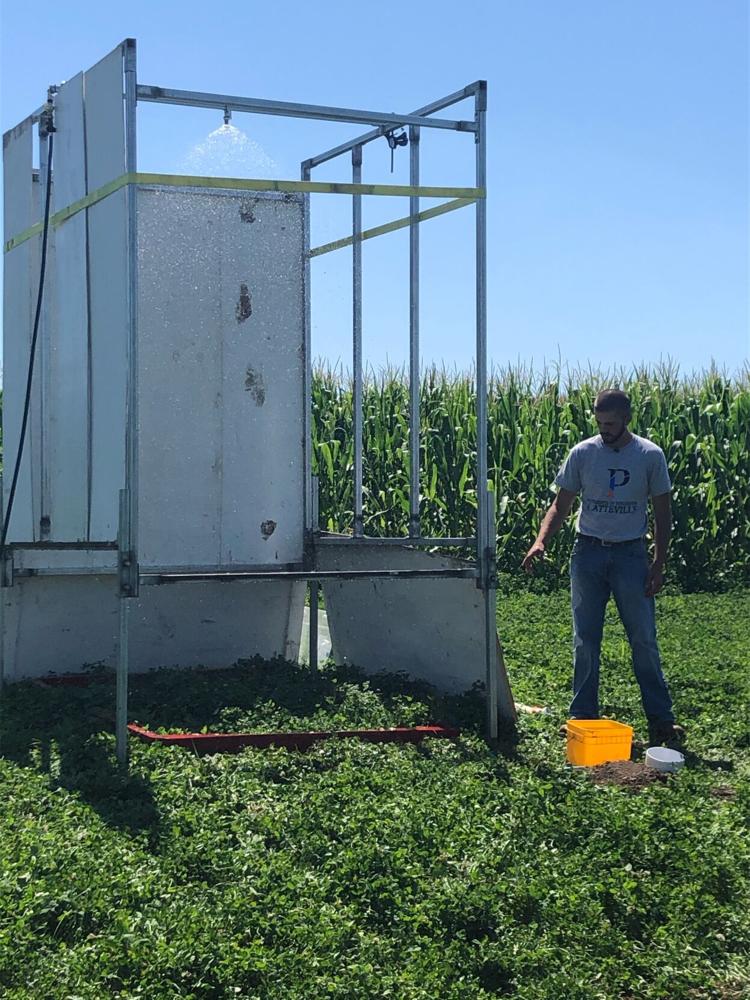 "Not all no-till is the same. Not all cover crops are the same. Not all soils are the same," said Cartmill.
Cartmill said Thoren has been directly involved in planning the research to make sure farmers can learn from the results.
"We are making sure our research actually means something," Cartmill said. "It's really easy for university research to go off in the wrong direction. And plus, the farmers are ahead of us – to see the cool things farmers are doing."
In another field, four different cover crop interseeding trials create a variety of research examples, and a solid blanket, for the rolling soils of northwestern Illinois.
"The fact that we can replicate our research at the University Farm onto a working farm is beneficial," said UW-Platteville University Farm Research Manager Dennis Busch. "The data we collected from the demonstration plots imply that the agronomic practices utilized result in good soil health."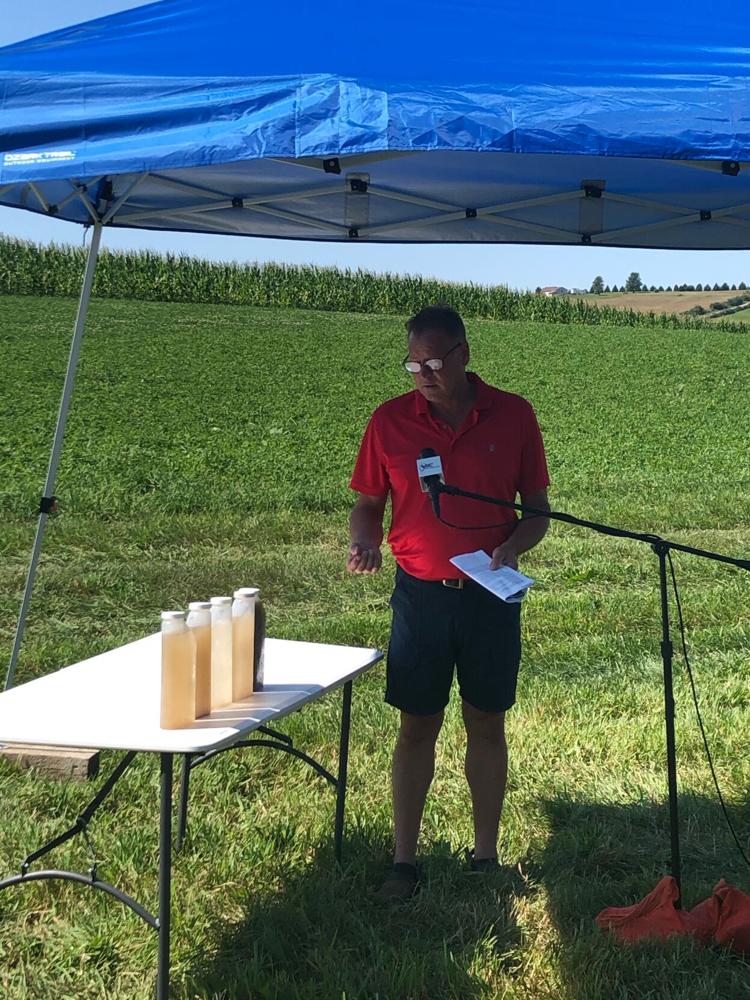 Another sign of soil health is only evident when looking below the soil surface.
While Thoren dug into the soil and continued to find earthworms, it reminded him of a quote from years ago.
"There are a lot of numerical and tests that can be done," he said. "The best test of soil health is actually to get a spade in dig in your soil."
Research at Thoren's farm has shown that the addition of cover crops to traditional crop rotations provides additional nitrogen storage opportunities in the soil, reduces fertilizer costs and builds better soil structure.
"This is what we do and why we do it," Thoren said. "Produce a healthier, more nutrient-dense crop, and we can do it without excessive fertilizers and pesticides."
Besides IFB, Jo Daviess County Farm Bureau and UW-Platteville, Thoren also works with Stephenson Service Company, Jo Daviess Soil Health Coalition, Agnetic LLC and Soil Health Partnership on the research. IFB's ability to connect these groups on such an extensive project is invaluable, Thoren said.
To learn more about their efforts through videos and other coverage from the virtual field day, visit www.ILFB.org/FieldDays.
This year's series of virtual field days provides opportunities for farmers across the state that would not be possible with in-person events.
"Watching real on-farm solutions develop into possible future farm management solutions is genuinely gratifying," said IFB Director of Environmental Policy Lauren Lurkins. "We are excited to host this information online so farmers can access it at any time."