Tackling growing issues head on, Southern Illinois University (SIU) and University of Kentucky (UK) scientists embarked on an ambitious research project focused on nitrogen recommendations and cover crops.
"This is the next generation of cover crops," said Amir Sadeghpour, SIU assistant professor of plant, soil and agricultural systems.
During a recent SIU Field Day, Sadeghpour and Joshua McGrath, UK associate professor of plant and soil science, shared their work to develop more precise nitrogen recommendations for corn in their respective states. They also are studying cover crop strategies to reduce nitrate leaching in research funded by the Illinois Nutrient Research and Education Council.
The two soil scientists are experimenting with novel management of cereal rye-clover mixture preceding a corn crop. With assistance from John Pike, a research agronomist at Pike Ag LLC, the researchers are applying a precision planting strategy to seed cereal rye between rows that will be planted in a cash crop.
That tactic "eliminates the difficulty to plant (a corn crop) in residue," Sadeghpour said. It also allows sunlight to warm soil in the row for earlier planting compared to soil shaded by a cover crop, he added.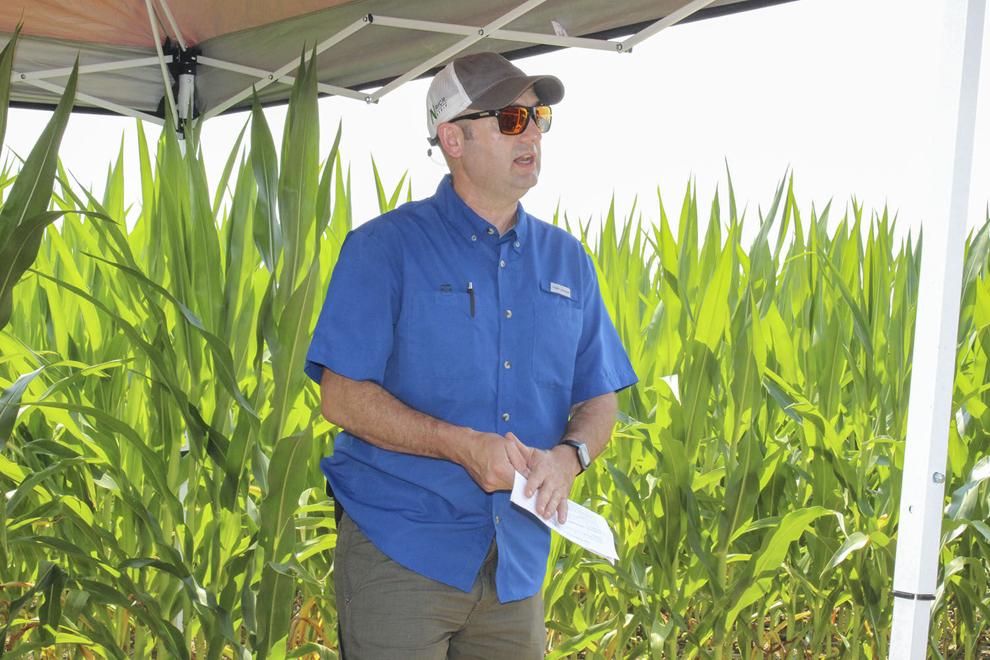 The researchers are testing several scenarios with and without cover crops. These include normal planting, skipping a cover crop row and interseeding cover crops and cash crops. To those planting practices, they applied early termination two to three weeks prior to planting and late termination at planting. Some trials received 160 pounds of sidedressed nitrogen per acre.
"This fall, we will have yield data on the next generation of cover crops," Sadeghpour said.
The researchers want to assess intensive cover crop systems compared with different crop rotations, such as corn and wheat or barley and soybeans.
Sadeghpour and McGrath also are working on precision nitrogen recommendations with replicated research plots on farm fields in Shawneetown and the Kentucky communities of Elizabethtown and Russellville.
Their unique study uses precision agriculture equipment to conduct side-by-side, in-field comparisons of four nitrogen strategies on 20-foot by 120-foot plots. The practices being studied are: starter and sidedress fertilizer, starter and maximum sidedress fertilizer, starter fertilizer and no sidedress, and no fertilizer applications.
"We've generated more than 7,000 data points," McGrath said. "The nitrogen rates were applied by prescription. Every plot is split into four (practices) so we can look at the response right there. No one has ever done that before."
The researchers want to build a yield equation for nitrogen rates that would work with an "on-the-go sensor on the sprayer that would make the decisions," McGrath explained.
McGrath and Sadeghpour hope to use their variable rate equation for variable nitrogen rate recommendations based on yield predictions, but the algorithms must be local, they said.
"What we've seen in other places, you can cut the nitrogen by 20% to 25% and still get the same yields because you are targeting the nitrogen," McGrath said.