Stockton farmer Greg Thoren goes to the extreme.
He has to if the research trials ongoing at his Jo Daviess County farm will lead to potential solutions to improve soil health.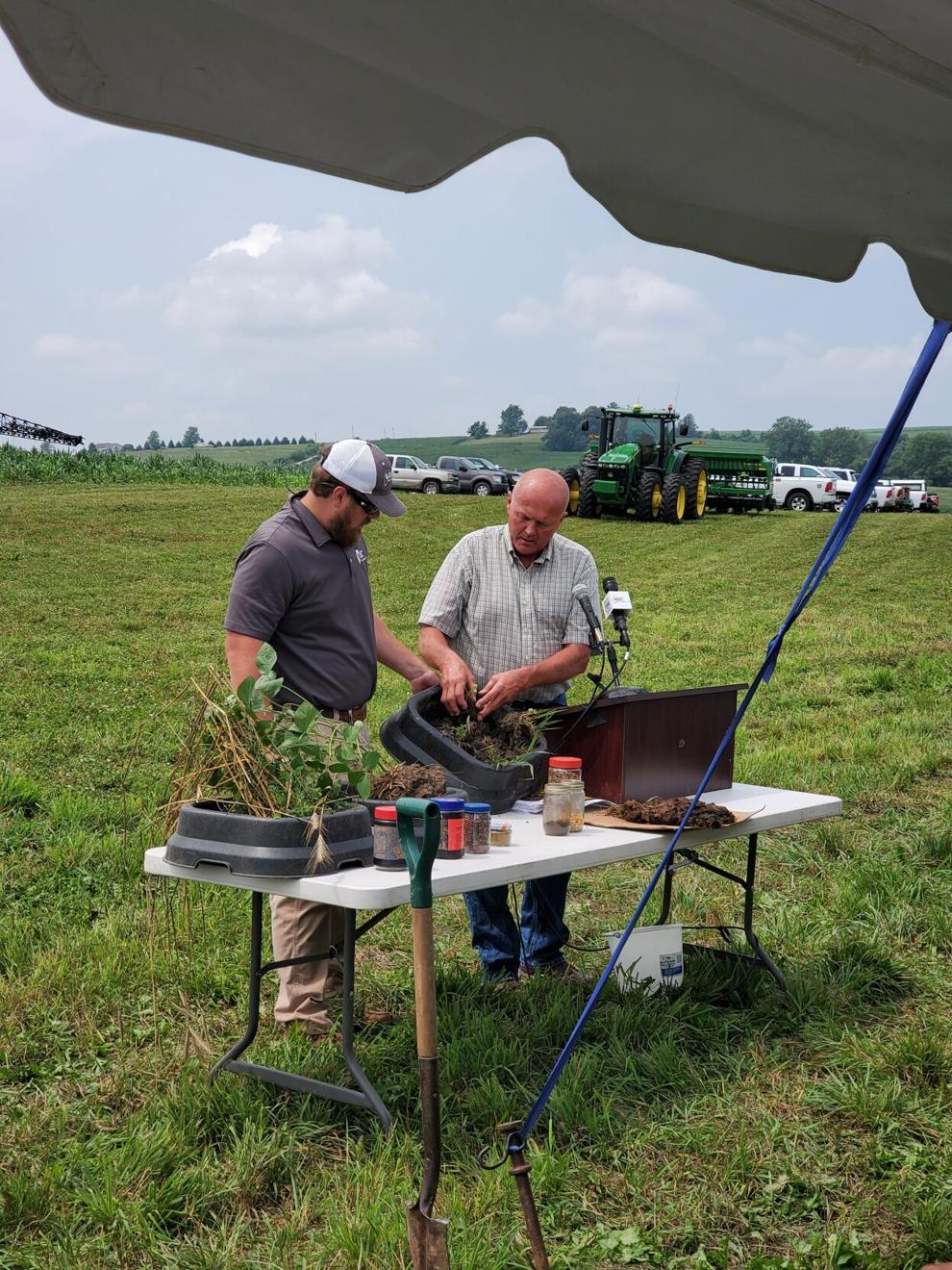 And he's the first to admit some of the methods have not been perfect.
"I'm hoping to open up the minds of some producers or maybe answer a few questions," he said.
For nearly a decade, Thoren has partnered with public and private groups to implement innovative research trials on his no-till, non-GMO farm, including planting side-by-side cover crop strip trials to study potential improvements to soil health and sampling water from a pond and tiled waterway to evaluate nutrient levels.
Other efforts include installation of a USDA-certified rainfall simulator to better understand the impact of water on crop management.
Thoren and his research partners discussed the ongoing research at a recent field day offered through the Illinois Farm Bureau Nutrient Stewardship Grant Program.
Across his farm, various research trials are taking place, focusing on nitrogen management with crops, cover crop usage, manure application on fields, rotational grazing and water runoff and soil health.
Before the group of about 70 attendees started their tour of the farm July 16, Thoren cautioned what they were about to see may not be pretty.
"There's some good, some not so good ... I don't advise doing everything I do," Thoren said, adding economic feasibility hasn't yet been addressed as part of the research.
The first stop was a plot where varying rates of nitrogen – from 0 to 200 pounds – were applied to study the effects on plant growth and how to return nutrients back to the soil structure.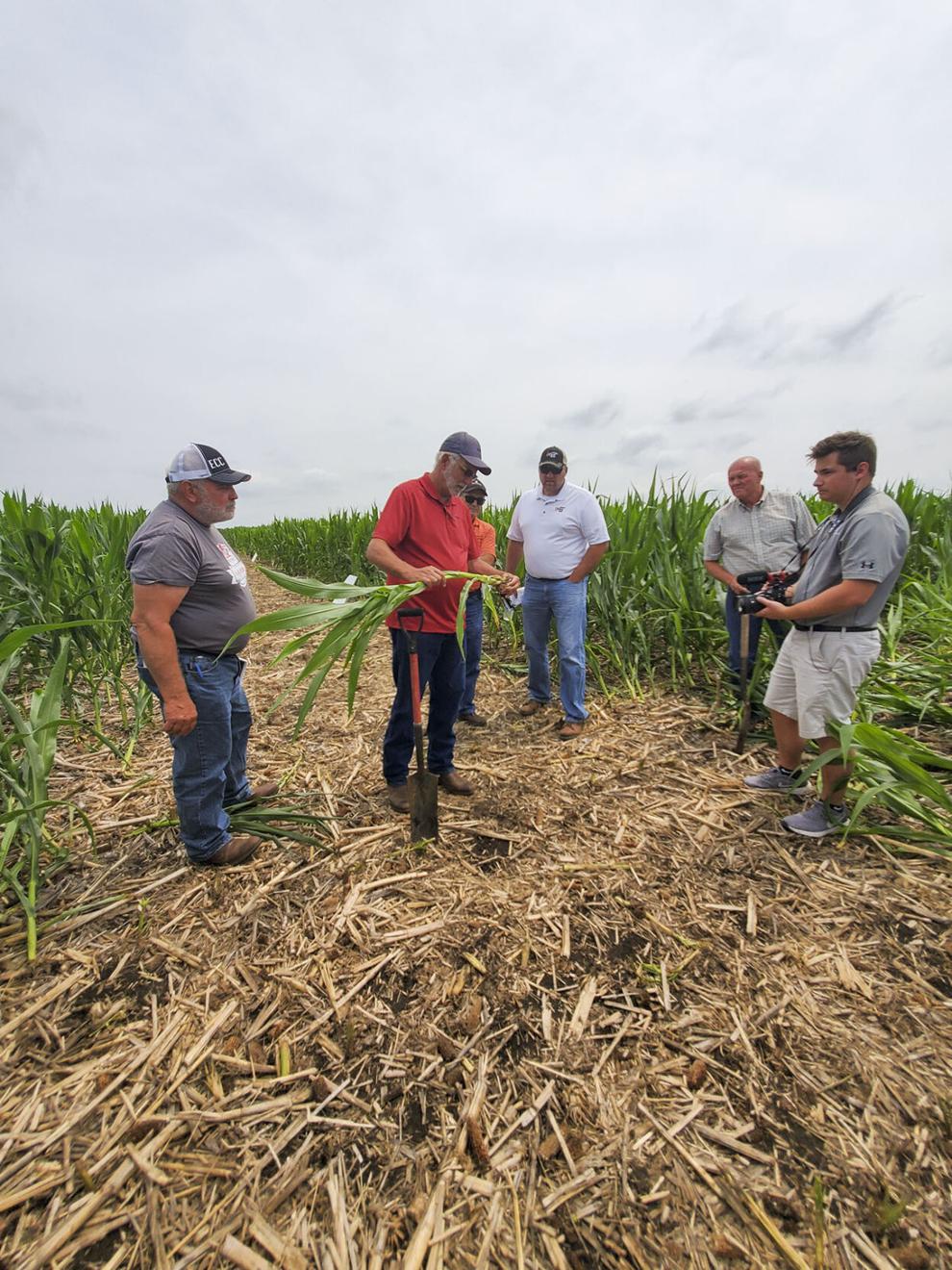 John Musser, Certified Crop Adviser with Stephenson Service Co., has been working with Thoren on nitrogen management, coordinating with the University of Wisconsin, Stevens Point, to analyze the data.
"If you have leftover nitrogen, cover crops recover that. We didn't really see the return of nitrogen based on our rotations of our strip trials," Musser said.
One nuisance in this particular plot this season is rootworm, Musser said, adding rotation between soybeans and corn can help deter the pest.
"Greg likes to dig up worms, but maybe not these," Musser said while holding up a root, adding "It's a billion-dollar pest."
A team from University of Wisconsin-Platteville also was on hand to demonstrate the rainfall simulators and discuss their research into soil quality and how it relates to runoff and nutrient loss.
Essentially, the research boils down to: "How happy is your soil?" said Andrew Cartmill, assistant professor, soil and crop science. Based on their research, tilling land results in more soil and nutrient loss.
He used earthworms as an example, noting the more a plot of land is tilled, the fewer earthworms they find. Earthworms contribute to the carbon cycle.
"We're losing carbon the more we till," he said.
Dennis Busch, research manager at Pioneer Farm, University of Wisconsin-Platteville, highlighted findings from recent samplings, holding up plastic containers with various amounts of sediment from dark brown to slightly murky. The darker containers held runoff from samplings taken at tilled fields with no cover crops, indicating greater soil loss.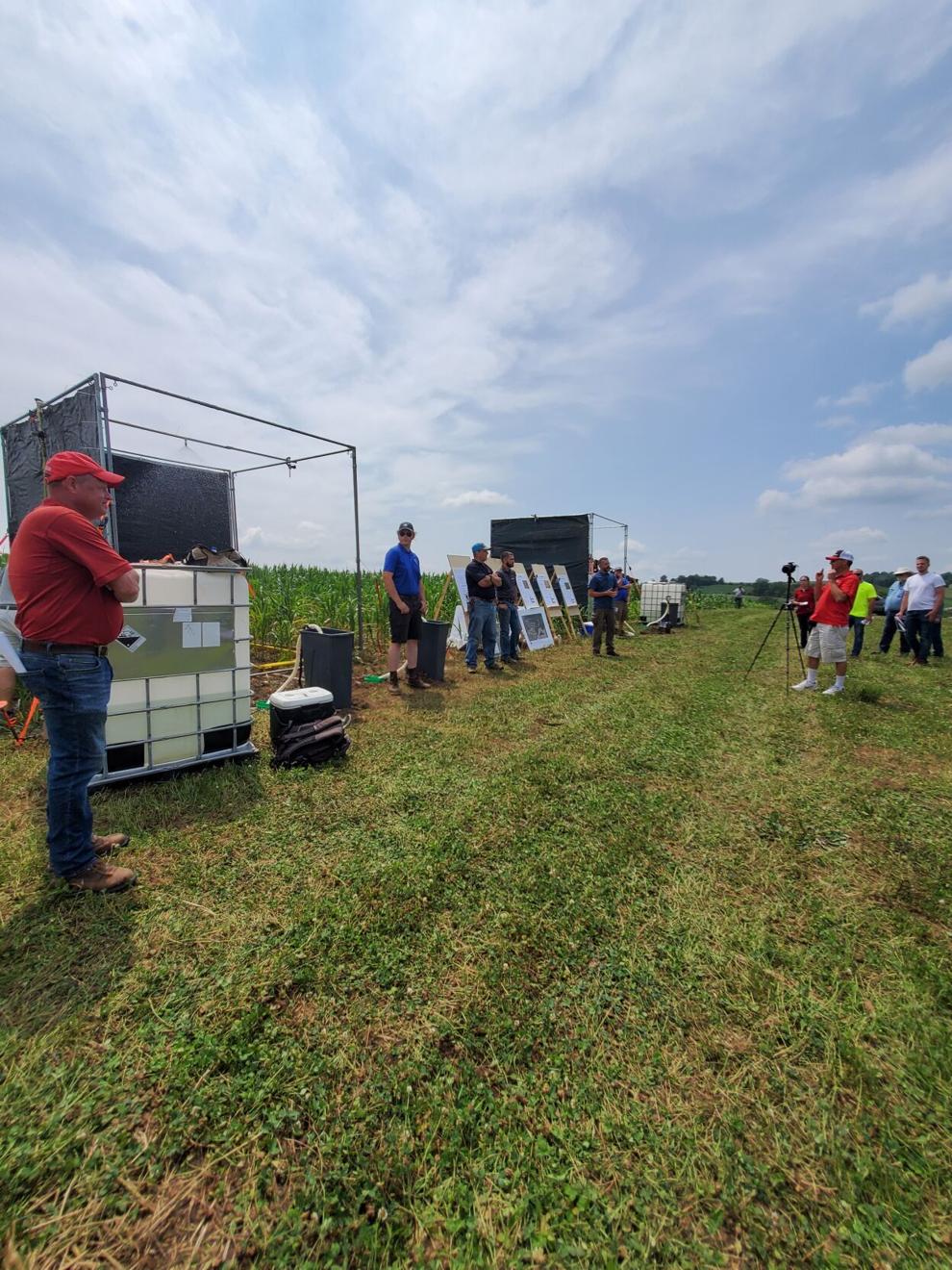 Busch added while increased tillage leads to more soil loss, no-tilling isn't the only solution. He pointed to Thoren's overall efforts with his vawrious trials as helping complete that picture.
Both Busch and Cartmill credited farmers like Thoren for helping with their research.
"The farmers are already doing the work. We put the numbers next to it," Cartmill said.
An essential piece of the research happening on Thoren's farm centers on cover crops and their role in potential improvements to soil health.
Zack Leib, a student at the University of Wisconsin-Platteville who's working with Thoren, walked the group through the 60-acre field separated into 24 plots. Interseeded with the corn (planted May 1) are various cover crops such as rye, turnip, hairy vetch and black medic (planted May 22).
Leib pointed out no-till rows with cover crops had greater weed suppression compared with rows that were tilled.
Project partners include Illinois Farm Bureau, Jo Daviess County Farm Bureau, University of Illinois Extension, University of Wisconsin-Platteville and Stephenson Service Co.
Devoting various pieces of land to research entails a level of risk. But Thoren is determined to help find solutions to better soil health, specifically with the use of diverse cover crops.
"I believe in this system, there has to be a better way than what we're doing today, and in the true words of sustainability, I don't think we can keep doing it the way we're doing it. There is a better way." See additional field day coverage, ilfb.org/fielddays.