While "woodchip bioreactor" may be a complicated name for a relatively simple concept, farmers find layering in this newer edge-of-field practice can supplement their existing in-field nutrient stewardship practices to ultimately reduce nutrient runoff and improve water quality.
Farmers in attendance Aug. 24 at the McHenry County Farm Bureau Nutrient Stewardship Field Day learned about the woodchip bioreactor installed on McHenry County Conservation District (MCCD) property near Woodstock in 2020 and the system's results so far in 2021.
"This is a great success story," said Laura Christianson, Ph.D., and assistant professor with the University of Illinois Department of Crop Sciences. "We have been monitoring the flow of the water through the bioreactor and taking regular water samples to measure nitrogen concentration. We have learned that it works very well. Nitrate in the water is declining as it should."
Christianson reported 150 pounds of nitrogen left the field via existing drainage tile this summer. The bioreactor removed 80 pounds, for a 53% reduction. Most bioreactors remove 20-25%.
Christianson helped MCCD set up the design and monitoring procedures of the 40-by-40-foot bioreactor, which is an underground trench. The trench was constructed so water from the drainage tile hits an inflow control that routes water into the bioreactor. As water infiltrates woodchips in the trench, the chips become a food source for bacteria. The bacteria convert nitrate in the water into stable nitrogen gas, a process known as denitrification. An outflow control structure holds the water in place in the bioreactor long enough to clean it.
"The bioreactor took about one week to construct for less than $10,000. We also used several volunteers to take water samples, monitor the bioreactor water flow and upload data to send to Dr. Christianson for analysis," said Brad Woodson, MCCD natural resource manager. "These results will have large-scale implications and benefits for wildlife habitat and water quality."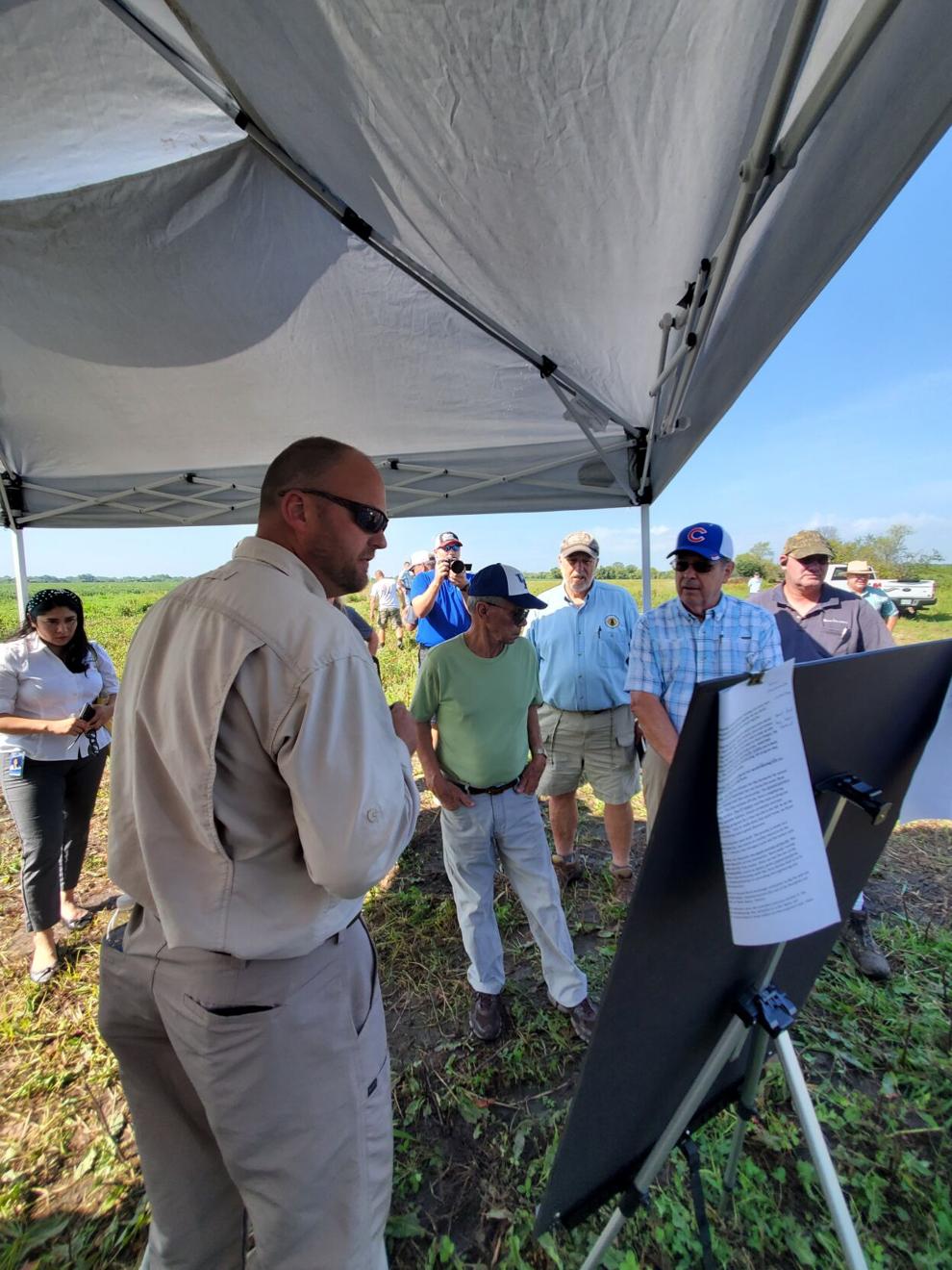 Lauren Lurkins, Illinois Farm Bureau director of environmental policy, noted the work of the volunteers, together with partner groups, has helped the project succeed economically and environmentally.
"The collaboration on the ground, combining in-kind volunteer work with local financial resources, has been the best solution for testing the bioreactor," she said. "Nutrient stewardship is a complex issue, but efforts like this help make agriculture's contribution to the Nutrient Loss Reduction Strategy (NLRS) a positive story in Illinois."
Christianson said installing a woodchip bioreactor is relatively easy for farmers. Tile diameter, field slope and edge-of-field space available so land does not have to be taken out of production are all considerations. She has found using 1-2-inch square woodchips works well for about 10 years before needing to be replaced, although she says other mediums are under evaluation. For example, corncobs are effective but only have about a two-year lifespan.
Jeff Kirwan, who farms near the Quad Cities, constructed a bioreactor on his farm in 2017, and is currently evaluating different wood product mediums he can easily access locally. That, and the fact he performed the dirt-moving himself, have made the bioreactor cost effective.
"I use cover crops to help sequester nitrogen for the next crop, and now having the bioreactor just complements my nutrient stewardship efforts," he said. "I am still learning how it works."
Michael Ganschow, a farmer from Walnut, agrees with the multiple conservation strategy approach to improving water quality. His bioreactor covers a 15- to  17-acre drainage area.
"We have to embrace edge-of-field practices. The weather affects nitrogen application and use, but the bioreactor helps take out some of that impact. We can better manage water leaving the field by having well-fertilized crops, using cover crops and a bioreactor," he said.
And if cost is a concern, farmer Brian Corkill from Galva, urges other farmers to take advantage of cost assistance. "I added a bioreactor in 2020 taking only about a quarter acre out of production to place it at the edge of a waterway as part of the Conservation Stewardship Program (CSP) funded by the Natural Resources Conservation Service (NRCS)," he said.
"Woodchip bioreactors are still relatively new, but it starts with one at a time," said Christianson. "They are a great out of sight, out of mind option for cleaning nitrogen from tile drainage water."
To read more about IFB's nutrient stewardship field days, visit www.ilfb.org/fielddays.