Bob Fecht, recently elected Illinois Farm Bureau District 7 director at the IFB annual meeting in December, witnessed the ups and downs of the industry over the years.
He planted his first crop in 1985 in the midst of the 1980s national farm crisis, and this year marks his 35th year in the business. Fecht currently grows corn, soybeans and alfalfa, and raises cattle on the farm his great-great-grandfather started south of Toluca (Marshall County) in the late 1800s.
When asked why he chose such a profession, Fecht, like many of his fellow farmers, doesn't hesitate to discuss his passion for agriculture and how the profession, in a sense, chose him.
"That (continuing his family's farming legacy) was all I ever wanted to do," Fecht said while sitting in his family kitchen, which still features the original floorboards of the house where his great-grandmother was born.
"Born and raised in the area and having so many farm roots, (farming) was in my blood all these years," he noted. "It means a lot for me to be here (at such an historical, family location)."
Fecht and his wife, Deanna, farm with their son, Joe, who also works full-time off the farm in the seed industry, and Bob's father, Gerald. Deanna also works as a registered dental hygienist while the Fechts' daughter, Katie, lives and works in the greater Chicago area.
Throughout the years, Fecht always embraced community service and started a long run on the Marshall-Putnam Farm Bureau board in 1993. He served in various capacities on that board and in 2013 was elected president, a position he filled until his recent election to IFB's state board.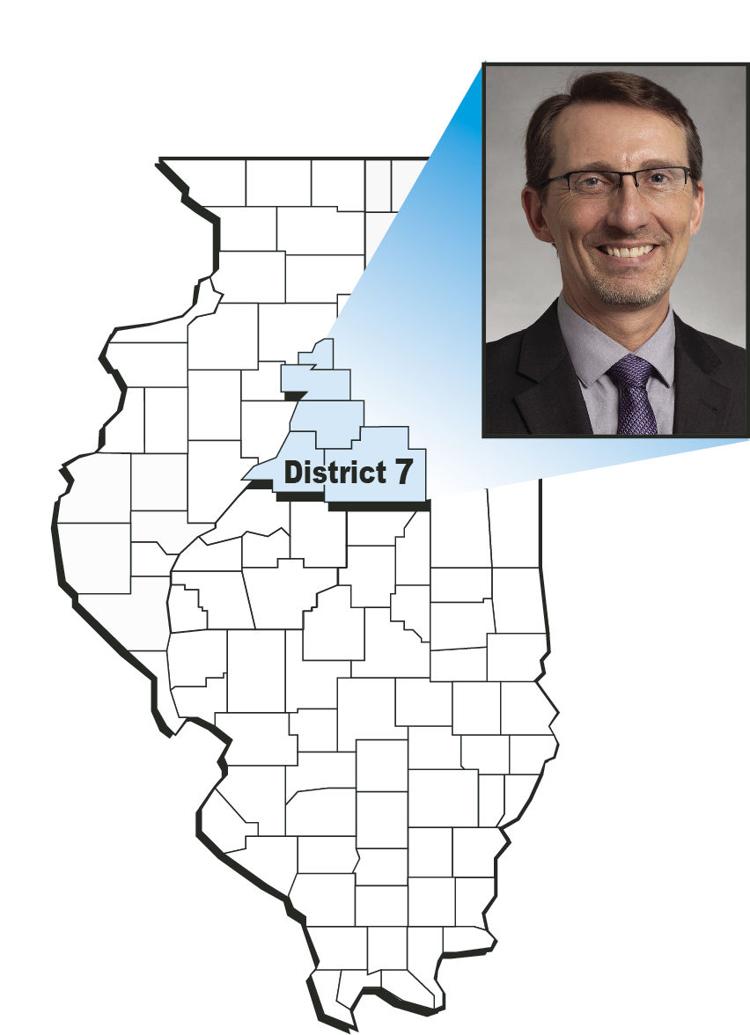 "When I started on the (county) Farm Bureau board, I had no idea what I was getting into," Fecht said. "I was on the board quite a few years and served in various capacities. One of the most satisfying was remodeling of the Marshall-Putnam building (located in scenic Henry along the Illinois River)."
Fecht and fellow board member Chuck Holz helped lead a massive volunteer undertaking to remodel the historic Farm Bureau building, which dates back to the early 1900s. Fecht became the building and grounds chairman around 2000. Prior to the remodel, the building was outdated and part of the facility was rented out as a meat locker.
The project, however, led to some interesting historic finds.
"When we started remodeling, we found one of the 50-year anniversary books with a list of directors. I found out my great-grandfather, Ray Litchfield, and grandfather, Frank Fecht, both served on the board," Fecht said. "And when we first started clearing the basement, we found all kinds of supplies. It was designated a bomb shelter for the community."
The Marshall-Putnam FB Board, with the help of donations from local businesses and a lot of sweat equity, eventually completed a total overhaul of the building.
Most of the office space is rented out to COUNTRY Financial, the University of Illinois Extension and 4-H. The facility also features a computer lab open to the community, and the basement was redone for casual meeting space that currently hosts local Young Leaders' meetings.
His passion to serve and help others also inspired Fecht to begin service as a deacon on the Antioch Christian Church board in the 1980s.
After his children were born, Fecht became a church elder and chairman of the board. Years later, he received a special invitation to officiate the wedding of his church's pastor, Dr. Robert Idell, and his wife's daughter. Another couple soon requested the same.
"I must have had a look on my face like a deer in headlights but, I thought, I can do that," Fecht recalled. "I did a lot of thinking and praying of how to go about being qualified to officiate."
Fecht was ordained in October 2017 and officiated two weddings, a funeral and graveside services for his mentor and longtime Marshall-Putnam Farm Bureau President Ken McKee. He continues to officiate weddings and hosts a monthly church service.
Looking to his new role as District 7 director, Fecht plans to represent farmers in McLean, Marshall, Putnam, Tazewell and Woodford counties to the best of his ability. He strives to improve communication among the counties, increase opportunities for Young Leaders and work more with commodity groups on common goals.