Families' fall traditions remain important to Jonamac Orchard, but will be provided differently to protect the DeKalb County orchard's staff and guests.
"We're just trying to do the best we can to let them (guests) have their traditions. They may have to plan ahead, especially during peak fall days. We want everyone to be safe," said Jenna Spychal, co-owner and a third generation on the Malta family orchard.
Jonamac Orchard developed new health and safety policies and procedures before opening its store and bakery Aug. 19 and U-pick and agritourism operation Aug. 29.
Across Illinois, orchards, pumpkin patches, U-pick and other agritourism businesses are using best practices to safely operate during a pandemic in their busiest season. New guidelines offer recommendations developed by Illinois Farm Bureau, Illinois Specialty Growers Association, University of Illinois Extension and several agritourism operations. Visit the Illinois Specialty Growers website for more information.
Businesses' and consumers' expectations will need to be communicated, and possibly, adjusted this fall, according to Elizabeth Wahle, an Extension commercial agriculture, fruits and vegetables educator who helped develop the guidelines.
"Customers need to expect agritourism businesses will not operate exactly as they did before COVID. They (businesses) have to be compliant with Illinois government," Wahle said.
At Jonamac, cleaning has always been important, but more hand washing and sanitizing stations will be available around the farm, Spychal said. "This year we're being extremely vigilant in cleaning and sanitizing. We implemented new practices, especially in high-touch areas," she explained.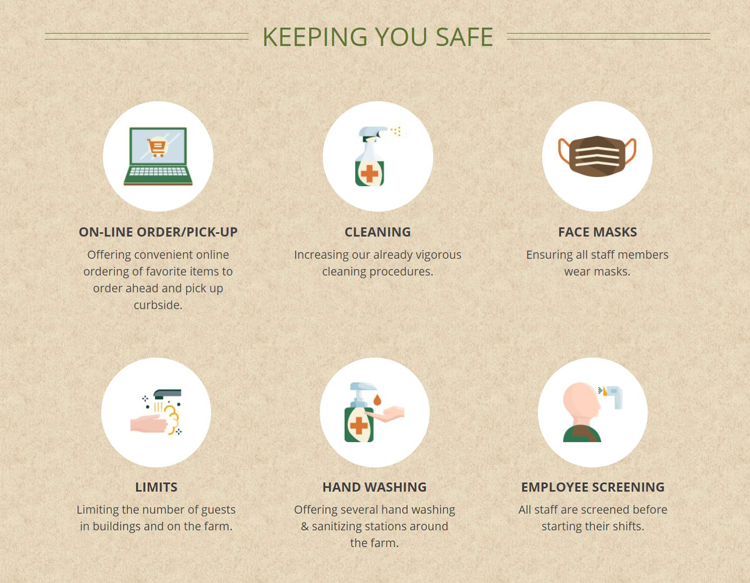 For Jonamac and many other agritourism businesses, controlling foot traffic and reducing congested areas will be new. Wahl recommended businesses remember where bottlenecks occurred during normal years and consider ways to spread out crowds.
To even out attendance, some businesses are turning to reservations with everything from selling admission tickets online to taking reservations over the phone, according to Wahle.
For example, Jonamac customers will go online to select a date and time to visit; however, the website ticket process will allow only a maximum number of visitors at a time, Spychal noted. The number of customers will be monitored in the bakery, store and cider house with a tent accommodating those sampling wine flights and cider.
Wahle encouraged businesses to use plenty of signs, "anything to help tell customers" about new procedures and practices.
Staff health is receiving extra attention at Jonamac where as many as 180 seasonal employees are expected. Each employee will receive in-depth training all as daily health screenings and temperature checks before each shift. All staff are to wear reusable masks at all times "to protect each other and our guests," Spychal said.
To reduce potential contamination, businesses will need to consider high-touch practices and activities, such as using baskets and wagons for customers to pick apples and pumpkins, Wahle noted. For example, Jonamac wheelbarrows will be sanitized between customers, and the barrel train cars will be cleaned between riders. The orchard will offer hand sanitizer at the entrance and exit for apple picking in the orchard.
Giving customers different options of where and how to make purchases can reduce congestion and keep vulnerable customers safe. Jonamac will add an outside location for donut sales and pre-order curbside service for bakery items ordered a day in advance.
"This is one of the best things we can do for guests who have visited us for a long time," Spychal said.
Businesses will need to keep social media sites updated with new policies and procedures, and customers will need to learn about those changes just as they have with other businesses, the Extension educator noted.
"It is best not to just show up," Wahle advised customers. "Growers are going to do everything they can to keep everybody safe."