Jeremy Franseen was completing his college studies when he realized that he wanted to go back home and farm instead of pursuing a veterinary medicine degree. But a problem existed: The 60 milking cows on his parents' 240-acre Poplar Grove farm – which his grandfather had started in 1949 – barely generated enough income for one couple, let alone another family member. So, on his college break just after Christmas in early 1997, Franseen and his father, Rick, started exploring opportunities for growth. They drove to a friend's house in Plattville, Wisconsin to check out the goats there and see if adding goats might be a viable option for their operation.
"We walked in, and they had a barn that was about half the size of ours and were milking 150 goats," Franseen recalls. "And Dad and I were both like, 'This is pretty cool.'"
The friend happened to know a neighbor who was selling his herd, and before long, Franseen and his dad had put down a deposit. But his granddad, who had started out raising dairy cows and later switched to crop farming, would have none of it.
"We sat at the kitchen table at (his) house, over a cup of coffee, and told him what we were thinking," Franseen says. "Swedes can be pretty hard-headed, andmy grandpa looked at my dad and, straight-faced, no smile, no nothing, said, 'So are you changing your name or do I have to change mine?' And he was dead serious."
But on the icy January day when Franseen went to pick up the goats, his granddad went with him – and fate intervened. Stepping out of the truck, the older farmer, who had been suffering from painful back problems, slipped and fell. "And whatever it was popped back in, and he was right as rain," Franseen says. "We always joke that that was divine intervention and it fixed his back."
The family took it as a good omen, a sign that adding goats was a good call. Miraculously, the grandfather put aside his reservations about goats and embraced the new endeavor.
"He even helped us build the goat parlor and pretty much everything we have here for the goats," Franseen says.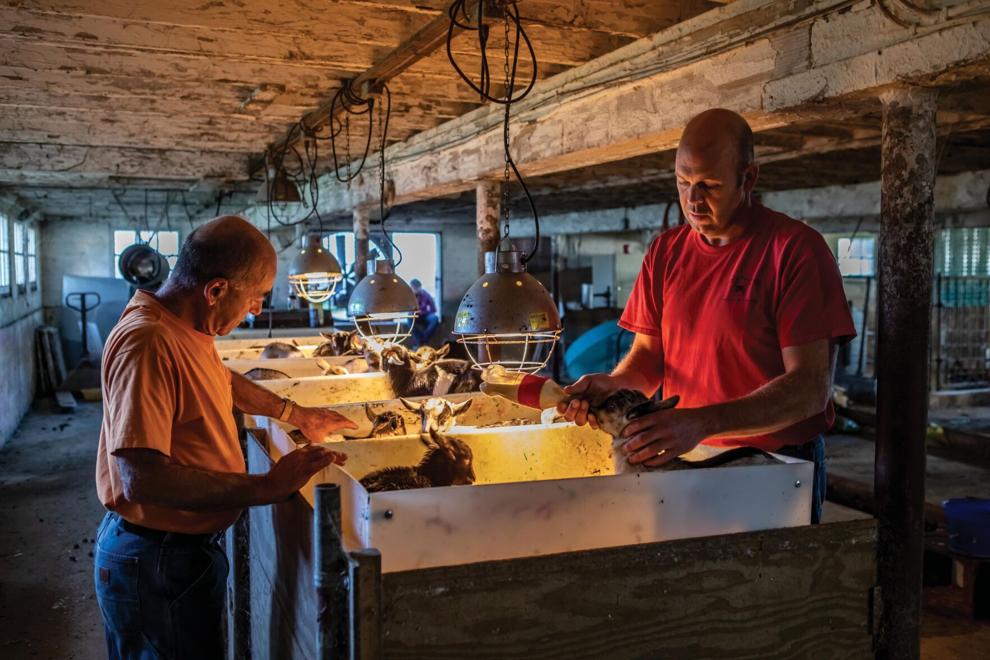 Cheese, please
Three weeks after purchasing the first goats, the Franseens sold their cows.
"It seemed like a very logical way to stay in the dairy industry but to kind of go outside the norm," he says.
Today, the family tends 300 of the head-butting ruminants, including 200 adult females for milking. Ninety-eight percent are Alpines, a type of goat that originated in the French Alps. Franseen, who notes that his commercial dairy goat herd is the only one in the Midwest to produce an American Dairy Goat Association National Champion, ships about 58,000 gallons of milk a year to Saputo Cheese in Belmont, Wisconsin. He also sells kids (baby goats) and breeding bucks.
For several years, the Franseens crafted goat's milk soaps and lotions, which at one point were carried in 12 retail locations. They no longer sell the pampering products but instead give them as gifts to friends and business acquaintances. 
Last year, COVID-19 threw a wrench in the Franseens' plans to host the annual Boone County farm breakfast, which typically draws about 2,000 participants each June. They hope to be able to do that this summer.
Some things, like family involvement and teamwork, never change. Rick is technically retired but helps out with everything aside from milking. Franseen's 11-year-old daughter, Morgan, cares for her own line of goats – her first one, which she named "Friend," still lives there – and has been showing the animals at agricultural events since she was 4 years old.
Raising kids (the goat kind)
Just like cows, goats need to be milked twice a day, every day. But Franseen says, "It's easier in some aspects. We're dealing with a 150-pound goat, not a 1,500-pound cow."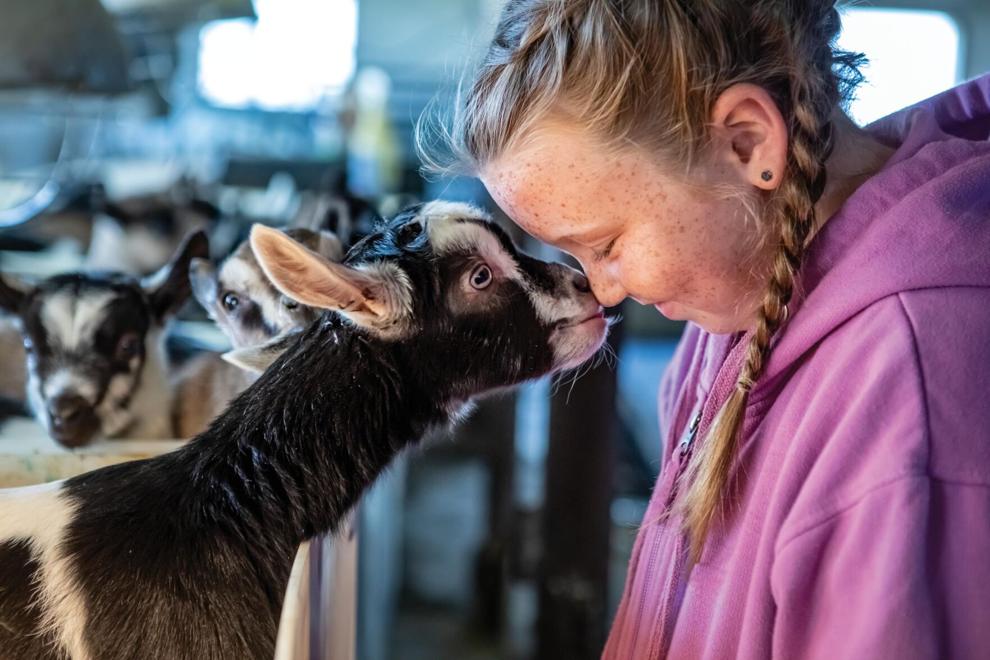 The smaller animals also eat less and require less space, but that's not to say it was easy going from the start.
"The biggest challenge was learning to raise kids," Franseen says. "If they get sick, they don't last long if you don't stay on top of it. Plus, there are some different things that affect kids that don't affect calves."
What's more, goats tend to give birth to more than one kid at a time.
"We average twins, and quadruplets are not uncommon at all," he says, chuckling. "I had four kids (two sets of twins) already born today. I had three born last night. They multiply pretty rapidly."
Despite the fragility of the babies, Franseen, who's a big fan of the recent PBS remake of "All Creatures Great and Small" featuring a country vet, loves taking care of them in good health and bad.
"That can be very frustrating," he says, "but it's also very rewarding when you take a sick animal and can diagnose it and make it better and get it healthy again."
In all that they do, the family aims to live up to the farm's motto: "to produce a quantity of quality." Says Franseen, "I've always been driven toward shipping a quality milk product and breeding the best goats that I can."