All across Illinois, farm families work together at agritourism destinations so your family can have some authentic fall fun.
An apple a day
If your idea of the perfect fall day includes ambling along a lovely orchard, then biting into a juicy apple you just picked from the tree, Valley Orchard is the place for you.
"A lot of people tell us our place is like a park," says owner Raoul Bergersen, who runs the operation near Rockford with his wife, Jodie, and sons, Brandon and Bret. "We spend a lot of time maintaining our grounds, from flowers to lawns. The beauty seems to appeal to people."
Make no mistake, though – the Bergersens spend the bulk of their time tending to the 5,000 apple trees spread across their 40-acre property. Visitors can pick their own apples or purchase from those picked fresh and available in the farm store, which is open daily.
The Bergersens also make cider and cider slushies from their apples; other fall treats include caramel apples, pies, bread and apple cider doughnuts. Select a fresh-picked pumpkin or squash, or get locally made honey, jams, jellies and salsas, also available at the farm store.
Bergersen says 2020 was the best year ever for Valley Orchard.
"We had a very nice crop of apples, and we sold everything we had," he says, noting demand for local produce started early in the season with their rhubarb and asparagus and continued through the summer with U-pick tart cherries, blueberries and currants.
"We sold every blackberry we could handle, and it continued that way throughout the season," Bergersen says. "I'm hoping the new customers we got last year will carry over to this year."
A heap of fun
One of northern Illinois' busiest agritourism destinations started out as a front-yard farm stand on land that's been in Kevin Heap's family for five generations. Today, Heap's Giant Pumpkin Farm in Minooka includes a 25-acre pumpkin patch, 7 acres of mazes, fields of flowers, farm animals, hayrides and several play areas.
"We grow over 90 different varieties of pumpkins, including giant pumpkins, gourds and squash, which includes several heirloom varieties," says Kaylee Heap, who co-owns the farm with her husband, Kevin. "We host the Illinois Giant Pumpkin Weigh-Off every year, which is really fun." At Heap's, you can either pick your own or select from pre-picked pumpkins.
The littlest visitors enjoy navigating the soybean maze or adventuring in Milo's Castle, a large play structure named for Kevin's grandfather. Try your problem-solving skills in the corn maze's twists and turns. The Haunted Corn Maze, where spooks haunt after dark, was on hiatus in 2020 due to the pandemic, but will be back this fall, Heap says. "We are excited to bring that back again."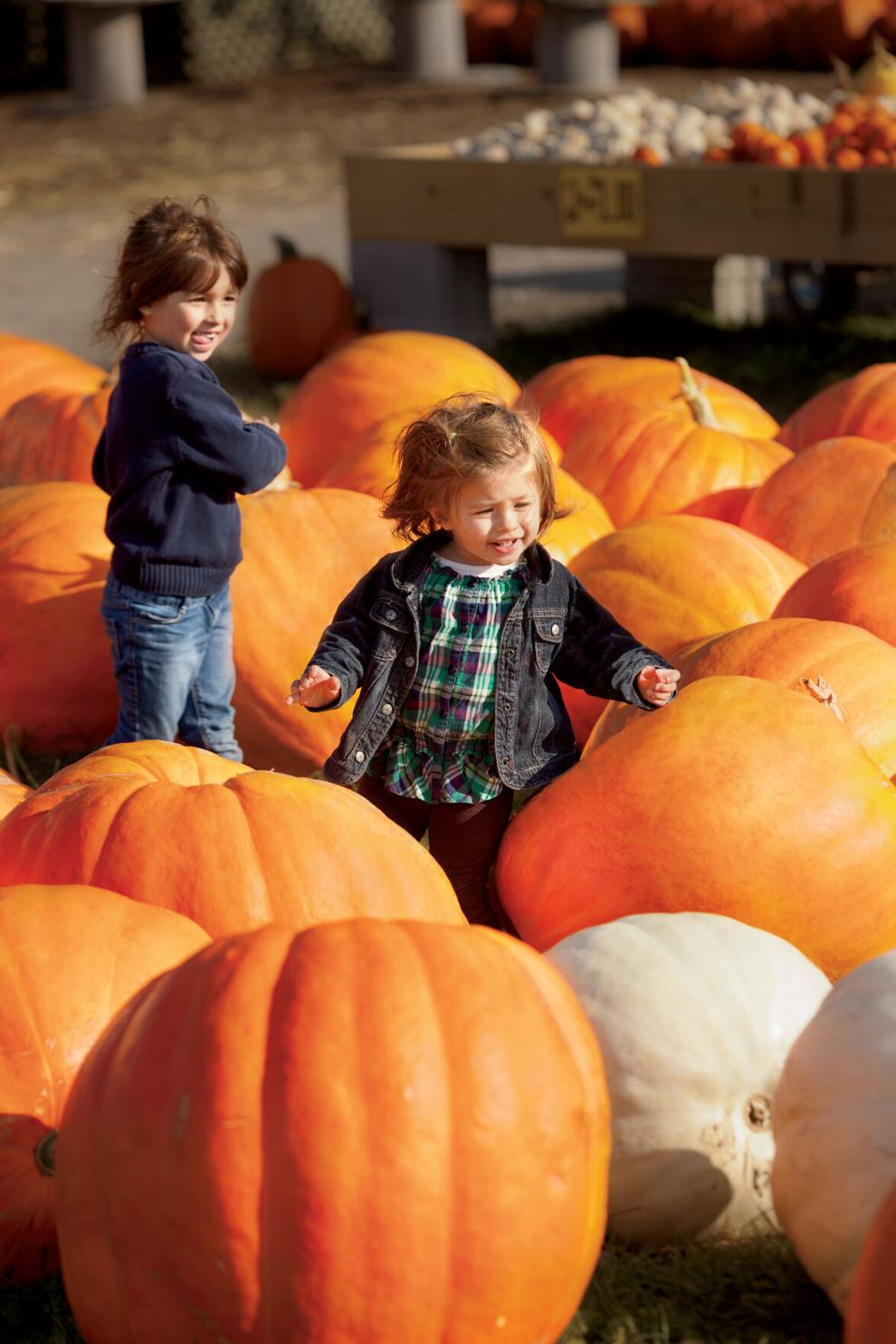 A visit to Heap's is a heap of fun, but the Heap family most enjoys the opportunity to provide guests with a fun, educational experience on a historic working farm. When most schools paused field trips in 2020, Heap created an experience called "the field-tripper package." Children visiting the farm, either as remote learners or with their families, could obtain a bag of activities, including a scavenger hunt and trivia games.
"It was a 'go-at-your-own pace' field trip that still focused on education," Heap says. "We plan to keep this in place in addition to offering regular field trips when schools reinstate those."
Of course, learning something new is not just for children. Most people don't realize where their food actually comes from, she notes. "Coming out here, people get a chance to ask us questions and actually see how their food is grown and where it comes from."
Where traditions begin
Whether it's picking the perfect pumpkin or choosing just the right Christmas tree, Bomke's Patch near Springfield is a place where family traditions begin, according to Jess Podany, partner and member of the Bomke family.
"We want families to disconnect from the craziness of the world, enjoy each other's company and experience farm life with family," Podany says.
Visitors can select their own pumpkins or gourds from the 10-acre patch, make new friends with the animals in the petting zoo, revel in the play areas – including a foam party and a bubble pit – look for treasure at the Riddle Hill rock mine, navigate a 2-acre soybean maze or make their way through the 7-acre corn maze. Podany produces a new design for the maze each year; in 2020, she created a smiling bumblebee and sunflower with the theme "Happy Days Are Ahead."
Most of Bomke's Patch activities, including outdoor birthday parties, continued in 2020 with social distancing in place. Podany says one tweak was "Friday Night at the Farm," where they combined their regular movie night and nighttime maze into one event offered several times over the fall season, which stretches from about the third week of September through Halloween.
In 2020, more than 10,000 people visited Bomke's Patch.
"We noticed an uptick in business," she says. "As soon as it was September, people started stopping by to see if we were open yet. I think they were so ready to get outside and looking for something different to do."