Josh Reinhardt of Red Bud admits working with his parents and wife came with a learning curve.
"When I came back home from college, dad had this plan that he and I were going to work like him and his dad did — if it was a one-person job, then for them it took four hands and that's just how they wanted it to be. They wanted to be side-by-side pretty well the whole time.
"And I've got too much of my mother in me for that," he laughed. "Our work styles have really evolved over the last several years and we have found a groove that works for all of us."
He advises anyone considering going into business with family to avoid any preconceived notions.
"Be willing to accept everyone's differences," he said. "No matter what, it's not going to go how you think. ... There's gonna be five great days and two bad days every week."
The 31-year-old serves as Illinois Farm Bureau Young Leader Governmental Affairs & Commodities Subcommittee chair this year.
His parents — David and Faye Reinhardt — wanted their children to decide for themselves what career they wanted to pursue.
After high school, Reinhardt took a job at a local factory for about a year, then enrolled in junior college before transferring to Southern Illinois University, Carbondale (SIU).
While he didn't spend much time working in the dairy growing up, Reinhardt remembers his time on the farm fondly.
"I got to spend a lot of time with my grandparents, so that was really nice," he said. His grandfather passed away in 2013, and his grandmother, Lorine, 96, now lives in assisted living.
"I wasn't really planning on coming back and farming. ... I knew I wanted to try something else, at least for a little bit," he said. But, he soon started to feel the farm was where he belonged. With a little life experience behind him, Reinhardt made the decision to return to the farm in 2014.
The Reinhardts now farm in both Monroe and Randolph counties and have 240 cows.
Reinhardt met his wife, Emily, at SIU, and upon their engagement, the couple carefully considered the decision to farm with Reinhardt's parents. Emily would have to leave her job as a researcher with the Weed Science Department and the farm would have to support two families.
They made the leap and started an expansion of the farm that Reinhardt's grandfather, Earl, started in 1954 with 10 chickens and two mules.
The former milking facility was built in the 1960s, and in 2013, the family milked about 120 cows with each taking about seven hours.
"We built new barns and milking facilities, basically everything's new," Reinhardt said. "We've come a long way in 70 years."
Between the dairy expansion, getting married and forming a work partnership with his parents and new bride, those first few years out of college were quite an adjustment for Reinhardt.
Emily was raised on a grain farm, which Reinhardt said helped with her transition to his family's farm. She jumped headfirst into learning about the dairy operation.
Josh and Emily, who married in 2016, have a 15-month-old daughter, Chloe.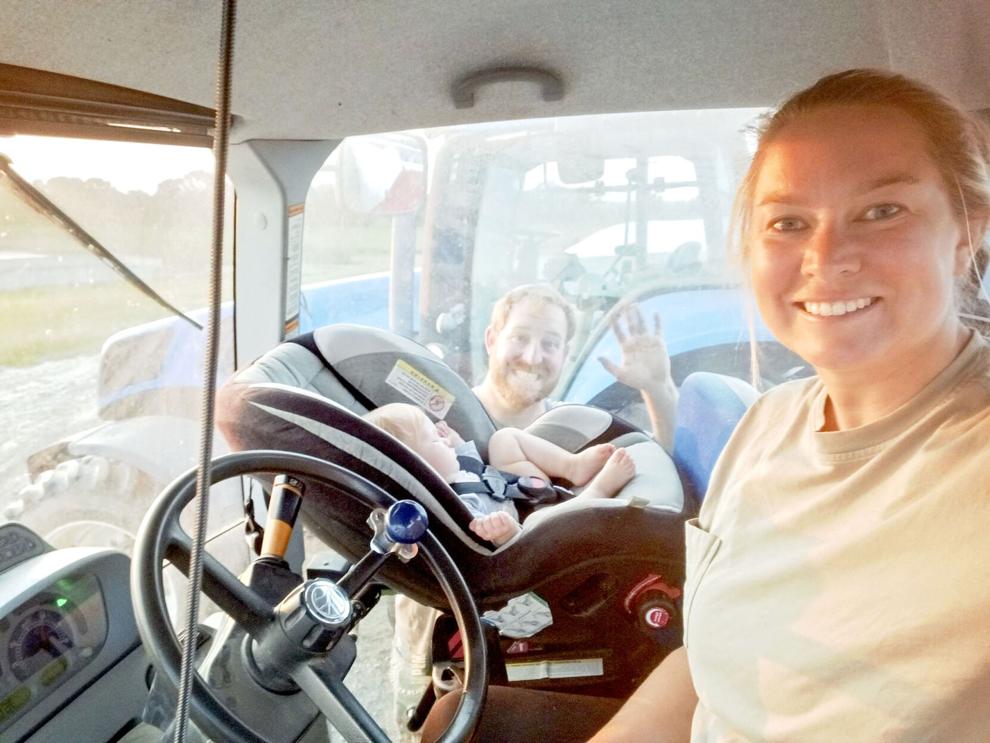 A challenge facing many young farmers is getting their foot in the door, he said.
"The people just getting started don't have the equity built in," he said. "I would just really like to see some of these people who are working another job just to make the insurance payments get a chance to farm full time."
His first foray into Young Leaders was a snowmobiling trip to Wisconsin. He was hooked. He then got more involved with the Randolph County Farm Bureau Young Leaders, then was honored to be appointed to serve on the state Young Leader Committee beginning in 2021.
He encourages aspiring farmers to dive in to the educational and networking opportunities available through Young Leaders.