Pandemic relief programs helped prop up many struggling rural hospitals across the country, but as that funding comes to an end, eroding revenues and staffing shortages will ratchet up the pressure.
During the last two years of the pandemic, nine rural hospitals closed, compared to 19 in 2020, according to a report published last month by Chartis, a healthcare advisory firm. During the last 13 years, 143 rural hospitals closed, and research conducted by Chartis indicates that another 453 are vulnerable to closure.
"As the urgency of the pandemic disappears, the return of policy-driven reimbursement cuts, population health disparities and the nurse staffing crisis will apply renewed pressure to the rural health safety net," said Michael Topchik, National Leader of The Chartis Center for Rural Health.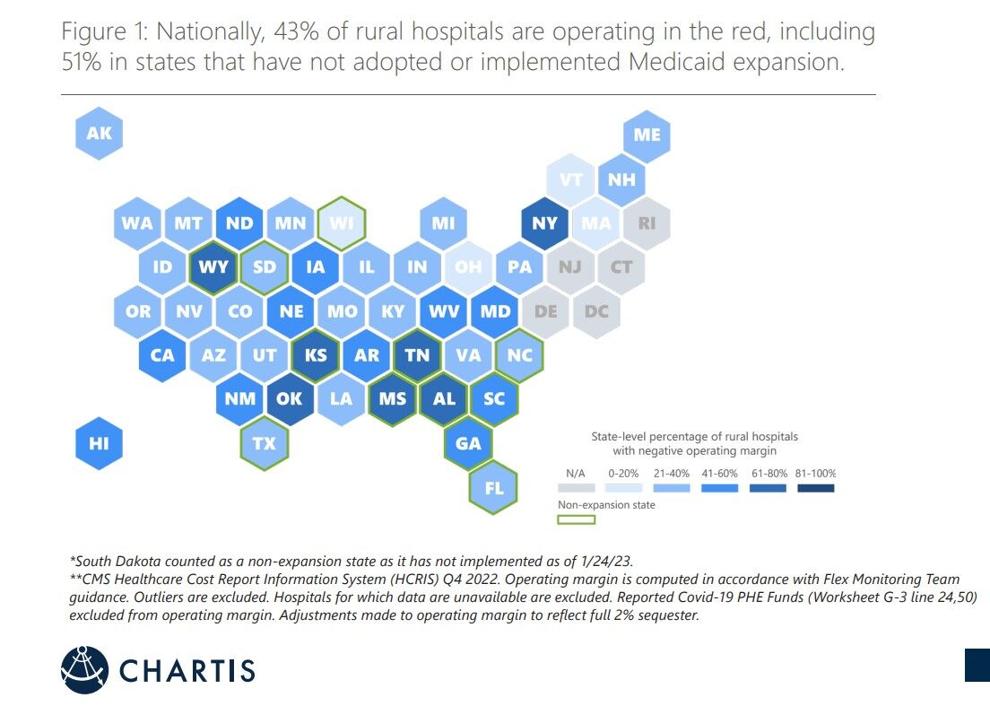 The study examined the stability of the rural health safety net, declining access to services in already vulnerable rural communities and the potential impact of the new Rural Emergency Hospital (REH) designation.
Takeaways from the report include:
43% of rural hospitals are operating in the red, including 51% of facilities located in states yet to adopt or implement Medicaid expansion.
Of the 389 rural hospitals "most likely" to consider converting to REH, Chartis' data model has identified 77 ideal candidates for conversion.
At a time when rural areas are more susceptible to deaths of despair and higher mortality rates, health disparities and inequity indicators show persistent gaps.
56% of respondents have up to five open bedside nursing positions according to Chartis survey data, and nearly 20% said staffing shortages are resulting in the suspension of services.
REH designation
REHs are a new provider type established through the Consolidated Appropriations Act, 2021 to address the growing concern over closures of rural hospitals. Hospitals must agree to have emergency care available 24 hours a day year-round and provide observation care and outpatient services. In exchange for monthly payments and higher Medicare reimbursements, rural emergency hospitals must end all inpatient care and discharge or transfer its patients to larger hospitals within 24 hours of their arrival.
But REHs are not for every struggling rural hospital. Chartis data suggests that conversion will be a very nuanced decision, and the combination of requirements will likely result in a relatively small number of conversions.
"While the number of ideal candidates may be a relatively small number, the possibility of potentially staving off the closure of 77 rural hospitals is not insignificant, given our understanding of how the loss of a facility can ripple across a rural community," the report states.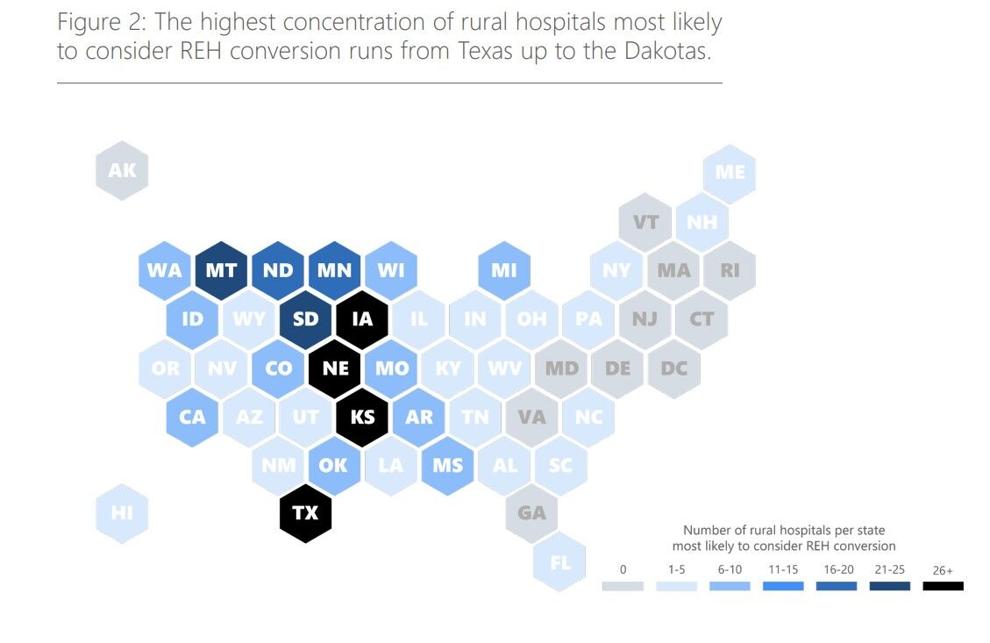 In Illinois, St. Margaret's Health-Peru closed Jan. 28 after the system's executives announced plans to temporarily shutter the hospital and reopen it once an REH designation is finalized. However, the hospital will need to reopen before it can qualify for the designation.
"In a health care climate already plagued by economic concerns that have been growing for years ... and severe staff shortages have compounded this problem. Like many, we too have had to contend with the rising costs of goods and services," according to a statement from St. Margaret's Health-Peru.
The statement continued that the REH designation "seemed like a promising new opportunity" to keep open both their hospitals (the other is in Spring Valley), but "unforseen circumstances" hindered the plan.
Loss of services
Access to services across rural America isn't simply a byproduct of hospital closures. Chartis, over the course of the last several years, has tracked the disappearance of specific service lines in rural communities — most notably OB and chemotherapy.
Last year, Chartis reported that between 2011 and 2019, the number of rural hospitals that ceased to provide obstentrics was 198. Updated analysis reveals the number has increased 9% and is now 217. The story is similar with chemotherapy, with 353 facilities ceasing services since 2014.
Read the full Chartis report online, bit.ly/chartisreport.
Federal funding
President Joe Biden recently released his proposed budget for FY 2024, which includes critical investments to increase rural health care access, workforce recruitment and address rural health disparities. The National Rural Health Association (NRHA) applauded the funding levels for rural health programs.
NRHA highlighted new budget proposals, including:
$30 million to help sustain rural hospitals, $20 million of which is for the Rural Hospital Stabilization Pilot Program. This pilot program provides support to at-risk rural hospitals to enhance and/or expand needed service lines in order to improve long-term rural hospital viability. The remaining $10 million is for the new Financial and Community Sustainability for At-Risk Rural Hospitals Program, which will target rural hospitals at risk for imminent closure in order to provide immediate technical assistance to avoid closure.
$10 million for the Rural Health Clinic Behavioral Health Initiative, which allows clinics in rural areas where there are no existing behavioral health providers to fund the salary of a behavioral health provider, address provider burnout and expand the availability of services such as mental health screenings, counseling and therapy.