A mind-numbing run of heavy rainfall events in mid-May left many fields inundated with water and farmers frustrated with yet another set of challenges this season.
Some of the worst of the recent flooding occurred in northeast Illinois where Scott Halpin, Kendall-Grundy Farm Bureau president, found his farmstead surrounded by water.
"This is the worst we've had in quite some time," Halpin said. "It's not brutal, at least nobody was hurt. But it's something we're going to have to deal with."
The situation built up over about a 10-day period in which some localized areas received nearly a foot of precipitation in and around the Chicagoland area and points south, including Halpin's farm located between the two communities of South Wilmington and East Brooklyn.
"We were fairly dry coming out of winter, then we had a couple combined rains of about 4.5 inches, followed by about 3.5 inches (May 14). Just south of us they got up to 6-7 inches. That water converges on us in South Wilmington."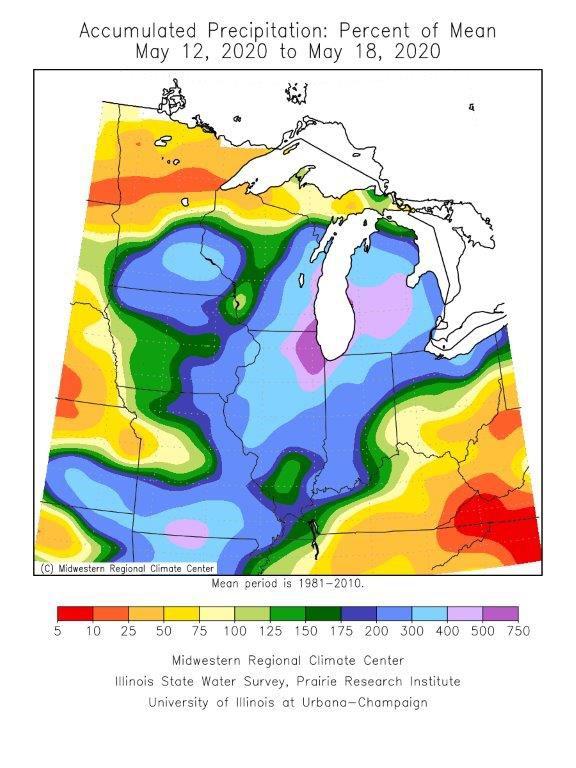 Halpin had just put electric fence back up in his pasture Saturday (May 16) when another 3.6 inches doused the area.
"The ground is so saturated, it couldn't handle any more," Halpin said. "It was pretty much just all surface runoff."
Halpin said neighbors in the two communities banded together to help with the cleanup effort, including pumping water out of flooded homes and removing debris carried by the water.
His cattle all survived the ordeal on high pasture ground.
It's a different story for the crops, though. Halpin estimated 80% of corn and about half of soybeans were planted in his area prior to the floods.
"The ponds (in crop fields) will need to be replanted," he said. "It depends on how big the spots are if we'll have to tear up whole fields or patch things in."
Areas north of Interstate 80 received a whopping 400% to 750% of average rainfall May 12-18, according to the Midwestern Regional Climate Center. The center portion of the state, between Interstates 70 and 80, received 300 to 400% of average precipitation during the same period.
Average rainfall totals for that week ranged from 3 to 6 inches in central Illinois to 6 to 8-plus inches to the north, particularly the northeast portion of the state.