Kate Danner's original plan for her small sunflower field was to provide a picturesque background for family photos.
The Aledo farmer had nothing to lose as the seeds were a gift.
"I planted them (last year), and I'll tell you what, they looked sorry all year, you wouldn't have thought I was a farmer," she laughed. "And then they bloomed, and they were just so pretty."
Danner, who also grows corn and soybeans on her family's 1,600-acre farm, decided to sell the sunflowers at farmers markets, where they quickly sold out. At the time, commodity prices were low and Danner said it was "eye-opening" that she could sell a single sunflower for nearly the same price as a bushel of corn.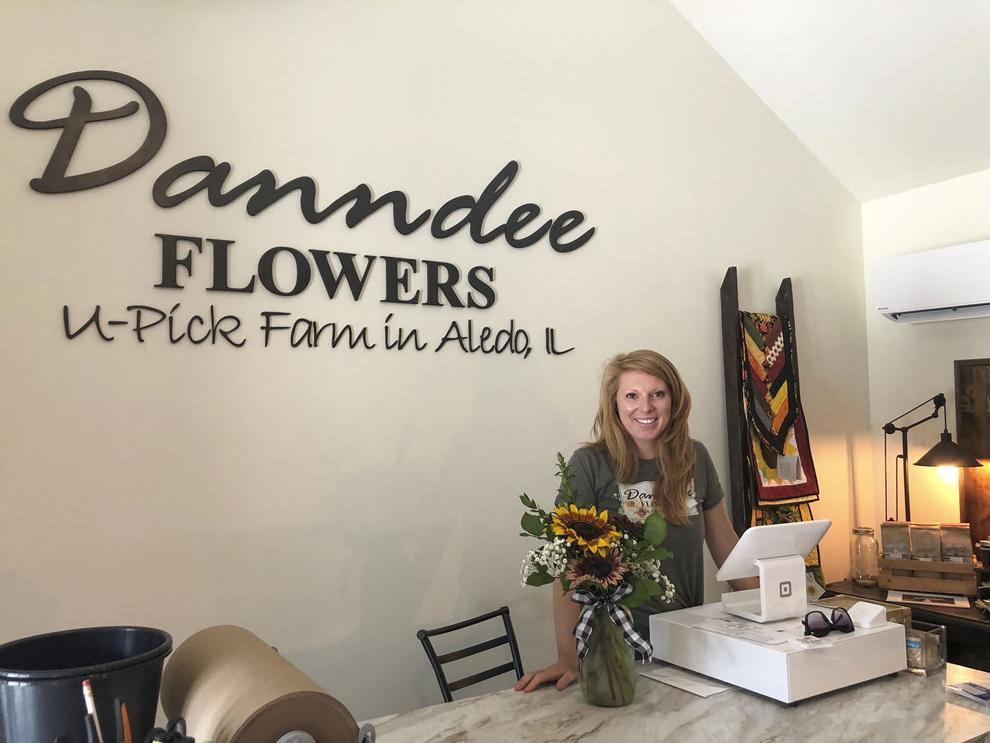 "That really opened my eyes about how happy people were about flowers ... which I think is a little bit more of my character."
And the wheels started spinning.
Her first field was roughly one-eighth of an acre, or about 6,000 sunflowers.
"I have this wonderful century farm. What if people got to experience what I get to live every day? To view the magic of the farm," Danner remembered thinking.
With the help and generosity of her husband, Jason, and parents, John and Carol Longley, they transformed the farm by preparing a 2.5-acre field for more than 64,000 sunflowers and other rows for flowers including lavender, calendula, baby's breath, zinnia, snapdragons and more.
And Danndee Flowers was born.
Danner grows seven sunflower colors, including whites, purples, reds and of course, the traditional yellow. As an Iowa State University graduate, Danner is partial to the sunflowers that are red in the center and yellow on the outside — similar to the gold and cardinal school colors.
Aside from the U-pick and photo opportunities, Danner's business also provides a walking path, corn maze, picnic area decorated with Adironack chairs purchased from the local FFA, children's play area and pond. A store located in her great-grandfather's former tool shop houses locally-made goods, including honey, strawberry rhubarb jam, woodwork, vases, pre-cut lavender and pre-made flower arrangements.
"This is a local market ... we want people to enjoy our small town like we do," Danner said.
The hope is to not only provide a relaxing experience for guests, but an opportunity to see a working farm and learn about local agriculture. For example, Danner partnered with the Illinois Corn Growers Association to place signage throughout the corn maze with various farming facts.
"We are agritourism, we have an emphasis on fresh cut flowers, but for the most part, I want people to see that we are a functioning working farm, and that this is a season, along with everything else that we do."
Danner, a fifth-generation farmer, has served on the Illinois Corn Growers Association Board since 2017 and is a Mercer County Farm Bureau Young Leader. She took over the farm in 2012 upon graduating from Iowa State with a triple major in agronomy, farm management and environmental science.
"I was a little bit of a nerd," she laughed, adding with her environmental studies, she learned about and began to see the need to help educate consumers about farm products they purchase.
"I noticed a disconnect ... They have a lot of questions about whether you're taking care of the land that you're planting your crops on whether it be something floral and pretty like flowers or a commodity and a necessity like corn and soybeans," she said. "I learned a lot about how important it is just even discussing the environment and the practices. Definitely through my father's generation, he's been no-till since the '80s. We've been taking care of the land, I guess we just haven't been very good about telling people about it."
Danndee Flowers, located at 1566 IL Highway 17, Aledo, is now open 8 a.m. to 4 p.m. on weekends through Labor Day weekend. Danner also started a Facebook page for the business.
"What I have enjoyed the most about expanding into this niche market is that there's a lot of agronomics that really overlap and I love bringing that flower world to that farmer world. I love the meeting in the middle."
Photo gallery: Danndee Flowers