In lieu of events typically held at Illinois Farm Bureau Annual Meeting, the IAA Foundation hopes to engage members in support for Illinois Agriculture in the Classroom (IAITC) through its first-ever online auction.
In its final effort for 2020, the IAA Foundation invites all Farm Bureau members to participate by registering online. Item preview begins today (Nov. 23). Bidding opens Nov. 30 and closes Dec. 7 at 3:30pm.
In addition to the online auction, participants can purchase an item from the Country Store, Adopt a Pig or make a monetary donation. The auction features a robust lineup from farm tools to home décor to children's items to sports memorabilia.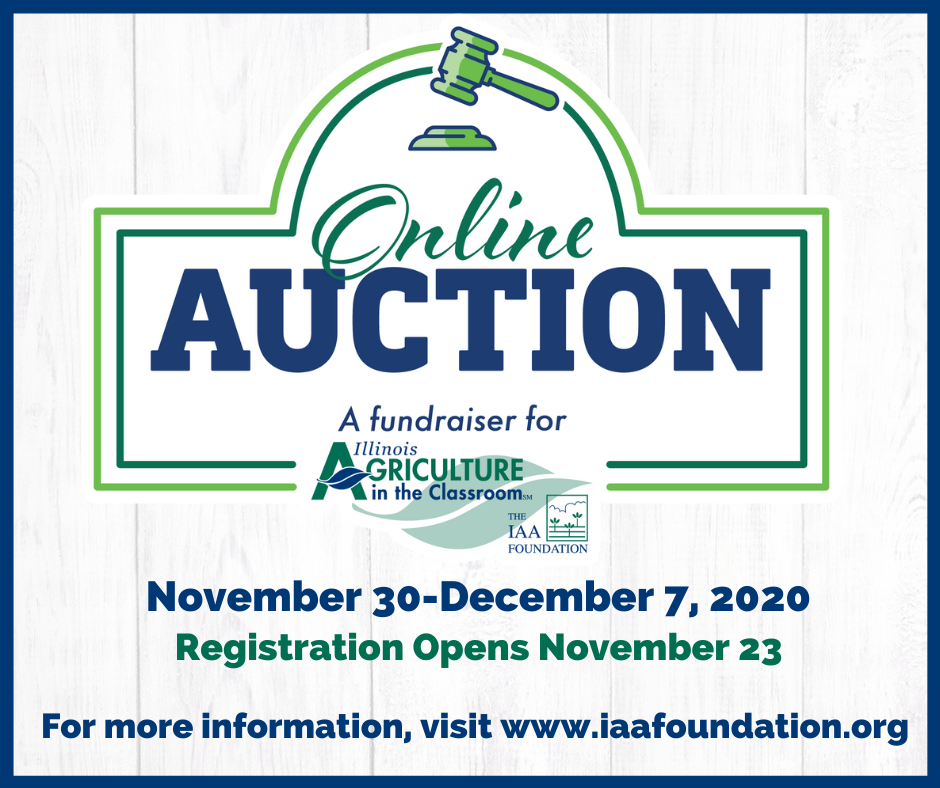 "We are humbled by the support we have received thus far," said Jennifer Smith, IAA Foundation development manager. "When the call went out for auction items, our donors showed up with over 120 items to place up for bid."
Favorites from the Live Auction also make an appearance in this new platform, including Prairie Farms Dairy "Milk for a Year" and "Ice Cream for a Year." GROWMARK seed, crop protection and energy certificates along with COUNTRY Financial's "Christmas-Must Haves" round out the family of companies' donations.
"As fundraising efforts were forced to change, our event sponsors, without hesitation, changed with us – putting the importance of ag literacy first," noted Smith.
As school centers across the state redefined the classroom, IAITC shifted with them, continuing to offer engaging agriculture experiences - virtually, in-person or a hybrid of both. The IAA Foundation also accepted the challenges of pandemic-related cancellations and continued forward in its goal to provide a fully funded program year.
"While we've all faced a degree of challenge this year, there has also been a rally to unite around what is important, and our members continually show us the value they place on ag literacy efforts," said Susan Moore, IAA Foundation director. "Our goal is to raise $30,000 through this virtual event and I have no doubt our supporters will help us reach it!"
For more information, visit the IAA Foundation website.