Phil Wright of Paris cooks fearlessly and creatively.
"A lot of it is trial and error. You can't be afraid to step out of the box," the Edgar County Farm Bureau director told FarmWeek. "If it (a loaf) doesn't rise quite right, the worst we can do is eat it."
A retired grain merchandiser, Wright went from trading grain to cooking with it as head baker and creator at Grand Oak Farm Artisan Breads. Edgar County Farm Bureau Manager Wyatt Williamson described Wright as a "mad scientist of bread" known for his tasty inventions.
One of those inventions, spent-grain brewery bread became a best seller after Wright perfected the recipe. The special ingredient is grain used by Lot 50 Brewing, Paris' local brewery. Another unique touch is a sourdough starter that reportedly goes back to the days of the Oregon Trail, a favorite of his daughter, Agnes Laughlin. With a laugh, Wright admitted while he can't verify the sourdough's pedigree, "I've had it for 15 years and I haven't killed it yet."
Sourdough launched Wright's post-retirement baking gig after 30 years in the grain business. Putting his fondness for cooking and a 2-quart cast iron Dutch oven to use, Wright enjoyed his first sourdough loaves. Then he let friends try some, and the call of the oven took hold.
Five years later, bread-baking – eight loaves at a time – starts late Friday and continues overnight into Saturday morning to produce 30 loaves for the Paris Farmers' Market on Saturdays from 8 a.m. to noon. Customers find whole wheat, white and spent-grain bread at the market and other events. For the holidays, he also bakes a German stollen bread.
"Baking bread is rewarding and relaxing," Wright said. "I never thought I'd be a guy baking bread. I just never thought I'd spend hours baking bread, but it's fun."
Baking doesn't consume all his time.
Wright and his wife, Mary Liz, a University of Illinois Extension nutrition educator, care for a shorthorn cow-calf herd and a flock of hair wool sheep on their 160-acre farm. At local fairs and festivals, he also operates a concession stand that makes fresh fruit smoothies and pork and chicken teriyaki-infused kabobs.
All through the pandemic bread-baking craze that made ingredients scarce, Wright was able to continue buying 50-pound bags of flour from Amish stores in Arthur. In Wright's view, the pandemic not only taught people to be more self-sufficient, but also to rely on their neighbors.
Not one to rest on his golden crusts, Wright is whipping up new creations.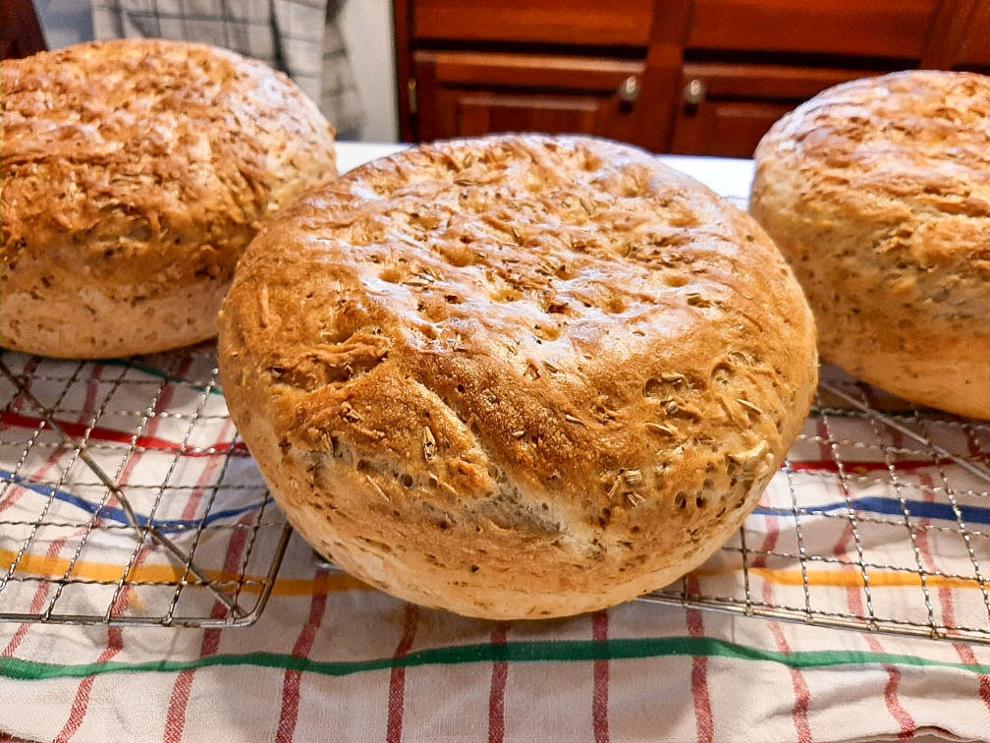 "I make a beer butter bread. It's almost a cake," he said. "I'm working on a rye bread that's in the experimental stage. Rye is hard to get it to raise. In another month or so, I'll have it on the shelf."
No doubt, Wright's latest creation will be hearty, flavorful perfection.
"I want to have my hand in every loaf I sell," he theorized. "I want it to be the best bread I could possibly sell."