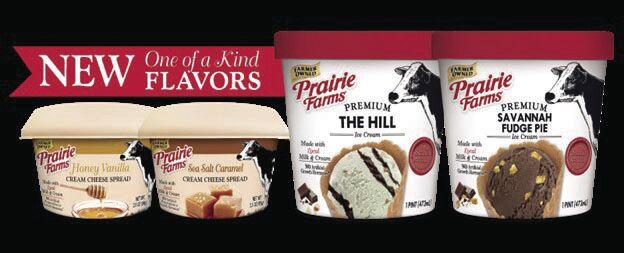 With the temperature heating up and June Dairy Month in full swing, it can only mean one thing – time for some ice cream.
And consumers have even more choices this year as Prairie Farms Dairy introduced a new line of small batch ice cream pints in April. It also rolled out new spreadable cream cheese cups.
Both new products offer multiple flavor experiences in convenient, individualized containers.
"It's a perfect time to talk about these new products for June Dairy Month, which celebrates all things dairy," said Darin Copeland, public relations manager for Prairie Farms Dairy, a cooperative founded in Carlinville and currently headquartered in Edwardsville.
"We're finding coming out of the pandemic there's a desire for personalized snacking and also a desire for indulgence and flavor experiences," he noted. "We designed these to appeal to folks looking for flavor options in a personalized size."
The pint-size ice cream servings come in 12 different flavors and can be found at grocery stores, convenience stores and other outlets.
"We have some traditional favorites and some new flavors," Copeland said.
The small batch ice cream flavors are Belgian chocolate, black walnut, butter pecan, caramel praline pecan, cookies-n-cream, vanilla, vanilla bean, homemade vanilla along with new additions The Hill (pistachio inspired by the Italian neighborhood in St. Louis by the same name), Savannah fudge pie, salted caramel toffee brittle and strawberry shortcake.
How does Prairie Farms come up with so many different flavor profiles?
"A lot of these great flavors start in our test kitchen," Copeland said. "We have a corporate chef who takes input from a number of consumer focus groups we do. The whole process involves getting the textures and flavors just right."
The spreadable cream cheese cups, also launched in April, come in 3.5-ounce servings, "perfect for personalized snacking," Copeland said.
The individualized cream cheese flavors include garden veggie, honey vanilla, onion and chive, original (unflavored), sea salt caramel and strawberry.
Prairie Farms set up a landing page for June Dairy Month at its website. Online visitors can sign up for dairy prize packages at the site.