All ages gathered early Wednesday to support Matt Roegge's family in the most practical way — helping his brothers and farm partners, Aaron and Philip, harvest their Cass County soybeans.
In the Arenzville pavilion, neighbors, friends, family and volunteers were assigned to one of seven soybean fields to be harvested that day and waited for the beans to dry after a heavy dew.
Sixth-grade classmates of Matt's son, Charlie, their teacher and Trinity Lutheran School's pastor chatted and distributed goody bags.
Theirs was a heartfelt tribute to the late 44-year-old farmer.
Although fully vaccinated against COVID by April, Matt Roegge contracted a break-through case and was hospitalized for only 14 hours before he passed, according to his widow, Jill, who also was fully vaccinated.
"The whole community has touched our hearts with love and friendship," Jill told FarmWeek while watching the gathering. "They have been very generous with support and assistance. Charlie is so proud of his dad and that the community would do this for Matt."
FarmWeek readers met Charlie through his YouTube videos about everyday farm topics and his virtual reports on crop conditions as one of FarmWeekNow's CropWatchers 2.0. He also made educational on-farm videos for Illinois Agriculture in the Classroom.
Matt Roegge touched many lives, and those connections remain strong. One of the harvest organizers, Gerry Beard, remembered coaching Matt in junior high basketball at Trinity Lutheran. Later, he hired the young farmer to care for his cattle and work on the farm. One of Beard Implement owners, Beard and Jacob Millard of Sunrise FS, got the Roegge families' approval to organize a group harvest and shared information.
"Everyone wants to help. We're trying to keep it local. There's a couple of farmers from Macomb and by Bath who wanted to help," Beard said motioning toward a cluster of men. "I told several people there is a memorial fund for Charlie's education. That's something they can do. If they're not helping, they're praying."
Harvest volunteer needs filled so quickly that some people were diverted to other needs. Sixty volunteers operated 14 combines, 20 tractors and grain carts and nearly 30 semis. The goal was to combine 500 acres of soybeans and haul loads to CGB Enterprises in Naples, where the facility was alerted. Meanwhile, a volunteer army was cooking food to be delivered as field lunches and a group dinner that evening.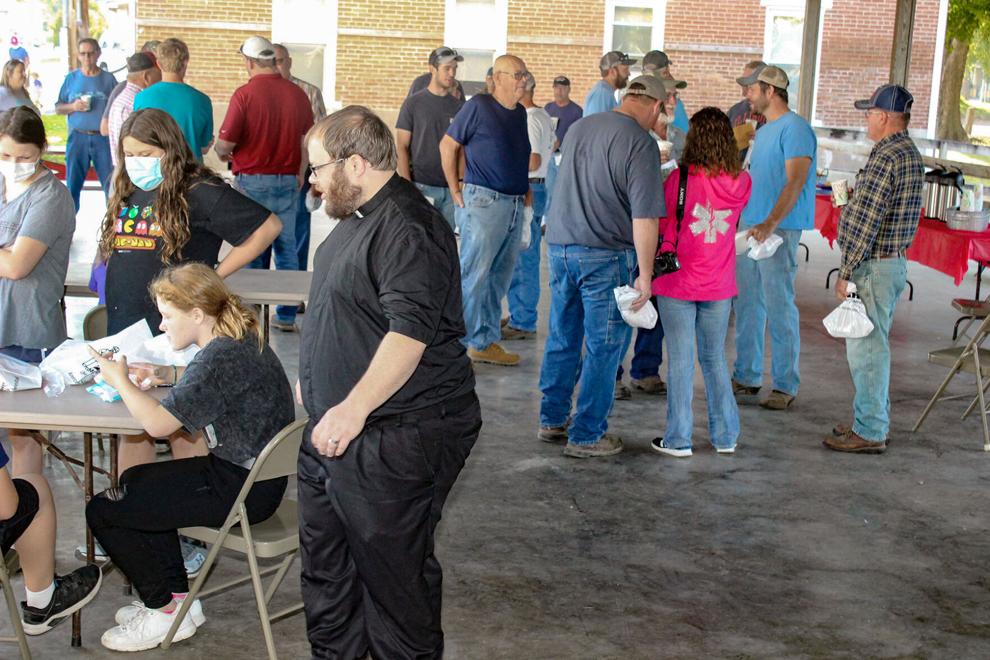 Waiting in his pickup to start combining, lifelong Arenzville resident Carl Ginder reflected on his younger neighbor whose soybean field was beside Ginder's cornfield. "Matt would have been right here, too (helping a fellow farmer)," Ginder said quietly. "It's nice to do it, but I hate (the reason) we have to do it."
Another neighbor, Brian McGinnis prepared to join Ginder in the same field. Neighbors helped harvest McGinnis' crop last year after he was hospitalized a couple of days with COVID, he said. "That's what neighbors do," McGinnis said before climbing into his combine.
Even those who only knew of Matt Roegge set their own harvest aside. Arenzville farmer Adam Winkelman planned to run his combine. Considering the dangers of farming and uncertainties of life, Winkelman, like the other farmers, identified with the Roegge families' situation. "This is supporting a guy who left too soon," Winkelman said. "You always hope if something happens to you people would do the same thing."
To Matt's family, the outpouring meant more than bushels. "This shows Charlie and me and the family that even in the midst the darkest day, there are blessings around us," Jill said.
One of those blessings arrived recently when Charlie's cow, Violet, had a calf. Sticking with his tradition of naming calves after his favorite people, the youngster chose the name Mattie for his beloved father.