Two Illinois County Farm Bureaus were selected as winners in the American Farm Bureau Federation (AFBF) County Activities of Excellence (CAE) program. Kane and Woodford counties were two of the 12 finalists selected out of 60 entries submitted from across the nation.

At the suburban Kane County Farm Bureau property, more than two dozen volunteers installed a pollinator/rain garden in the newly reconstructed parking lot. Now, the more than 60,000 vehicles that pass the office everyday can see this water quality management practice and pollinator habitat. The project was a collaboration between the Farm Bureau, local Soil and Water Conservation District and the County Division of Environmental and Water Resources.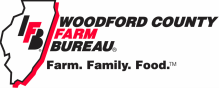 For Woodford County Farm Bureau, Ag in the Classroom takes shape in the form of buckets. Every third-grade class in the county's nine public schools receives six lessons spread out over three bucket deliveries. The buckets include a grain bucket, livestock bucket and natural resources bucket. Each teacher takes a turn with each bucket and presents the lessons provided at their convenience. When the teachers are done, they pass them onto other third grade teachers at their school. Overall, the lesson in a bucket program reaches almost 500 third graders in the county.
The selected counties will have the opportunity to participate in the 2021 AFBF annual convention and trade show.