Raymond Huston, owner of Huston Veterinary Clinic in Roseville (Warren County), thought veterinary medicine sounded like an interesting field to study back in the 1960s.
And it turned out to be all that and more for Huston, a 1965 graduate of the University of Illinois Veterinary Medicine School, who retired last month after an impressive 55-year career.
Huston's career spanned 10 U.S. presidencies, from Lyndon Johnson to Donald Trump, during which time he served multiple generations of families in western Illinois. He previously served in the Air Force for two years, including a year in Vietnam, to begin his illustrious career.
"I thought it would be interesting doing different work and traveling around," Huston said. "I thought it would be a little more exciting than doing chores."
When Huston graduated from the U of I in 1965, he joined the Air Force and spent a year in Alabama before he was sent to Vietnam to serve a similar role as his brother, Pat, served the previous year in the Army as a vet tech.
Huston cared for nearly 400 sentry dogs at four bases while stationed near Saigon (present day Ho Chi Minh City) during the war.
Sentry dogs, which often were either German shepherds, shepherd mixes or Labrador retrievers, served U.S. forces for base security, to detect ambushes and track enemy troops in Vietnam.
Huston returned to the states in 1967 and worked at veterinary practices in New Liberty, Iowa, and Pleasant Plains (Sangamon County) one year each.
He then jumped at the chance to return to the Roseville area in 1969.
The biggest change Huston saw during the last half-century-plus was the reduction of the number of farms and increase in size of existing livestock farms.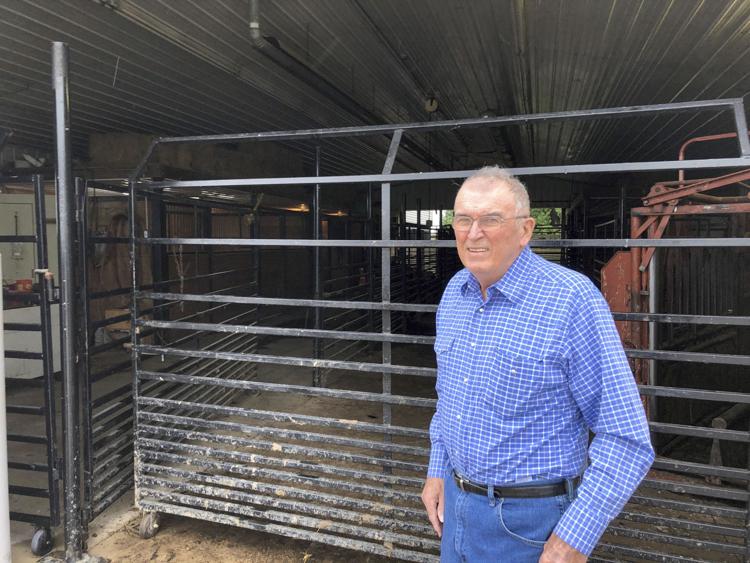 "The number of farms really changed," he said. "When I was in Iowa, we didn't drive over 7 miles. Everybody had a few sows and milked a few cows. When you go to that area now, you don't see any fence and no livestock beyond a few hog operations.
"When I moved back (to the Roseville area), you could spend all day in Point Pleasant township going to different farms," he continued. "Now, there's maybe one or two farms that still have pigs there."
Huston adapted to the shifting landscape of the industry about 20 years ago by adding a large animal care center at his home office.
"We built the facility so people could bring animals in," he said. "It helped a lot. We used to have a lot of calls an hour or more away, so you'd spend a quarter or half your day tied up on one call."
Other major changes in the veterinary field Huston witnessed the past 55 years include enhanced genetics, which helped hog farmers set a record amount of pigs saved per litter during the second quarter this year, and a major increase in the number of female veterinarians in the field.
He previously prescribed antibiotics on farms when needed, so implementation of the Veterinary Feed Directive in 2015 didn't change his practice much. Since that rule was implemented, the sale of antibiotics used for livestock declined 41%, the National Pork Producers Council reported in January.
So, what's next for Huston, who decided to retire this spring as a new partner, Logan Douglas, stepped in to join Luke Deverell in the practice? Huston's wife, Diana, also does some of the bookwork.
"We'd like to do some traveling. I have several classmates I'd like to visit once the pandemic is over," Huston said. "Once school gets going, our grandkids are pretty involved in sports. So, that keeps us pretty busy, too."
The Hustons' sons, John and Mike, also own businesses in the area (John Huston Landscaping and Huston Cattle Company).