Harvest efficiency and speed remain a focus of combine manufacturers in response to steady trends of growing crop yields and larger farm sizes.
A number of those new, technologically advanced machines were featured during the virtual edition of the Farm Progress Show this week in Boone, Iowa.
This includes one of the most popular portions of the show – live field demonstrations.
"We did run it (an Axial Flow 250 series, 9250 combine) for the filming of the (virtual) show," Jesse Williams, Case IH harvesting specialist, told FarmWeek. "Yield is a little off from what it typically is (at the show site in Boone) with around 20% moisture. Corn was down in some spots."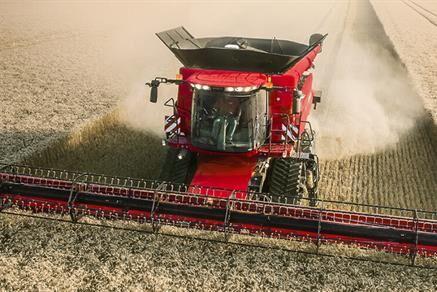 Case IH unveiled its new factory installed, PowerFlex Trax with TerraForm suspension for high-capacity, high-efficiency harvesting on its 250 series combines. The system is fully suspended to reduce soil disturbance and to increase operator comfort, Williams noted.
"It's a smoother ride in the field and on the road," he said. "It helps with efficiency a lot, and it helps reduce operator fatigue."
Farmers can fine-tune the Axial-Flow 250 combines for crop conditions in each field with AFS Harvest Command. The combines also feature two-speed electric shift ground drive, adjustable rotor cage vanes and improved feeder house design, with the ability to harvest more than 6,000 bushels per hour.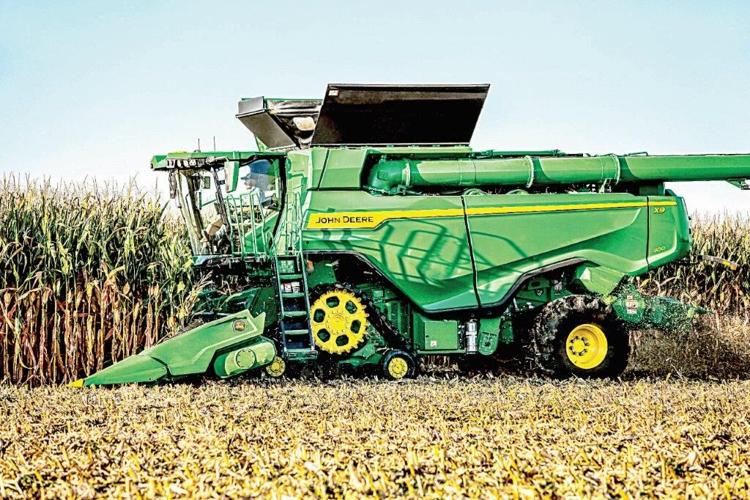 Meanwhile, some farmers got their first look at John Deere's new X series combines. The new combines, models X9 1000 and X9 1100, have the capacity to harvest up to 7,200 bushels per hour in high-yielding corn and offer the fuel efficiency to run up to 14 hours without refueling, according to Deere.
Not to be outdone, AGCO introduced its new model 10 and 10T Fendt IDEAL combines to North American farmers. The new IDEAL combines deliver industry-leading maximum engine power of 790 horsepower, with up to 20% more throughput capacity.
"We are excited to bring the IDEAL 10 and IDEAL 10T with TrakRide system and IDEALdrive joystick steering to the market for the 2021 harvest season," said Kevin Forth, AGCO tactical marketing manager for harvesting.
The extra horsepower and throughput capacity of the new machines hit the market at a time when many farmers are dealing with low commodity prices and reduced cash flow.
But response remains good, despite the challenges.
"Sales for new combines have been pretty good this year," Williams said. "There still seems to be a lot of interest in the new machines and new technology."
In other equipment-related news, Raven Industries released its new Hawkeye 2 Nozzle Control System, which it bills as the most accurate nozzle control system in the industry. It was designed to improve efficiency and reduce input costs by reducing drift and increasing application quality.
The unit features individual nozzle control and turn compensation that eliminates skips, overlaps and misapplication in fields, according to Raven.
This marked the first year the Farm Progress Show was closed to the public for the entire three-day run and held virtually due to the coronavirus pandemic.
The Farm Progress virtual event featured nearly 80 pieces of machinery, including two autonomous machines, and new demonstrations of rotary ditchers and planters.