After an extremely successful promotional campaign during May Beef Month, the Illinois Beef Association (IBA) continues to focus on consumer engagement.
And the timing couldn't be better as a growing number of U.S. citizens seek information about the availability, affordability and versatility of beef and other food products during the ongoing coronavirus pandemic and social distancing orders that turned more people into home chefs.
"We've had a really exciting summer as far as promotions, even given COVID-19," said Betty Haynes, IBA director of communications.
"We shifted gears to focus more on COVID-19 and the importance of meeting consumers where they are, preparing more food at home and incorporating less expensive cuts into their recipes," she noted. "We've also focused a great deal on responsibly raised beef and taste."
IBA partnered with Beef. It's What's For Dinner and leveraged the Illinois Farm Families website and social media platforms to share its messages.
IBA affiliates also promoted beef in their areas around the state through billboards, ads and beef donations to local food pantries. Affiliates involved in the promotions include the Tri-County Cattlemen's Association, Heartland Beef Alliance, Central Illinois Livestock Association, Crossroads Beef Producers, Stephenson/Winnebago County Beef Association, Adams County Beef Producers and Carroll County Livestock Feeders.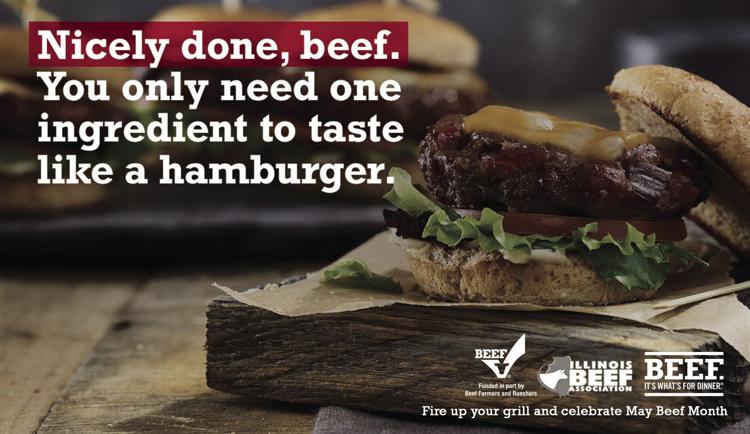 Overall, the May Beef Month campaign reached more than 450,000 consumers in Illinois.
"We have responded and we're continuing to promote beef through social media," Haynes said.
IBA currently is part of a national campaign, United We Steak, that showcases 50 steaks in 50 states during the summer grilling season. The Illinois promotions are part of a "declaration of the summer season brought to you by Illinois beef farmers and ranchers," Haynes said.
IBA also created a directory of local beef producers on its website as a tool for consumers to connect with farmers to buy locally raised freezer beef.
On the farmer side, IBA recently held its annual meeting, mostly virtual. It moved its Cattlemen's College online, currently offers an online Cattlemen's Education Series each week and it's co-hosting the Illinois Livestock Leader Institute with the Illinois Pork Producers Association Aug. 5.
"We found that utilizing technology is crucial to stay connected during COVID-19," Haynes said.
The IBA staff also put together an essay and photo contest this summer and will feature winners in its Illinois Beef Magazine.
IBA re-elected Buzz Iliff of Wyoming as president at its recent meeting while former Illinois State University professor Paul Walker of Danvers was elected vice president.