Livestock farmers encountered some of the most difficult winter weather to manage in recent weeks — heavy precipitation followed by cold temperatures.
They're also dealing with a wide range of forage quality issues for winter feed caused by the challenging 2019 cropping season.
So, what should farmers do to minimize impacts of the challenges on their herds?
Travis Meteer, University of Illinois Extension beef educator, discussed the issues and provided some strategies last week.
"Mud and wet winter weather (experienced in recent weeks) are always a major challenge for livestock," Meteer said.
"Livestock can handle really harsh, cold temperatures, as long as it's dry," he noted. "Beef cattle have a winter hair coat that provides a lot of insulation and fermentation in the rumen generates a lot of heat."
However, temperatures fluctuated wildly in recent weeks and heavy rains, along with patches of snow and sleet, deluged much of the state.
"The worst scenario (for livestock care) is a cold, wet rain followed by subfreezing temperatures," Meteer said. "When that occurs, the nutrient requirement goes up for cows."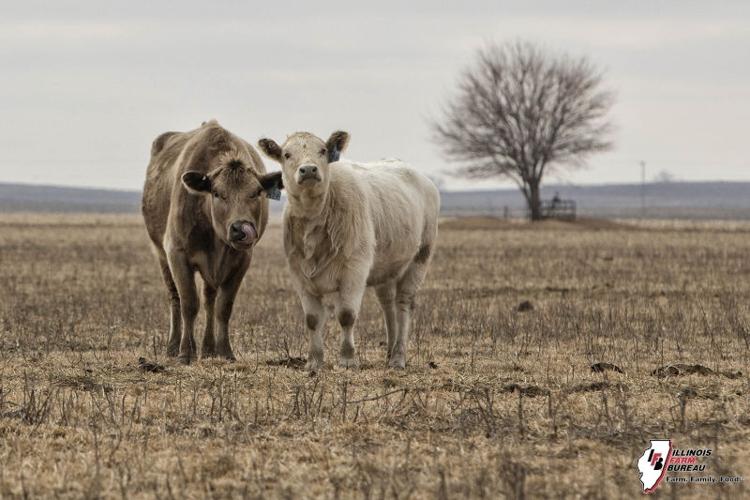 Farmers can help mitigate issues with the weather swings on livestock through feed supplementation. They also should consider adding bedding and windbreaks.
Forage should be analyzed as quality remains all over the board due to the challenging growing season, which was the third wettest on record in Illinois.
"I think we have more hay this year (compared to last winter)," Meteer said. "The story this year is not every bale is equal. Test so you know what you're getting."
Farmers should get a forage analysis on the different feed products and work with a nutritionist to formulate adequate rations. Meteer believes many farmers should consider feed supplementation due to low-quality forages.
Meteer also serves as the state coordinator for the Beef Quality Assurance (BQA) program and recently wrapped up another round of certification meetings around the state.
The voluntary program, started by the National Cattlemen's Beef Association (NCBA) in the early 1990s, combines systematic information to farmers about how husbandry techniques, coupled with scientific knowledge, ensures farmers raise animals under optimum management and environmental conditions.
"BQA is responsible, thoughtful cattle management," Meteer said. "It's starting to be more sought after by more packers and the supply chain, so we've seen a real emphasis by producers getting their certification."
NCBA reports about 85% of the U.S. fed beef supply comes in contact with BQA-certified operations.
Meanwhile, commercial cattle buyers or those looking for seedstock should consider attending the Illinois Performance Tested Bull Sale Feb. 20 at the Illinois Beef Expo in Springfield.
Meteer manages that event, and has done so the past eight years.
"We set a high level of requirements (for the sale)," he said. "The reputation of those bulls is second to none."
Meteer also serves as an advisory member of the Illinois Farm Bureau board, as president of the Illinois Extension Agricultural Association.
"It's really nice to have a link to Illinois Farm Bureau and tell them about the good things Extension is doing though the state," Meteer added. "The relationship we have with IFB is great. I look forward to maintaining and strengthening that."