U.S. hog farmers don't have any major plans for herd expansion, based on USDA's quarterly hogs and pigs report, despite price estimates for the year at the highest level since 2014.
The Ag Department estimates the inventory of all hogs and pigs (75.7 million head), breeding inventory (6.23 million head) and number of market hogs (69.4 million head) all declined 2%, as of June 1 compared to the same time last year, which was in line with trade expectations.
The inventory estimates are up close to 1% compared to last quarter, though.
"We saw a slight increase in the breeding herd (15,000 head) but given farrowing intentions (3.1 million sows June through August, down 4% from last year), it wouldn't suggest much of an increase (in the total size of the herd)," Lee Schulz, associate economics professor at Iowa State University, said during a webinar hosted by the National Pork Board.
"The futures market is pretty optimistic for hog prices," he continued. "I'm not saying that will spur expansion. Costs are acting as a governor."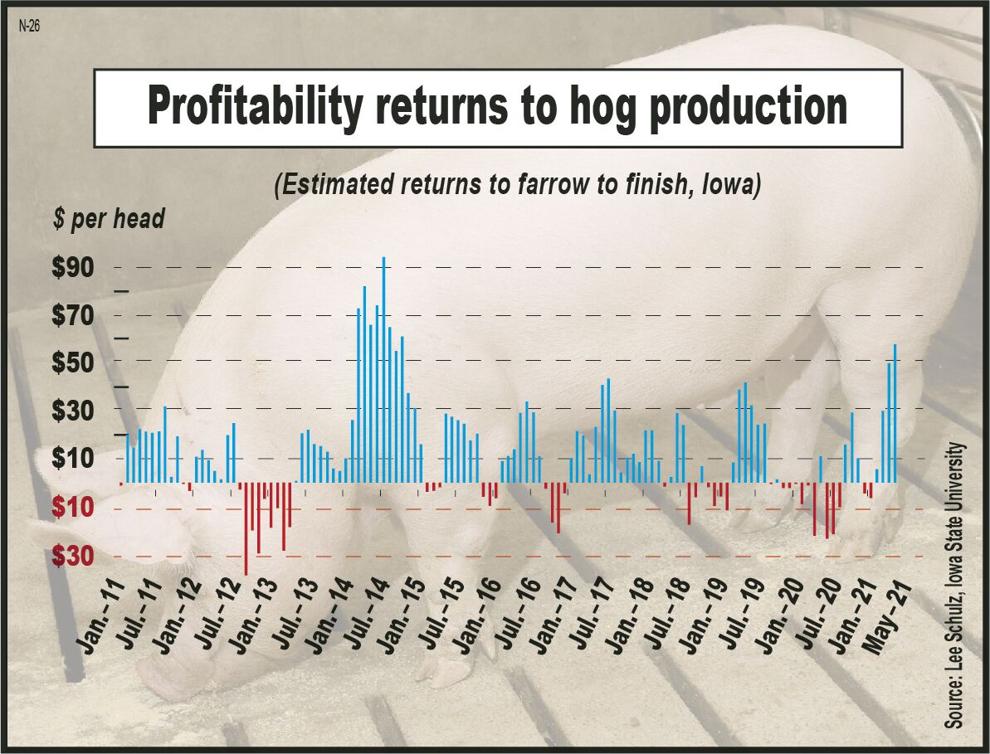 Lean hog futures slipped Thursday but remained historically high at $100 per hundredweight for July and $98 for August. Schulz estimates prices for the year could average around $90.
"That would be the highest since 2014, which averaged $101, and the second-highest price in my data series that goes back to 2002," Schulz said.
Those types of prices typically would attract significant herd expansion, but everything from higher costs and losses caused by porcine reproductive and respiratory syndrome (PRRS) to tight packing plant capacity could keep a lid on hog numbers.
Costs on hog farms are up about 26% this year compared to 2020, or about $34-$35 more per pig, which pushed breakeven prices near $80-$85 per hundredweight, according to Schulz.
Meanwhile, the number of pigs saved per litter slipped from 11 to 10.95 last quarter while a stream of market hogs flowed into to the U.S. from Canada due to a strike at a hog processing plant in Quebec.
"My slaughter forecasts for the second half of the year are lower (down 3.5% in the third quarter and 1% in the fourth) after seeing the report," said Kevin Grier, an independent market analyst and consultant. "I'm not sure how meaningful that will be with what we went through the first half of the year. This has been such a supply-driven market."
Tyler Cozzens, of the Livestock Marketing Information Center, looks for U.S. pork exports to remain on par with 2020, which set a record of $7.7 billion.
"I look for us to maintain a lot of the key markets," said Cozzens, who noted by-product values are up $1-$1.50 per head this year due to exports. "Maintaining momentum is critical for the industry if we can keep a lot of these markets going."
However, the industry also faces a potential loss of 2.5% of processing capacity at month's end due to mandated slower line speeds at six packing plants.
"We see the impact of processing and operating capacity on prices," Schulz said. "I think this is one added factor that could certainly impact prices."
Hog farmers in Illinois are moving full speed ahead, though. The swine inventory across the state totaled 5.5 million head of all hogs and pigs (up 3% from last year), 650,000 breeding animals (up 80,000 head from a year ago) and 4.85 million market hogs, up 1% from 2020, as of June 1.