The Illinois Beef Association (IBA) honored award winners in five different categories at its summer conference and annual meeting this month in East Peoria.
The honorees were nominated and selected by a committee of their peers based on the individual or farm's adoption of progressive management, marketing or animal and environmental care methods.
The award winners are as follows: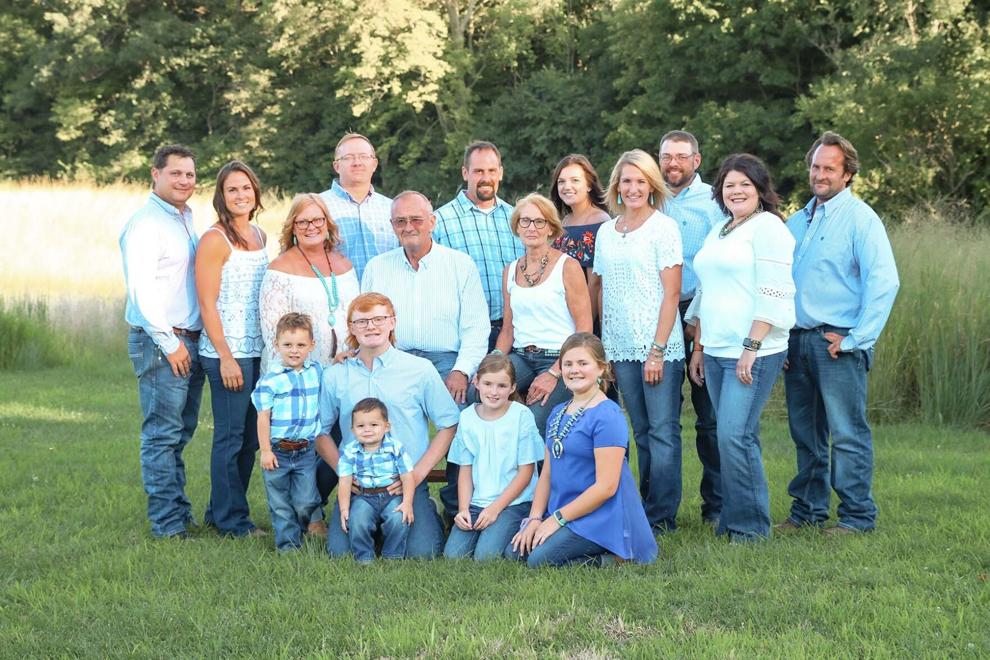 Farm Family of the Year: The Frost family of Tallula
Cimeron and Rachel Frost have a purebred and commercial cattle herd and have built a legacy of hard work, integrity and dedication and instilled these traits in their children.
All five of their children — Erin, Tony, Chelsea, Gretchen and Nathan — grew up raising cattle and are still involved in the industry with their own families.
"Cattle play a big part of our lives," Rachel said. "When we see our families, it's at a cattle show. When we vacation, it's at a cattle show. When we get together, we do chores. That's our life and it always has been."
Cimeron has been an active supporter of IBA and the Illinois Beef Expo and served in a variety of roles at IBA over the last several decades.
Seedstock Breeder of the Year: Lorenzen Farms of Chrisman
Lorenzen Farms' success in raising and marketing high quality purebred cattle earned this year's award. They operate a progressive purebred cattle operation with approximately 250 Polled Hereford and Angus cows.
"The big thing now is to just keep the whole thing going," said Steve Lorenzen, the family's lead on the cattle operation. "We have six families involved and I think at one time we had figured the farm put 19 kids through college."
The Lorenzens have bred and shown cattle that compete on the national level for more than 30 years.
Commercial Producer of the Year: O'Hern Stock Farms of Vermont
The annual award recognizes O'Hern Stock Farms for their commitment to raising quality beef cattle. They are fifth-generation farmers whose family originally settled in western Illinois in the 1800s. The farm has grown to around 5,000 acres of pasture and cropland.
"I always wanted to be in the cattle business," said Larry O'Hern. "The cattle business is the last bastion of entrepreneurial spirit in American business."
The O'Herns operate an 800-head capacity finishing building, a 600-head commercial cow/calf operation that are kept back as top replacements and started a registered Angus herd to develop bulls for the entire operation.
Environmental Steward of the Year: Wildberry Farms of Hanover
The award recognizes Wildberry Farms as beef producers in Illinois whose natural resource stewardship practices protect the environment and contribute to productivity and profitability.
They raise Simmental and Angus cattle.
"Sustainability isn't a new idea, although it's sort of a new buzzword," said owner Jim Berry. "Sustainability means thinking of the future of maintaining the land."
Wildberry Farms was established in 1978 and has more than 30 years in the seedstock business.
Outstanding Junior of the Year: Grace Arnold of Clinton
Grace Arnold's dedication and passion for the beef industry landed her this year's award.
She started showing cattle at age 10 and since then has become a leader in her local 4-H and FFA programs. She's an active member of the Illinois Junior Beef, Illinois Junior Angus and Illinois Junior Simmental Associations.
"I'm all for helping the beef industry," Arnold said. "We play a huge role in the food system, and I want to be part of that in the future."
Following graduation from Lake Land College, Grace plans to attend Iowa State University to study animal science.