Disruptions to the food supply chain in recent months caused by the COVID-19 pandemic continue to confuse consumers and frustrate farmers as many grocers struggle to keep shelves fully stocked.
So why are some meat products in short supply when there's a record large hog herd? Or, why do some stores limit dairy purchases while a number of farmers must dispose of milk?
Illinois Farm Bureau recently teamed up with the Iowa Farm Bureau and The Center for Food Integrity (CFI) to create an animated infographic to help simplify and explain a complex system.
The graphic along with interactive information about the food supply chain titled "Pork. Beef. Chicken: Journey to Your Plate" can be viewed online.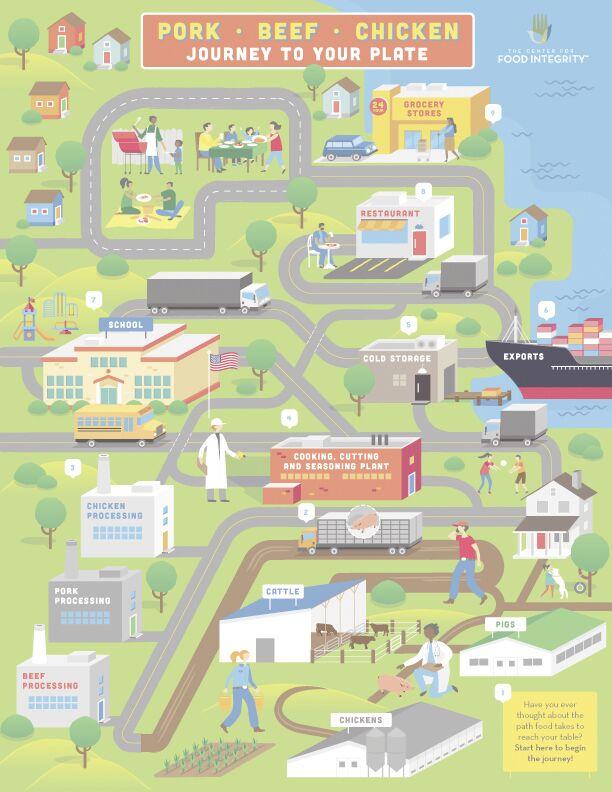 "When the disruption in the supply chain began in response to COVID-19, we started hearing from consumers with questions about why these disruptions were happening," said Ryan Tracy, IFB director of industry affairs. "At the same time, we were also hearing from some of our farmer members asking for ways to show their friends and neighbors how the food supply chain works."
Some factors at play during the current crisis include dedicated supply chains for retail and foodservice markets, which were turned upside down when foodservice demand plummeted nearly 65% due to shelter in place orders, and the loss of capacity at meat processing plants as the result of outbreaks of COVID-19 among workers.
Meanwhile, meat exports continue due to strong demand (China lost more than 40% of its hog herd to African swine fever) for products, including variety meats, which add value to carcasses. In some cases, meat exports also require less processing labor, which is in tight supply. Pork exports to China, for example, are shipped as six piece carcasses rather than fully processed.
"The contrast consumers are seeing between the meat case and what's happening on farms illustrates the unfortunate effect of the pandemic on a complex food system," said Terry Fleck, CFI executive director.
The pandemic also put some farmers, particularly in the Upper Midwest, in a situation where they had to depopulate herds or flocks due to the lack of adequate processing space.
"They (farmers) dedicate their lives to raising animals to provide food for families in the U.S. and around the world," Fleck said. "Depopulating herds and flocks is an unimaginable action that's only done as a last resort."
The U.S. currently consumes about 42 billion pounds of chicken, 26 billion pounds of beef and 25 billion pounds of pork each year, according to CFI. Visit this link to learn more about the food supply chain.