University of Illinois Extension will offer 10 certified livestock manager training workshops to meet Livestock Management Facility Act requirements. Held around the state, the workshops will begin Jan. 8 and conclude Feb. 26.
Preregistration is highly recommended so registrants will be notified if unforeseen circumstances require cancellation or rescheduling.
The Livestock Management Facilities Act requires facilities designed for 300 or more animal units to have at least one employee certified in proper manure handling procedures. Facilities designed for 300 to 999 animal units must have at least one employee attend a workshop or pass the Illinois Department of Agriculture's (IDOA) Certified Livestock Manager exam. Employees of facilities with 1,000 or more animal units must attend a workshop and pass the IDOA exam.
Each workshop will begin at 9 a.m., except the Feb. 5 session at the Illinois Pork Expo, which will start at 12:30 p.m. The training lasts 3 1/2 hours and IDOA will administer the exam after the training.
Workshop dates and locations are:
Jan. 8, Effingham County Extension Office, 1209 North Wenthe Drive, Effingham;
Jan. 9, U of I Extension, 4618 Broadway, Mount Vernon;
Jan. 10, Clinton County Extension Office, 1163 North Fourth Street, Breese;
Feb. 5, starts at 12:30 p.m., Bank of Springfield Center, 1 Convention Center Plaza, Springfield;
Feb. 6, U of I Extension/Pike County Farm Bureau Building, 1301 E. Washington, Pittsfield;
Feb. 7, Warren-Henderson Farm Bureau, 1000 N Main St., Monmouth;
Feb. 18, U of I Extension/Bork Nurseries Building, 916 W. Seminary Ave., Onarga;
Feb. 19, DeKalb County Farm Bureau Building, 1350 W. Prairie Drive, Sycamore;
Feb. 20, Stephenson County Farm Bureau Building, 210 W. Spring St., Freeport; and
Feb. 26, IDOA Building auditorium, State Fairgrounds, Springfield.
Each workshop will offer a general curriculum designed to help farmers stay current on the latest industry practices. The curriculum covers the basics of nutrient management as well as new technologies, research and trends.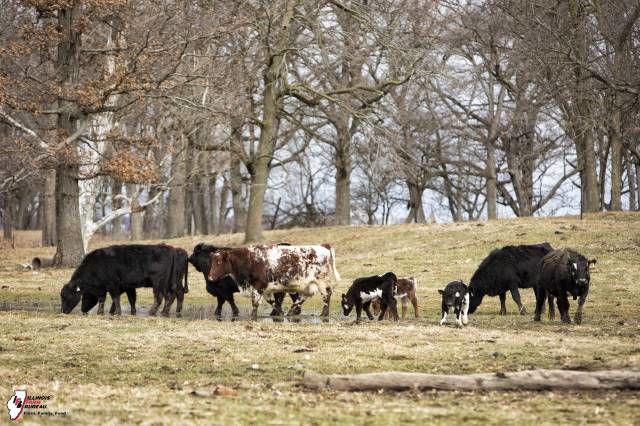 Producers who have completed the training and are renewing their certification will benefit from the new information.
Illinois Farm Bureau will provide its CAFO Resource Guides as well as a FarmGate flyer, which focuses on environmental education programs for livestock farmers.
Registration will be taken on a first-come, first-served basis. Farmers are encouraged to preregister at least two weeks prior to ensure a seat for the session that fits their schedule.
Click here to register. For questions with registration, call U of I Extension at 815-858-2273.
The registration fee is $35. If more than one employee from the same farm registers, each additional registrant will pay $25. Coffee and snacks will be provided. Lunch will not be offered.
The current training manual used for Certified Livestock Manager Training is the Livestock and Poultry Environmental Stewardship Curriculum, which is free online.
Farmers using a manual or compact disc older than 2003 should check the website for information about update options. IDOA uses exam questions directly from the manual. While some of the information will be covered during the workshops, it is impossible to cover all of the exam material in a single workshop. Farmers are encouraged to acquire and review the manual in advance of the exam.
Visit the Certified Livestock Managers Training webpage for information about registration, manuals, online training options and other resources.
Farmers and employees have an option to take five online quizzes. Passing of online quizzes is the equivalent of attending a workshop, but does not fulfill the state administered exam requirement.
You can register for the online training program here. There is no charge to take the online quizzes.