Illinois turkey farmers say increased demand for turkeys coupled with labor shortages has made for a challenging season.
Ho-Ka Turkey Farms in Waterman raises, processes and sells 60,000 turkeys to be sold predominately for Thanksgiving, and owners Susan and Robert Kauffman noted a sudden increase in demand with a decrease in the number of turkeys being raised has resulted in fewer turkeys on the market.
As a smaller operation, Christine Yordy, a partial owner of Yordy Turkey Farm in Morton with husband Travis and his parents, Brent and Sally, said while they're not experiencing a shortage of turkeys, they're seeing demand and orders increasing this season. Yordy Turkey Farm raises, processes and sells roughly 10,000 turkeys annually.
Yordy and the Kauffmans agreed a cornucopia of challenges including a labor shortage, increased feed prices and transportation snags are driving higher turkey prices.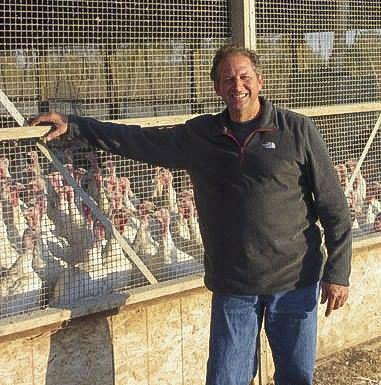 "It's all three — all inputs have increased this year," Yordy said. "We personally have less cost with transportation, but have absolutely seen the increases in labor and feed prices."
American Farm Bureau Federation Thursday released its latest Thanksgiving dinner cost survey, which indicated a 14% increase in the total cost for this year's meal, with higher turkey prices — 24% more than last year or $23.99 a pound — being one of the drivers of the overall jump.
In Illinois, turkey production and turkey cold storage numbers fell this year compared to the last few years. USDA National Agriculture Statistics Service (NASS), reports through September of this year, 166,000 pounds of turkey has been harvested with 127,000 pounds in cold storage. While three months of reporting remain, the monthly numbers are trending downward compared to the past few years. In 2020, the total pounds were 1.7 million (harvested) and 1.35 million (frozen). Pre-pandemic numbers were significantly more; in 2018, 2.3 million pounds were harvested and 1.8 million pounds frozen.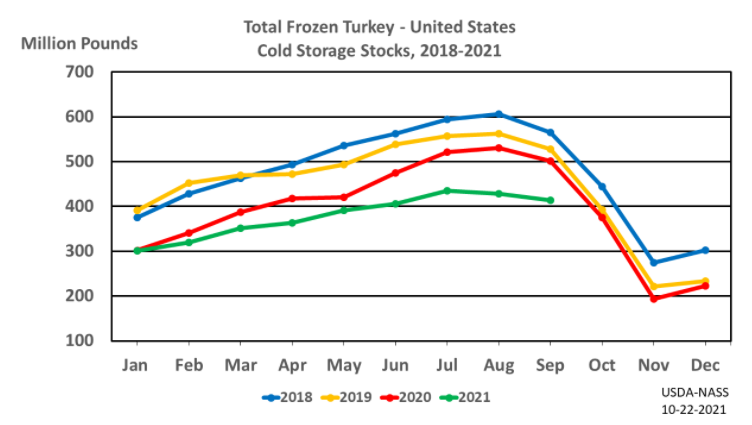 As turkey hens take 14-16 weeks to grow to full size, and 18 weeks for toms, estimating demand more than four months out during an ever-changing pandemic makes for a foggy crystal ball. Many farmers planning for turkeys in the store today were making their decisions in the late winter or early spring — prior to vaccines becoming widely available. And as many farmers work under contract, the price increases seen at the retail level don't necessarily translate to increased revenue for farmers, who typically receive about 8%, or 7.6 cents per retail dollar.
One consumer trend the Kauffmans noticed is customers shopping for larger turkeys compared to last year. Asked whether Ho-Ka is struggling to keep up with demand, the owners said they should be able to take care of their regular customers.
COVID-19 precautions and high demand created an opportunity for Yordy Turkey Farm.
"We didn't know how last year was going to go … we did everything we could to ensure our customers could still enjoy our products while refusing to compromise any safety during the pandemic. We offered a drive-thru for the first time and found that many customers appreciated the safe option to still enjoy their all natural, local product," Yordy said. "We ended up selling out last year, as many families decided to hold smaller, but multiple get-togethers. Since many families were not traveling, and staying in the central Illinois area, we saw 30% increase in new customers (up from our typical 5% year over year)."
So far, Yordy Turkey Farm is keeping pace with increased demand.
"We are keeping up, but we are definitely seeing people be more proactive and order earlier," Yordy said. "In years past, we could accommodate walk-ins, but that may not be the case this year and expect to sell out once again."