In the blizzard of January 2015, I spent all night using our snow blower to cover the windward side of one of my barns to keep the pigs from freezing. As the National Pork Board's 2019 America's Pig Farmer of the year, this is one example I used to demonstrate the care and effort it takes to care for our animals.
The award was humbling, and the opportunity of a lifetime. The honor felt like an accumulation of all I had done in prior years with my county, state and national Farm Bureau to educate myself and others on communication about our industry.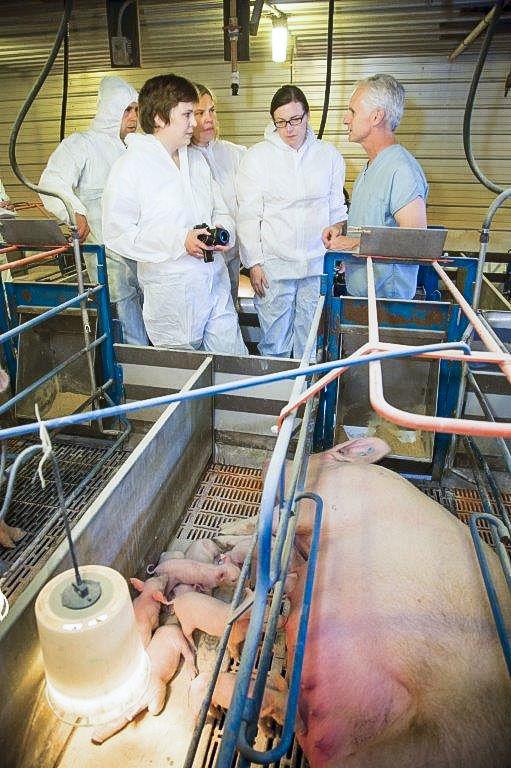 I felt extremely well vetted after the eight-month selection process, which consisted of a nomination, written applications, interviews, farm qualification requirements, a video shoot, social media campaign/voting, spokesperson training, and lastly, an interview with four professionals outside the pork industry.
The main farm qualification is known as the Common Swine Industry Audit. This is an industry standard by a third party that validates a farm follows and enforces the best protocols laid out by the industry called the Pork Quality Assurance Program.
The focus of the selection process was on how the "We Care principles" are evident on our farm and my ability to speak about them: food safety, public health, safeguarding natural resources, worker training, community and animal well-being.
I hit the ground running with industry events around the country, starting with a roundtable discussion in Washington, D.C., presented by American Humane. The group has a mission to advance agriculture in which livestock are treated humanely. It was a serious conversation in which we discussed the realities of modern farming and how we can ensure we're doing our best for both our animals and our consumer.
That experience – one of many speaking opportunities I had throughout the year – taught me a lesson that I think is important to share with all pig farmers.
When having conversations with consumers from different backgrounds, from different industries and with different perspectives, it's important to be real.
None of us are perfect, and we all make mistakes and face challenges. But through those challenges, we can forge connections that build empathy, understanding and mutual respect. Instead of passing judgment on people who oppose what we do as pig farmers, it's better to listen to them, learn why they feel the way they do and explain the realities of what we do for a living.
One of the highlights as America's Pig Farmer of the Year came when I served as a judge for a pork cook-off at the South Beach Wine and Food Festival. Not only did I get to eat some of the world's best and most finely prepared pork, I was able to talk about the importance of pork to a healthy, balanced diet and connect with consumers at the "Swine University." It was an eye-opening experience to learn how significant the Hispanic market is and how much consumers appreciate the effort we put forth to raise high-quality pork.
During my year, I learned about some of the latest new technology that could help shape the future of pig farming. I attended an event about gene editing and learned about the promise the technology holds in enabling pig farmers to provide even higher levels of animal care in the future.
I ran into an old friend I hadn't seen since college at a pig meeting. He congratulated me, then asked: How did quiet, unassuming Pat Bane become America's Pig Farmer of the Year? I don't think I had an answer at the time, but looking back on my year, I learned you don't have to be a polished speaker or wow people with facts. Being authentic and genuine about what you've spent your whole life doing is what mattered the most!