President Joe Biden will appoint Debra Shore to captain the Midwest headquarters of the Environmental Protection Agency (EPA), the White House announcedTuesday.
Shore, 69, has served as an elected commissioner of the Metropolitan Water Reclamation District of Greater Chicago since 2006. She will lead EPA Region 5, which covers Illinois, Indiana, Michigan, Minnesota, Ohio and Wisconsin and 35 Native American tribes.
The region, based in Chicago, spans an area where agriculture and manufacturing function adjacent to the Great Lakes.
It handles thousands of environmental issues each year and oversees multi-million dollar programs like the Great Lakes Restoration Initiative.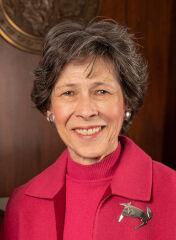 "I can't think of any endeavor more worthy of my time and effort – nor any team more ready to tackle this vital work," Shore said in a statement.
Shore added she plans to implement the Biden administration's "bold plans to address climate change, to restore the agency's foundational commitment to environmental justice and to ensure that decisions are made based on sound science and the law."
The appointment of a regional administrator is a joint effort between the White House and the EPA administrator.
"Debra's knowledge and experience on water infrastructure issues, the impacts of climate change and the protection of the Great Lakes will help her lead Region 5," EPA Administrator Michael S. Regan said in a statement.
"I am grateful to have her joining the team and I look forward to working with her to advance this administration's priorities and fulfill EPA's mission," Regan said.
Shore's appointment comes nearly a year after Biden's election. The regional office has since been led by acting administrator Cheryl Newton.
In that time, the Illinois Farm Bureau continued to work with staff leadership on a variety of issues, said IFB President Richard Guebert Jr. IFB and the Cook County Farm Bureau supported Shore's appointment.
Guebert said both organizations look forward to working with Shore, who "has been very interested and involved in the Nutrient Loss Reduction Strategy efforts of all sectors."
A meeting between Region 5 leadership, farm leaders and the midwestern State Farm Bureau environmental staff is set for early December.
Shore, from Evanston, was one of two candidates vying for the job. The other was Micah Ragland, a Flint native, former EPA official who worked under the Obama administration and current gas and electric utility executive.
Shore, in a statement circulated Tuesday through her campaign committee, said she had "strong support" from U.S. Sen. Dick Durbin, D-Springfield, and U.S. Reps. Jan Schakowsky, D-Evanston, and Mike Quigley, D-Chicago.
She also said the challenges facing the regional office are "daunting" and "equally important" are "respecting and supporting expertise, focusing on equity in the workforce and in the communities the agency serves, ensuring transparency, and advancing justice."
Gov. J.B. Pritzker will appoint a replacement for Shore on the MWRD, someone who Shore said she hopes will be "a strong conservation advocate."