Learn how to manage stress, communicate with distressed farmers and recognize the signs of suicide in a free, online farm stress training course.
After completing the course, individuals will have some tools to help friends, family, neighbors and their community during stressful times.
"We have to break through with a message of hope and help," said American Farm Bureau Federation President Zippy Duvall. "Families don't have to face today's stresses and heavy burdens alone. This free, online resource is a first step toward recognizing the signs and knowing what to do. We hope anyone who knows someone struggling will take advantage of this potential lifeline."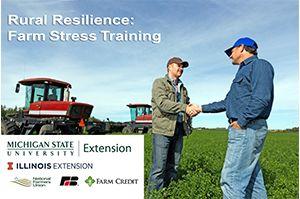 USDA Cooperative Extension professionals at the University of Illinois and Michigan State University developed the course. Farm Credit, American Farm Bureau Federation and National Farmers Union provided financial support.
The course can be completed at an individuals' own pace and should take approximately three hours or less. Individuals will be asked to create an account in order to allow repeated access.
The course is for informational purposes only and should not be construed as professional advice. If an individual has mental health concerns, they should seek help from licensed providers. To learn more and register, click here.