The time is now to enroll for Agricultural Risk Coverage (ARC) or Price Loss Coverage (PLC) for the 2019 and 2020 program years.
Farmers should visit their county Farm Service Agency (FSA) office before the deadline of March 15 to sign-up.
"So far, only 33,000 farmers have signed up, and 161,000 normally participate," said Bill Graff, Illinois FSA state executive director. "We are roughly 20% done and have six weeks left."
By March 15, all signatures, including that of the producer and landowner, plus any record changes, must be filed. "Producers need to get into their local county offices sooner rather than later," explained Graff. "There are no late filed provisions. If you miss it, you miss it."
As far as which coverage options to choose for which crops, the University of Illinois farmdoc team and COUNTRY Financial's Doug Yoder reviewed program options.
"We (the farmdoc team) lean towards PLC for corn, lean towards ARC-CO (county option) for soybeans, and we lean heavily toward PLC on wheat," said Gary Schnitkey, Ph.D., University of Illinois agriculture economist.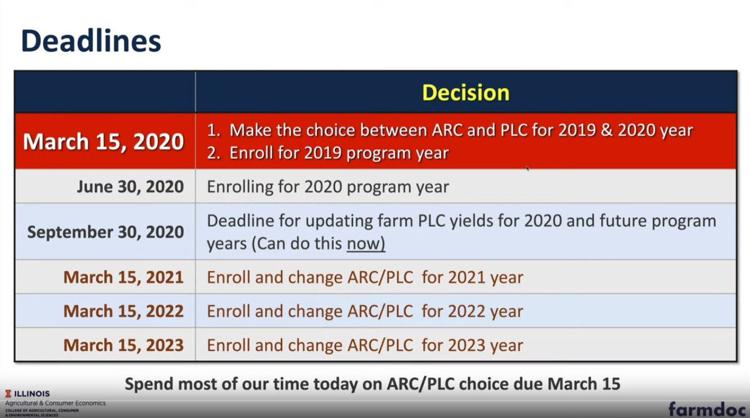 So, what are the major differences between the coverage options? PLC and ARC-CO are made on a crop-by-crop basis on each FSA farm. While ARC-IC (individual coverage) applies to the whole farm.
Now let's look at specifics for corn, soybeans and wheat.
For 2019 corn, the farmdoc team doesn't believe PLC is likely to make a payment, while ARC-CO is not likely to make payments in most counties. For 2020 corn, there is a 50% chance of a PLC payment while ARC-CO would occur with regionally specific low yields.
For 2019 soybeans, the farmdoc team doesn't believe PLC is likely to make payments, while ARC-CO is not likely to make payments in most counties. For 2020 corn, PLC payment is not likely to happen, and an ARC-CO payment would require local low yields and nonincreasing prices.
For 2019 wheat, PLC is likely to make large payments, depending on the PLC yield. ARC-CO will likely make payments in many counties, but may be less then PLC.
For 2020 wheat, PLC and ARC-CO have a very high chance of payments, but ARC-CO will likely be less.
Growers should consider taking ARC-IC in 2019 if they have an FSA farm with very low yields or prevented plant. "It's worth looking into for 100% prevented plant but it's a very narrow set of farms that this option makes sense," noted Jonathan Coppess.
Producers are eligible to purchase Supplemental Coverage Option from their crop insurance agent if they select PLC. "We're asking our customers to coordinate this with their agents," noted Doug Yoder, COUNTRY Financial crop agency manager. This coverage is county based and available in all Illinois counties for corn, soybeans and wheat. It is triggered only if the county losses exceed 14%.
After the 2019 and 2020 program years, the selection term will go to yearly through 2023, as compared to the 2014 farm bill in which producers were locked into the program for five years.
For more information on ARC and PLC, visit the 2018 farm bill toolbox.