To specialty crop grower Austin Flamm, on-farm labor is a double-edged sword.
"It almost breaks you trying to pay for it, but you'd have nothing without it," said Flamm, who typically employs between 100 and 150 people each season to help harvest the hundreds of acres of fruits and vegetables his family raises in Union County.
About 75% of those workers are not U.S. citizens but come to work at Flamm Orchards through the federal H2A program, which allows American producers to temporarily employ foreign workers for on-farm duties.
And while the program is "super beneficial" to Flamm's business, the sixth-generation farmer also says, "There has to be reform to how it operates."
Flamm, along with other Illinois Farm Bureau members, raised the issue of labor and other input cost concerns in meetings this week with staffers and members of Illinois' congressional delegation as part of IFB's Leaders to Washington Program.
The recently-signed Inflation Reduction Act, congressional efforts to encourage the Biden administration to advance trade agreements, priorities for the 2023 farm bill and infrastructure funding for rural Illinois also led conversations with elected officials and their staffs.
Delegates participated in sit-downs at the Capitol Hill offices of U.S. Reps. Mike Bost, R-Murphysboro; Rodney Davis, R-Taylorville; Adam Kinzinger, R-Channahon; Darin LaHood, R-Dunlap; Mary Miller, R-Oakland; and Lauren Underwood, D-Naperville; and Sen. Tammy Duckworth, D-Hoffman Estates.
It was in a meeting with U.S. Sen. Dick Durbin, D-Springfield, however, that Flamm laid out his concerns with the H2A program, explaining how the $15.89 per hour Adverse Effect Wage Rate he pays to workers, combined with other skyrocketing input costs, negatively impact his bottom line.
"That's where our labor adds into that input cost," Flamm told FarmWeek. "It counts as part of our overhead. Labor year in, year out, is our biggest expenditure."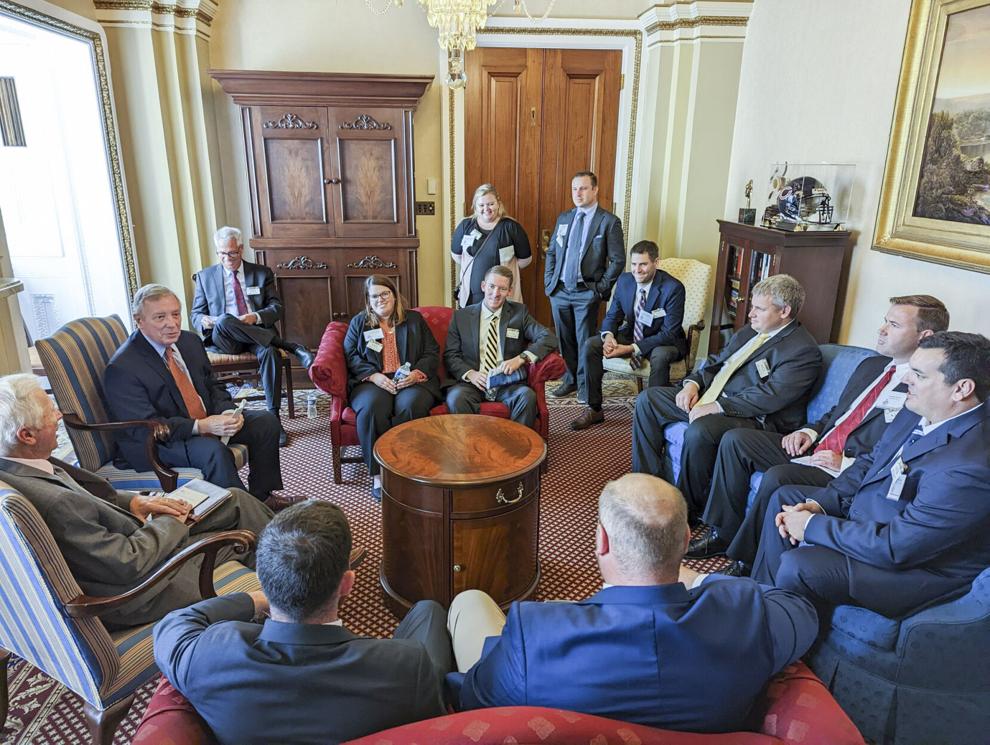 Flamm also told Durbin that proposals to cap the number of available H2A visas would have consequences for farmers and that Congress should authorize an amnesty program that both halts the free-flow of immigrants into the country and provides opportunities for those who are already in the U.S.
Durbin addressed that policy suggestion in a post on Twitter following the meeting.
"We agreed we need comprehensive immigration reform to fill farmworker positions (with) immigrants in search of new opportunities in the U.S.," Durbin said. "I will continue to advocate for policies that advance the needs of the IL's ag sector."
Adam Nielsen, IFB's director of national legislation and policy development, said he was encouraged by the group's meeting with Durbin and his interest in the issues members discussed with him.
"This is why it's important to stay in touch with our elected officials and for our members to communicate directly to them the issues they face," Nielsen said. "Illinois agriculture was represented well this week."
Fertilizer, fuel costs highlighted by delegates
And it wasn't just labor issues that were highlighted by the IFB delegates. The availability and cost of fertilizer, fuel and machinery were also consistently raised in meetings with lawmakers.
"Nitrogen fertilizer went from about $0.45 to $0.76 per unit ... potash that was at $500 is now $850 and $400 phosphorus is now $800. Those are just local estimates," said Roy Plote, a DeKalb County grain farmer who also markets feeder cattle.
"Equipment of course is all up in the air, whether you can get it and if you order it, when can you get it?" Plote said.
He added that this summer he priced front tires for a farm truck at $600, a total that is double from what they cost two years ago, and a livestock trailer, which won't be available until October and will cost 50% to 60% more than previous estimates.
And even with higher-than-usual commodity prices, Plote said the ongoing surge in input prices means many Illinois famers likely won't be able to reinvest into their operations any profit they make from this year's harvest.
"We're looking at going from a record year — basically for those that stored their crop from the previous year and sold at high prices to this year and probably made reasonable money — to next year, possibly losing money," Plote said. "And the possibility is severe for those that just do commodity crops."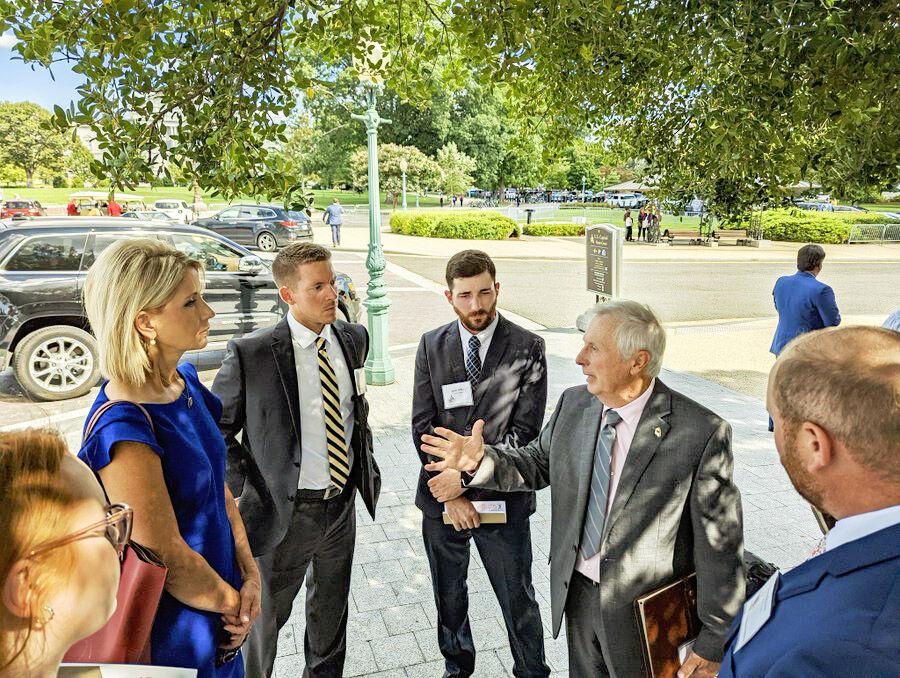 Robert Klemm, IFB District 11 director, who grows corn and soybeans and manages a small beef cattle herd, said it was "very imperative" that policymakers "have an understanding of what our financial plight and return on investment level is."
He painted the picture in every meeting while on the Hill, and especially stressed to Durbin — he sits on the Senate Ag Committee — and Miller — she sits on the House Ag Committee — that the U.S. needs to expand its domestic fertilizer production capacity.
"All fertility, we need to have more U.S.-based companies to invest in it and promote and develop that," Klemm said. "It's not going to be an immediate fix, but if we don't start you never get there."
Klemm further said if fertilizer costs get to the point where farmers can't afford to put it on their commodity and the commodity's price falls but other input costs don't proportionately fall, then "we're going to have to make some very difficult financial decisions on what we're going to raise."
"Yes, historically, our trendline yields have continually gone up and I project they will potentially go up (again), but only if we can do it under a circumstance that is financially viable," Klemm said. "High input costs could significantly reduce that viability."